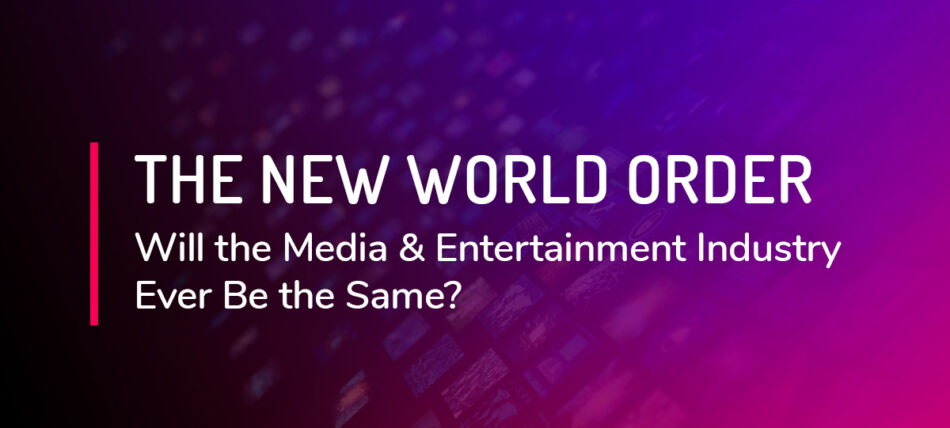 05.4.20
The New World Order: Will the Media & Entertainment Industry Ever Be the Same?
How the Cloud and Artificial Intelligence Adoption Will Accelerate in the New World Order
Coronavirus (COVID-19) is impacting every aspect of our daily lives and whilst every effort is being made to find an exit strategy back to normality, there is still uncertainty around timescales – mainly because we are sailing uncharted waters. Like all sectors, the media and entertainment (M&E) industry continues to be massively disrupted by COVID-19, and it may fundamentally change it forever. In this blog we will be looking at impact trends, predicted outcomes, and how the adoption of cloud and artificial intelligence (AI) technologies for M&E may be accelerated as a result. 
Ad spend is decreasing
M&E relies heavily on ad-spend to generate revenue and COVID-19 is fundamentally changing the way that consumers are spending, and in some cases is preventing them from spending at all. Brands will inevitably look to reduce their ad-spend in the short- to mid-term as global supply chains are diminished and sales of non-essential items reduce dramatically.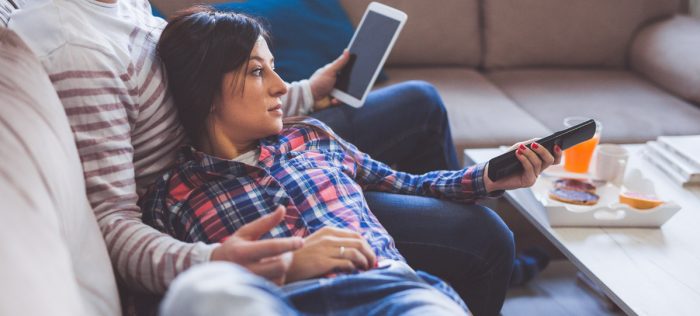 Media consumption is accelerating
Media consumption across film, TV, radio, OTT, and sports has also been affected and transformations such as the move away from traditional media formats to digital consumption (e.g. newsprint to digital, etc.) has now been accelerated. During lockdowns we are watching more prerecorded content, downloading more apps and playing more online games. Although digital businesses are trying to target this market opportunity, revenues will inevitably shrink due to the wider consumer picture and will only truly recover when people start to purchase goods as they did before.
Film industry halted
With cinemas closed all over the world, the film industry has been hit very hard with revenue losses being predicted to exceed $10 billion in the first half of 2020. Even when cinemas reopen, the perceived risk of contracting COVID-19 will mean that audiences may still shy away from such gatherings for a long time.
Television, radio, and OTT platform viewers are increasing
Whilst TV viewing figures are up, we have very little new content outside of news, and advertisers continue to scale back their spending as a result. Radio production (and other forms of audio production, such as podcasting) is better suited to remote working more than other mediums, which means that we are getting new content but again there is shrinkage in ad-spend, and that will take time to recover. OTT platforms see a rise in consumption through a wide range of devices, but, again, ad-spend is an issue, especially when there is no new content to support it. It is likely that OTT platforms will become the new norm and brands will target those platforms that will help with recovery and growth.
Sports is heavily impacted
The effect on sports is huge with major events across the world being cancelled or postponed with an estimated revenue drop exceeding $61 billion. Such actions not only impact sports organisations, but also the broadcast production industry and the broadcasters that depend on the advertising and sponsorship revenues generated from them. Like cinemas, the recovery period may well be much longer due to fans fearing the return to crowded stadiums. When ready, consumption may well restart through traditional broadcast and OTT platforms rather than seeing fans physically return to events in the short-term. However, watching sports without fans in the stadium is not as compelling, and this may have a knock-on effect on how many broadcasters engage and what they are likely to want to pay for in terms of rights.
In summary, we do not know how long this situation will last. Film, TV, radio, OTT, and sports all need production to survive and recover – there is only so much compelling prerecorded content on offer whilst no new media is being produced. The emerging world will be more digital focused, but with that there will be a huge amount of competition. Social distancing will continue in one form or another for a long time and even after a vaccine is deployed, people will be wary of rejoining large crowds. M&E will continue to play a major role in informing people on the COVID-19 situation through news.
How the Cloud and Artificial Intelligence Adoption Will Accelerate in the New World Order
As an industry, the M&E community is adapting to being unable to congregate and is adopting alternative ways of working, which range from video conference calls to supporting end-to-end video production to distribution workflows in the cloud. The common challenges that we are all facing as a professional community include adopting new technologies, enabling remote working, accessing content easily, and finding new revenue streams.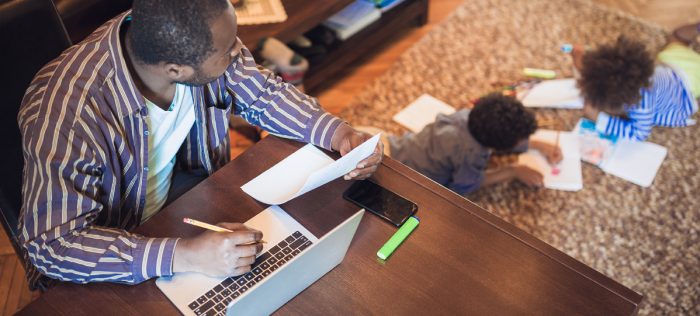 The cloud enables remote working and allows for scale
The adoption of cloud services in the M&E space began a long time ago. COVID-19 has now accelerated this process for many vendor and customer organisations. From a basic perspective, cloud services continue to enable highly secure, centralised storage and global access to media content for all B2B stakeholders. From small-scale file hosting services to enterprise cloud-object-storage buckets, content can now be managed easily at scale in the cloud.
Remote working, once adopted by a few, is now the new norm for many due to lockdown. Online collaboration software is now the daily communication method for most of us. Remote production and postproduction tools are being installed as we speak. On the B2C side of things, media consumption through OTT platforms is on the increase and online gaming is in overdrive – all powered by the cloud.
Cloud native solutions enable efficiency and flexibility
Veritone not only supports robust on-premises and hybrid deployment options – predominantly used by our government and legal customers – but also focuses strongly on cloud deployments for M&E solutions. That means cloud-native (e.g. entirely built in the cloud) enables new levels of efficiency and agility as opposed to cloud-enabled deployments that have been lifted and shifted from traditional data centres.
Veritone takes full advantage of the key cloud-native principles, e.g. simple integration, multitenancy, elastic scaling and so on. We fully integrate with the industry's best-of-breed cloud technology platforms including Amazon Web Services, IBM Cloud, Microsoft Azure, Telestream Cloud, IBM Aspera on Cloud, Akamai and more, as well as multiple cloud-native AI and machine-learning (ML) partners. These platforms have cloud security as their highest priority and adopt regular security testing internally and some through third-party auditors. These services are designed to sustain data loss events by deploying services across multiple cloud data centres; all with built-in data encryption and many support durability levels in excess of 99.99%.
The role of artificial intelligence and machine learning

The AI and ML community is already playing a huge role in the fight against COVID-19 with innovations across the health industry – covering respiratory disease predictions, disease surveillance, virtual healthcare assistance (chatbots), diagnostics, facial recognition and fever detection, intelligent drones and robots, curative research, and information verification.
In the world of M&E, AI and ML capabilities have been used across the digital supply chain for a while now; but we are seeing an increase in adoption and fully expect COVID-19 to further accelerate this. A typical use case that most content owners are adopting or exploring is automatic metadata tagging and extraction from their repositories of content (including video, audio, images, and documents).
However, AI and ML are increasingly being used for other B2B and B2C use cases, including assisting and enhancing human-led creative decision making, enabling low-cost production, optimising operational workflows (including predicting cloud services demand), content discovery and repurposing and ultimately empowering staff by taking them out of the loop across repetitive tasks that AI and ML are better placed to manage because of high levels of accuracy and consistency. On the B2C end of the supply chain, AI and ML technologies have been adopted for a while now driving consumer engagement through personalisation, i.e. enabling consumers to find content that is relevant to them and to be treated as an individual in a sea of data.
Veritone plays a central part in all of this. The powerful and unique aiWARE platform deals with the exploding volume and complexity of data being collected today. Traditional data-processing methods are rapidly becoming unable to handle the onslaught.
aiWARE is being used across the M&E industry to gain insight out of chaos and to enable operations to do more through the power of AI and ML. aiWARE's cognitive engine categories (including speech, text, vision, biometrics, audio, data, transformation, etc.) are made available in multiple ways, including via a robust API, native applications, an intelligent asset management solution, and through third-party applications. We know that AI and ML will play a major part in the new world order because we are sitting right in the middle of that transformation now.
Suppliers are stepping up
So, what are cloud and AI vendors doing to help with COVID-19 and how will this ultimately accelerate adoption? The industry's big guns have all rolled up their virtual sleeves, e.g. Alibaba Cloud's involvement with the Global MediXchange, IBM and OSTP's COVID-19 High-Performance Computing Consortium, Amazon Web Services $20 million research donation, and Microsoft Azure's prioritisation of emergency workers and critical government infrastructure.
Within the M&E community there are multiple other vendors providing limited time offers including discounts, free access, expanded storage, unlimited users, and remote working resources. These include the likes of Adobe, Autodesk, Avid, Amazon Web Services, BASE Media Cloud, Boris FX, Cinedeck, ContentAgent, DejaSoft, Dejero, Disguise, Drastic Technologies, EditShare, Frame.io, IBM, Masstech, Signiant, SNS, Unity, and more.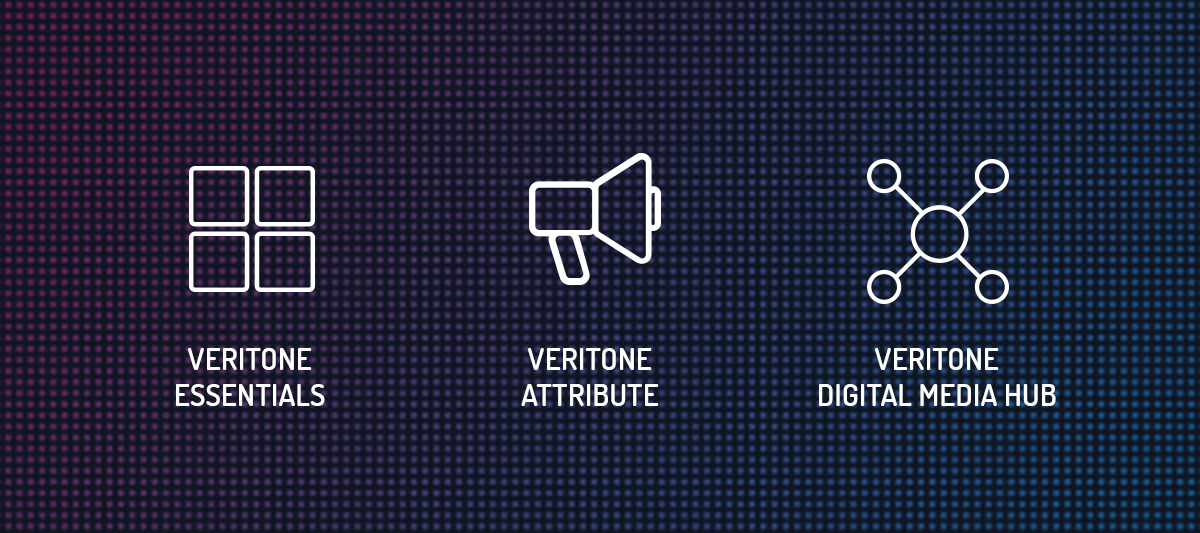 Our commitment to enable and accelerate your workflows — remote or in the office
Veritone is committed to helping its current and future M&E customers to not only maintain business continuity but actively enhance operations during this challenging time through our cloud and AI solutions.
We have recently announced free access to our flagship applications for 60 days. Our solutions can have a significant positive impact on a customer's resources, save time and costs, as well as bring seamless, connected workflows to your organisation. Being fully cloud-based, our solutions can be accessed from anywhere in the world.
Veritone Essentials, Attribute, and Digital Media Hub are designed specifically for M&E organizations across TV, radio, film, sports, and podcasting, with ease-of-use, data, and content sharing in mind. They provide any workforce (whether in the office or remote) with powerful tools that accelerate workflows and facilitate collaboration. At the core, aiWARE turns media streams into indexed and searchable data in near real-time.
We believe that now more than ever, M&E will play a crucial role in all of our lives as we rely on it to stay up to date on the latest developments, educated, and entertained whilst daily life is becoming significantly restricted and challenging due to the COVID-19 situation. It goes without saying that the health and safety of our families, friends, and communities are of utmost importance. In addition to this, we all hope for a speedy recovery for the whole M&E industry during these unprecedented times.
To find out more about Veritone's 60-day free offer to access flagship applications, please click here.
Further Reading
How Cloud and Virtualization Can Help the M&E Industry Adapt to COVID-19
aiWARE™ Takes Veritone's Digital Asset Management Solutions to the Next Level
How an AI-Enabled Digital Asset Management Platform Helps You Maximize The Value of Your Content
Working Remotely? AI Can Help Accelerate Your Workflows & Business Processes