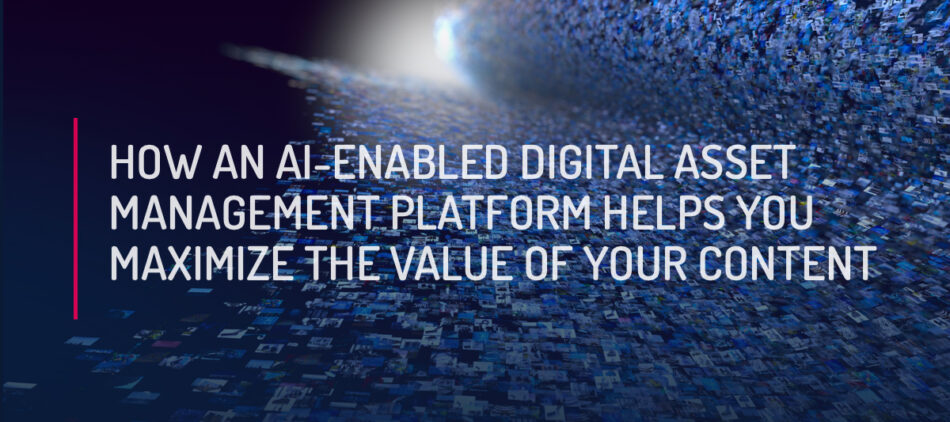 11.3.22
How An AI-Enabled Multimedia Asset Management and Monetization Solution Maximizes the Value of Content
Summary:
Indexing content to make it discoverable in a digital archive takes a lot of time and is very costly.

AI streamlines content processing and management, helping to unlock new revenue opportunities.

Veritone has created highly adaptable solutions to help solve the challenges of managing and monetizing digital content.
Whether you create, own, or license professional multimedia content, you need a way to index that content to maximize it fully. 
An asset management platform gives you a central location to house your content. Content can then be searched and sent to anyone who needs it, whether that's an internal or external recipient.
However, many media asset management (MAM) solutions lack a robust artificial intelligence (AI) capability. AI can help you hyper-index new content as it's uploaded and existing content so that you can always find the exact moments and assets you need when you need them.
The Benefits AI-Powered Media Asset Management
AI technology helps organize content by adding structure to unstructured data (all the content that doesn't fit neatly into data fields, such as audio and video). This goes beyond mere transcription, including features such as speaker separation and identification, advanced face and logo recognition, and text analytics (aka content classification).
Without AI, you'd have to add all that metadata and add it manually to both new and existing content. We estimate it costs $1,650 an hour for humans to do the same amount of this indexing work that AI can do for $10 an hour.
Monetizing Content Out of your MAM Platform
The ability to create a public-facing MAM is crucial to monetizing your newly indexed, owned content. You need to be able to offer potential licensors of your content a simple user interface so they can easily search, preview, and license your content.
With the right solution, you can set prices on your client-facing portal and configure it to allow visitors to license content themselves or work with your sales team to license content.
Veritone Digital Media Hub, AI-powered asset management and monetization solution do just that by helping content owners generate more revenue from their assets by setting up their own eCommerce marketplaces. Built on top of aiWARE, a hyper-expansive Enterprise AI platform, Digital Media Hub also transforms your content in near-real time into highly indexed, searchable content.
You can create different portals with Digital Media Hub for multiple brands and purposes. You can create different user permissions and branding based on who is accessing each portal, giving you control over what you send to your clients and internal teams. It also integrates with other DAMs, MAMs, and leading cloud providers, such as Amazon Web Services (AWS) and IBM Cloud, to work with your existing workflows.
How AI Works With A MAM Solution
The journey of a piece of content through our platform begins at upload. You upload your source media, whether that's video, audio, images, or other, to where it needs to be stored. You can include any metadata you have at the point of ingest, or our platform can discover the metadata automatically and include it as the content is uploaded. You might not realize that metadata is even there on a group of photos, for instance, but AI can find information such as names, locations, photographers, and what camera was used.
Multiple renditions (low- and high-resolutions) of the content and preview files are created. aiWARE then takes over, your content is indexed, and it becomes searchable in Digital Media Hub.
For enterprise clients who feel they have too much content to move to the cloud, Veritone offers on-premise and hybrid solutions that work with a tool called Automate Studio. This low-code solution adds cognitive capabilities that give you the flexibility and ease of use you need to build and manage AI-powered apps.
Veritone Solutions in Action
An example of Veritone Digital Media Hub in action is the hub we worked with our partners base, EMPA and SPORTOTAL Live to help ingest and make all of the content from the 50th edition of the famous 24-hour Nürburgring race. With nine key partners for the event, 27 manufacturers, and multiple teams to cover, Digital Media Hub helped our partners make all of this content easily searchable and readily accessible, which was paramount to the race's success. 
To learn more about how Veritone has helped other organizations activate their content, explore the following case studies: 
1 Year and 15 Interns or AO: Logging the San Francisco Giants Archive 
PROGRESS Monetizes More Than 20,000 Historic Films With Digital Media Hub 
LA Chargers Transform 371 Days of Metadata Work Into Hours With AI