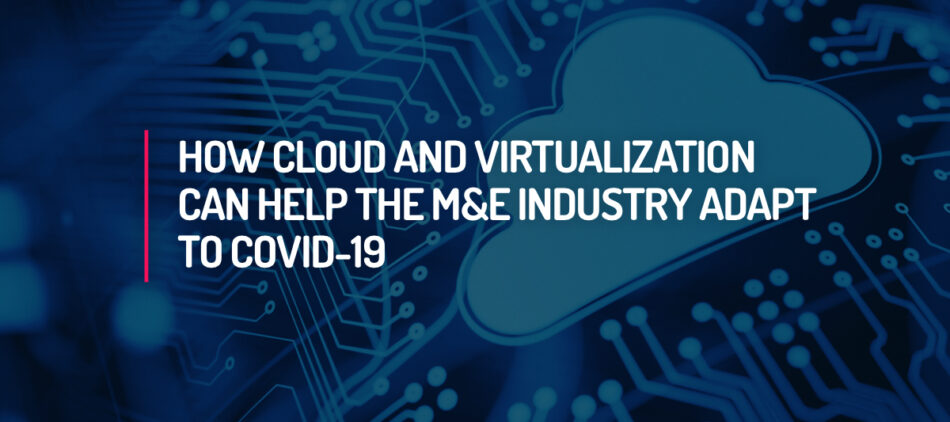 10.2.20
How Cloud and Virtualization Can Help the M&E Industry Adapt to COVID-19
During and after the pandemic, cloud technology and AI can help the media and entertainment industry adjust and continue to thrive.
As it relies heavily on positive consumer activity, a disruption like COVID-19 is a huge challenge to the media and entertainment (M&E) industry.
The first trend to note is that content is being consumed differently due to more time spent at home. With a vast array of viewing platforms available, more prerecorded content being watched, more apps being downloaded and more online games being played, content consumption is up, all around. 
Broadcast-TV consumption in the U.S. since the outbreak was up 38%, while a survey found 22% of respondents said they listen to more radio since the pandemic started, according to statistics cited in the Veritone Uplift Study. The M&E industry will surely capitalize on this, but the models for doing so still need to be worked out.
Even as more content is being consumed than ever before, there's a shortage of new content being produced. TV and film productions have stalled the world over, news organizations are closed down and live events have been canceled (although some are slowly returning). However, some productions are now being done remotely, and new formats and methods are being created, such as filming sports coverage with prerecorded crowd noise and streaming more live concerts.
As campaign spend is continually scrutinized and advertising revenue shrinks, we're starting to see new approaches from brands. For instance, brands have been utilizing COVID-19 thematically to connect with consumers. COVID-19 is fundamentally changing the way consumers are spending, and thus advertisers will continually look to reduce their ad spend in the short term as global supply chains continue to be diminished and sales of non-essential items are reduced, with nearly nine in 10 U.S. marketer and agency professionals reporting disruption to their ongoing advertising efforts. The ongoing transition to subscription models will continue to challenge traditional advertising models, which come with their own set of challenges for advertisers.
The bottom line is that film, TV, radio, OTT and sports need production to survive and recover. There is only so much prerecorded content on offer, so innovation and creativity are more important than ever.
How to adapt
Adopting new technologies, enabling remote working, being able to access content easily and finding new revenue streams are all crucial to meeting the challenges of the time.
Adopting cloud and virtualization technologies are enhancing collaborative content management across the industry. This ranges from taking advantage of globally accessible cloud storage to supporting end-to-end video production to distribution workflows in the cloud.
Cloud-enabled software as a service (SaaS) enables employees to work from anywhere, allowing for new levels of agility. Together with AI, which helps automate and streamline workflows, these technologies help M&E companies reduce costs, increase efficiency and grow productivity.
There are numerous use cases for embedding AI into collaborative content management. For example, it enables the automatic application of cognitive metadata to assets, which allows companies not only to easily find media assets in seconds, but to quickly share and repurpose what has already been captured, and license and further monetize content repeatedly. This applies to video, audio and other documents an M&E company might house.
However, AI is also being used in other B2B and B2C capacities, including enhancing human-led creative decision-making, enabling low-cost production, optimizing operational workflows and ultimately empowering staff by taking them out of the loop of repetitive tasks that AI is better equipped to handle because of its high levels of accuracy and consistency.
How we can help
Being cloud-native and AI-focused, Veritone is fortunate to be in the position to help provide solutions to meet the challenges of remote collaboration. 
Our low-code AI technologies for intelligent process automation can augment existing workflows and enterprise technologies, such as asset management platforms, while automating outputs such as language identification, identity extraction, sentiment analysis, and shot or scene detection. Our technology supports all content with AI to create more engaging results and ultimately drive revenue.
Remote teams can find the assets and moments they need, prepopulating galleries or searching by faces, logos or keywords, for example. This helps enterprises reduce the inefficiencies of spending hours searching for the right content and find new monetization opportunities.
Looking to the future
Given the mass upheavals in M&E workflow, what will the future of content creation and distribution look like? How will consumers choose to interact with this content? And who will need to be on-site and who will be able to continue producing content remotely?
To learn more about the current and future state of the M&E industry and how Veritone can help you adapt to the changing media landscape, watch my on-demand webinar on cloud and virtualization.
This webinar was part of the IABM Future Trends Channel event.
Further Reading
How Media Companies Can Navigate the Latest Shutdowns
The New World Order: Will the Media & Entertainment Industry Ever Be the Same?
The State of Artificial Intelligence in 2020: AI by the numbers
Working Remotely? AI Can Help Accelerate Your Workflows & Business Processes
aiWARE™ Takes Veritone's Digital Asset Management Solutions to the Next Level