Technology Providers
Add the power of hundreds of AI engines to your product offering. Get low-code access to an ecosystem of AI models that removes single vendor technology dependencies and ensures maximum shelf life for your AI integration effort.

System Integrators
Deliver AI-enriched customer solutions by tapping into a comprehensive AI ecosystem of hundreds of ready-to-deploy machine learning models and easily integrate with BPA, RPA, and line of business systems to deliver intelligent automation to your customers. Continue using the same AI platform as underlying AI technologies inevitably change.
Developers
Develop, deploy and integrate AI workflows that quickly locate and extract key information from large amounts of audio, video, images, text, and data without requiring help from AI data scientists and engineers. Transform that data into actionable intelligence.
Enterprise Business Leaders
Leverage AI in your digital transformation efforts to lower operational costs, improve customer engagement, gain competitive advantage and ensure compliance.
AI Workflows to Free Your Data
Manually locating information trapped in text, images, video, audio or data is costly, and can cause delays, impact customer/citizen experience, and risk compliance. AI is the answer, but can require expensive AI data scientists and ML engineers for AI model building and testing. Even with APIs into existing AI engines, programmers must spend time programming to each engine's unique APIs to get the insight they need from their data sources, slowing time to production. Worse, integrations with legacy systems can be costly and complex, and deploying AI frequently misses the mark at production scale.
Organizations need an easy way to deploy and integrate AI models to do the time-consuming work of reviewing content for key pieces of information, so they can focus on how to leverage that information to improve business outcomes.

With Veritone Automate Studio, developers can easily create and deploy aiWARE-based workflows to ingest, index, extract, and export content, transforming that content into actionable intelligence and making that intelligence available to applications and business processes such as BPA, RPA, and line of business systems.
Easy, Scalable and Future Proof AI
Automate Studio harnesses the power of aiWARE's ecosystem of best-of-breed, ready-to-deploy AI models to tackle some of the biggest challenges facing AI deployments today. Many AI deployments fail because they:
Require expert knowledge of full-stack AI and legacy system integrations
Rely on single-vendor AI technology with limited shelf life; and
Cannot deploy easily and scale well in production AI deployments.
Automate Studio and aiWARE solves these challenges to get you started on the right foot on your AI journey. Accelerate your content-rich processes, reduce operational costs, and improve visibility and decision making.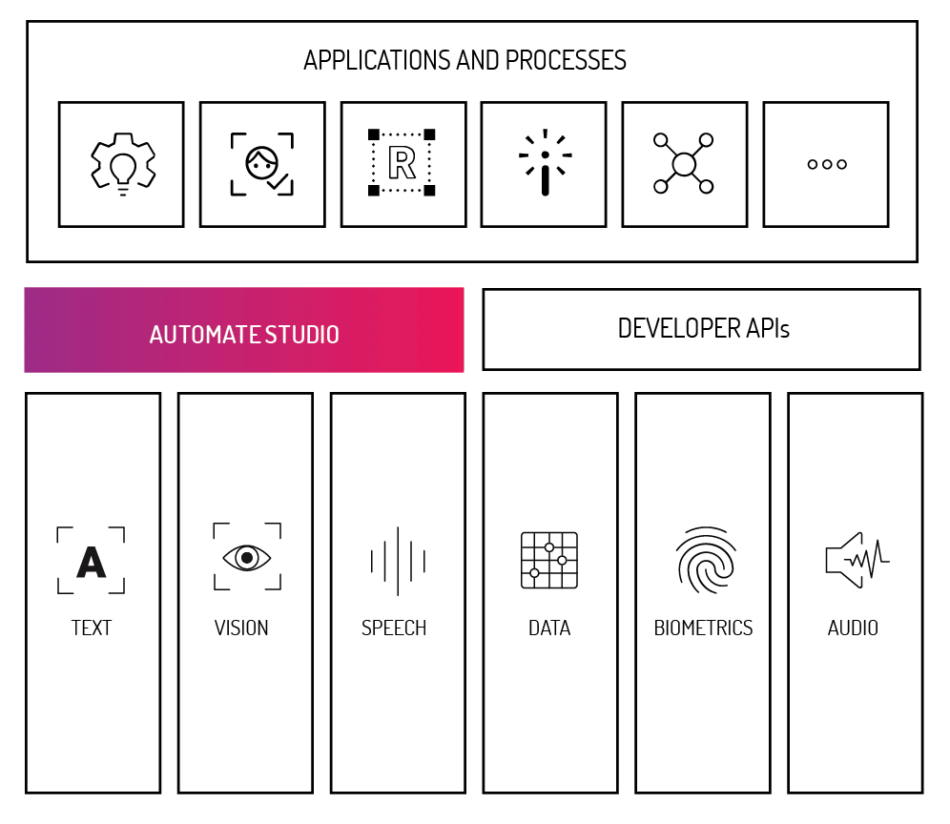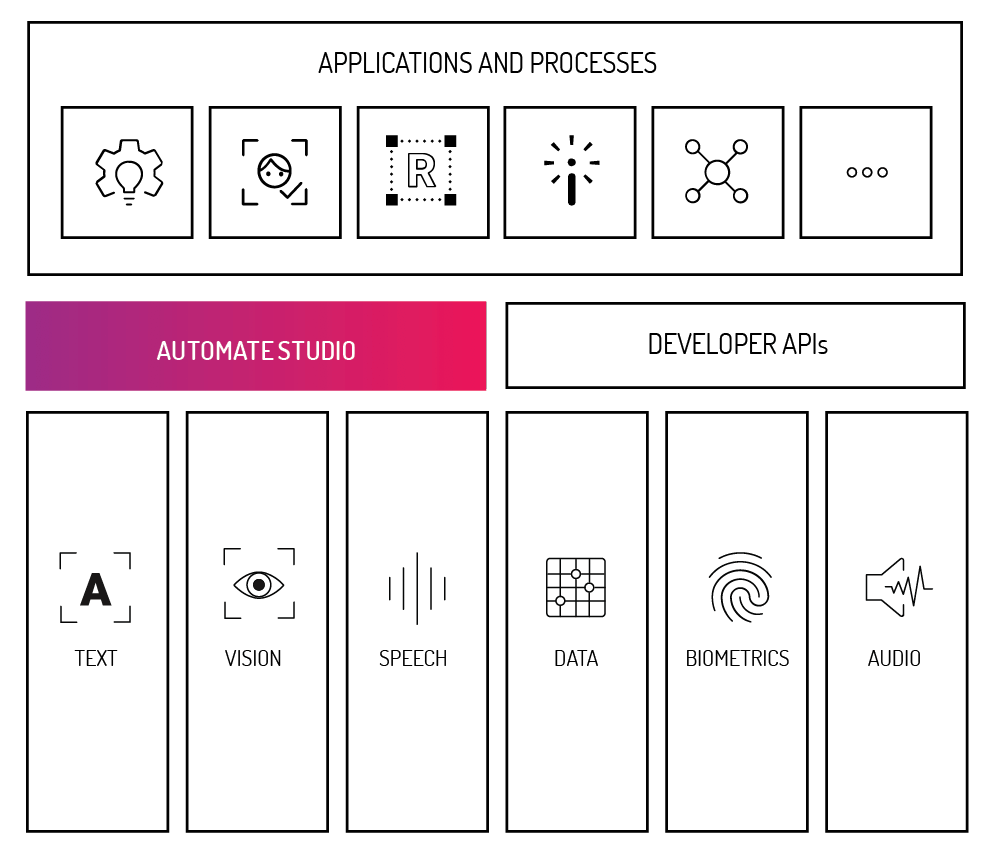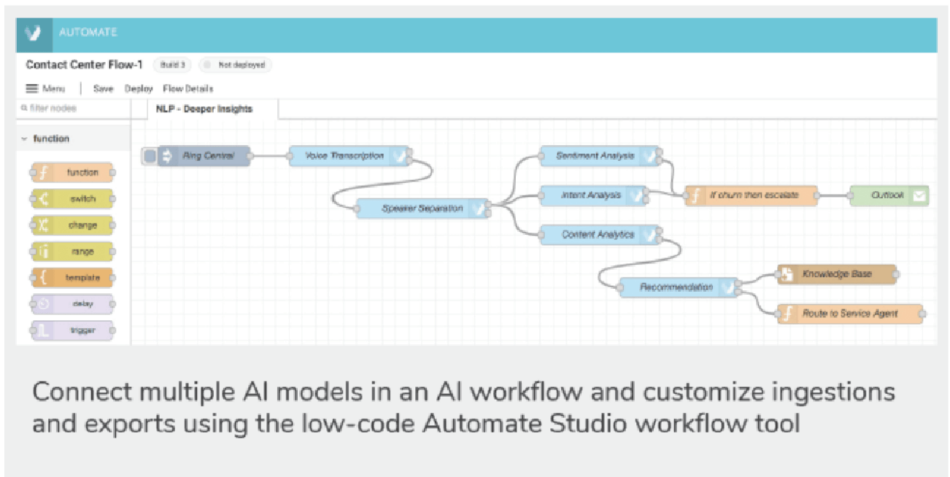 Jump Start Your AI Projects
The combination of Automate Studio and ready-to-deploy aiWARE AI engines significantly accelerates the deployment and integration of AI into business-critical applications and processes.
Out-of-the-box AI workflows for computer vision, speech recognition, text analytics and natural language processing get you started in minutes without a single line of code.
Jump start more complex AI projects with dozens of starter flow templates that speed time to value. Starter flow template examples include a podcast-to-blog converter, a stock performance estimator, and a suite of contact center flows that provide voice recognition, transcription, translation, insight, and auto-response, just to name a few.
Capabilities
Pre-Integrated AI

Pre-integrated with the aiWARE Enterprise AI platform, providing seamless access to an ecosystem of the best AI engines for the task

Event Driven

Goes beyond simple data indexing by tagging indexed and time-correlated metadata to identify events such as objects, people, keywords, etc, enabling event triggering and content search within calling applications

Future Proof

Standardized interface regardless of which underlying aiWARE engine vendors are used — no need to learn multiple vendors' AI engine APIs, and avoid single vendor technology dependencies

Production Ready

Easily deployable production workflows with scalability to gracefully handle massive amounts of data in near real time

Purpose Built

Designed for aiWARE with pre-built flows for specific use cases, and import and export connectors for common business systems – no need to start from scratch

Community Supported

Automate Studio is built on Node-RED open-source workflow software and leverages pre-built workflows from the Node-RED developer community to help seamlessly jumpstart your AI project
AI Models Supported
Automate Studio gives low-code access to Veritone aiWARE's ecosystem of hundreds of best-of-breed AI models to automate content processing. Alternatively, use aiWARE's rich set of HTTP RESTful API and GraphQL APIs. Model classes include:
Model Classes:
Text

Vision

Speech

Data

Biometric

Audio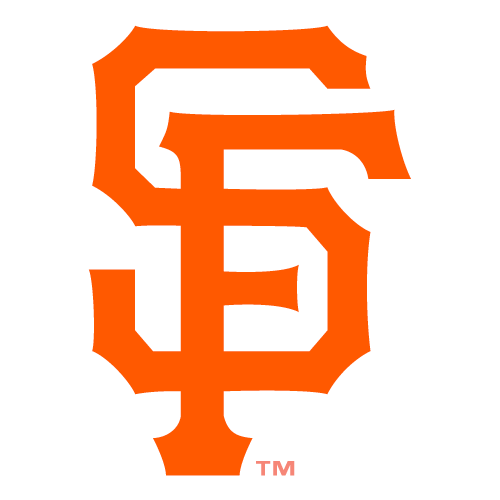 We are active users of the Veritone Digital Media Hub solution to manage our deep bench of 80+ years of video assets on and off the field. When we partnered with Veritone back in 2020, we liked that the AI solution was future-proofed by being cloud and model agnostic. Today, we are seeing a path forward to engaging our fans in the metaverse because of our legacy investment and partnership with Veritone."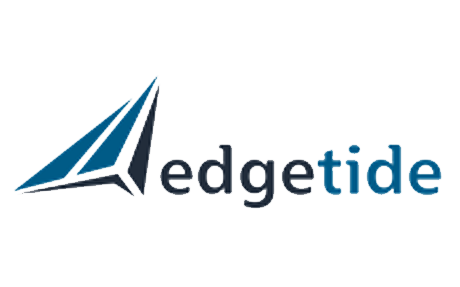 Veritone Automate Studio makes it easy for us to integrate intelligent, automated workflows into our Ordenite platform to cognitively-enrich customer data sets in near real-time. This has allowed us to expand our offering and more quickly expose deeper relationships in data for our government and private sector customers, accelerating their intelligence gathering processes that influence critical decision-making.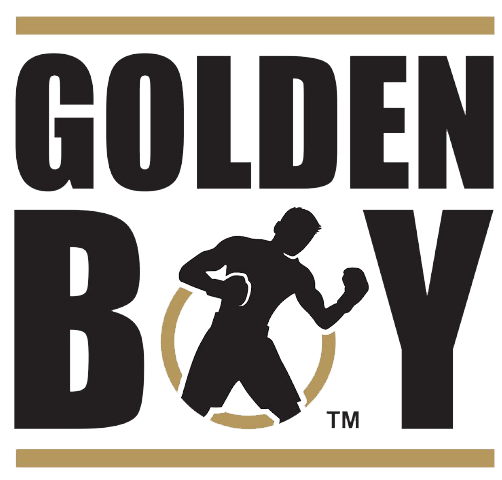 We required a solution that would not only save us time and money in delivering content to our partners, but would increase efficiency by allowing our editors and media team to access materials more quickly. We've enjoyed a long relationship with [Veritone] and their professionalism and expertise in the field made them an easy choice for digital asset management…the solution is already paying off.

In our experience, one of the biggest challenges of eDiscovery is the sheer volume of material that has to be processed. It can be difficult enough to plow through high numbers of emails and documents, but the increased volume of audio and video files being created and stored today has made the challenge all the more difficult. Many organizations find it cumbersome and expensive to move all of the audio and video files, often via a managed service provider, to an eDiscovery platform. Until now there has been little option to do so, but with Veritone's new Illuminate product users can now pinpoint and interrogate elements and concepts in large amounts of audio, video and text, at scale, much earlier in the process than was previously feasible.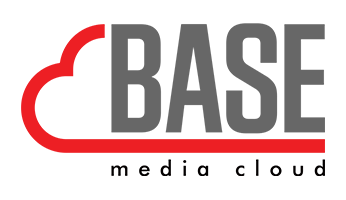 Veritone is intrinsic to this entire venture, not just for the brilliant MAM capabilities of Veritone Core, but also because we have access to (Veritone) aiWARE. It means we have a powerful toolkit to tap into and build clever AI workflows for managing inbound streams and outputting content with cognitively enriched metadata, which significantly assists in the rapid discovery and monetization of content.

By adding aiWARE to our platform, we're empowering buyers to target ads to consumers based on the content of the episode they're listening to. Listeners appreciate contextual and relevant ads — and that means they pay more attention to them.

[…] we had to find new ways to access our massive archives, turn thousands of hours of footage into searchable content, and accelerate our delivery workflows. Veritone [aiWARE] provides us with an end-to-end solution that allows us to do exactly that — and without major systems revamp or resource requirements on our end.
Learn more about how Veritone's AI solutions can help you and your team optimize your performance.