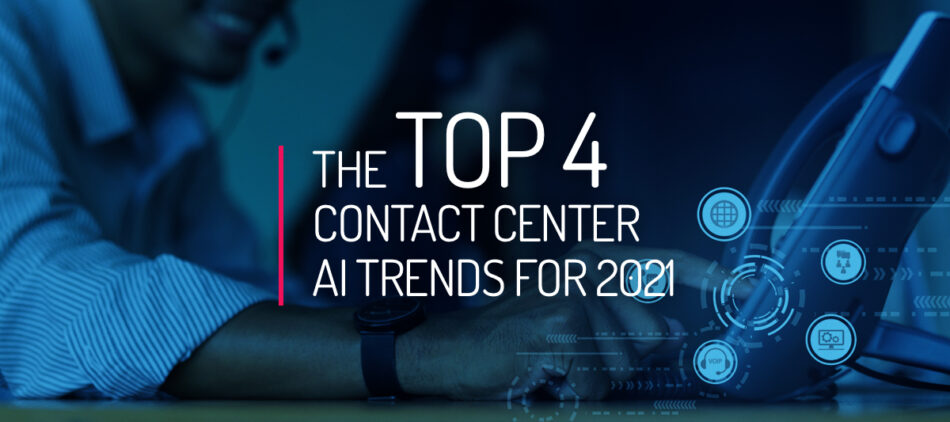 12.18.20
The Top 4 Contact Center AI Trends for 2021
Artificial intelligence is transforming contact centers, with technologies like speaker recognition, sentiment analysis and recommendation engines driving operations to new heights of efficiency and customer service. What are the most critical contact center needs that AI can deliver today? Let's take a quick look at the top-four ways that AI can overhaul your call-center operations in 2021.
1. Immediate Data Access
What if contact centers could automate the process of identifying callers and providing agents with a 360-degree view of the customer across all communication channels? This not only would allow contact centers to offer a personal touch, but also would dramatically boost contact-center efficiency by freeing agents from the task of tracking down basic customer data. AI solutions are making this kind of automation possible today, using voice fingerprint and transcription algorithms to identify callers and provide essential information to agents.
2. Rapid Case Resolution
By using AI models in combination, contact centers can automate and streamline processes to accelerate case resolution. For example, algorithms can instantaneously transcribe customer-service calls, detect topic and key points, and automatically route inquiries to the relevant manager for quick response. New AI solutions allow contact centers to orchestrate multiple algorithms and integrate their functions into existing business processes and business software.
3. Understanding Your Customer
Gauging customer mood plays a critical role in successful contact-center operations. New solutions allow contact centers to employ multiple AI algorithms in combination to paint a clear picture of customer attitude. For example, such solutions can use a sentiment analysis algorithm to process incoming communications, check for negative feelings and then automatically alert the relevant manager via text message—all in a fully automated fashion.
4. Enabling Self Service
AI solutions can dramatically improve contact-center performance by allowing customers to serve themselves—eliminating the need for agents to intervene in many cases. For example, holistic AI solutions now on the market can analyze customer communications from any channel, recognize requests and automatically fulfill them. Using chatbots, contact centers can automate replies to a wide range of customer inquiries.
Veritone's Contact Center Automation solutions provide an easy path to the deployment of sophisticated AI capabilities. By combining the power of multiple, ready-to-deploy AI models in a single automation solution, Veritone's Contact Center Automation Solutions can allow your contact center to accelerate data access and case resolution, while also enhancing customer understanding and enabling self-service.
Learn more about Veritone's Contact Center Automation solutions, or contact Veritone today to find out more about how Veritone can transform your contact-center operations.
Further Reading
Use AI to Boost Contact Center Service Levels with 360 Customer Views
Add AI to Contact Centers to Generate Valuable Customer insights
Webinar Replay: How AI Transforms Contact Centers in the Age of COVID
Empowering Remote Contact Centers With AI Digital Workers