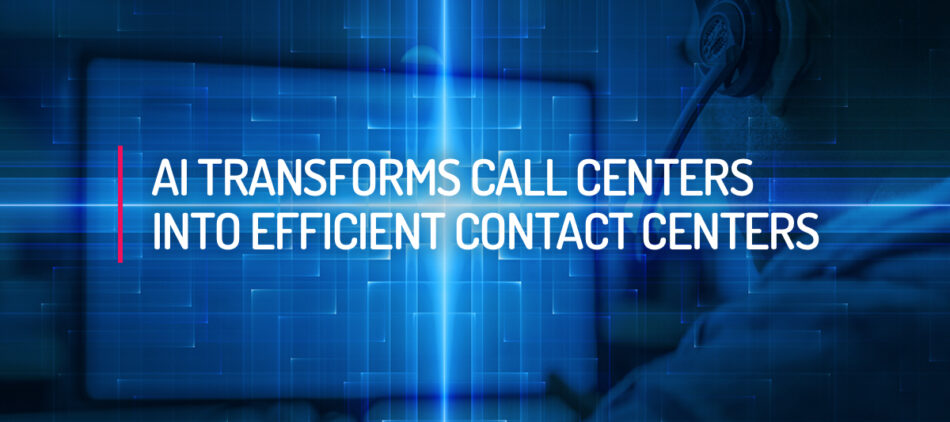 12.14.20
AI Transforms Call Centers into Efficient Contact Centers
Remote customer-service operations once were known as "call centers" because they exclusively dealt with incoming customer telephone calls. However, in the Internet era, call centers have been recast as "contact centers," able to handle a wide range of communications formats beyond voice calls, including email, text messaging, social media and even video recordings.
As these communications formats proliferate, traditional, manual methods of inquiry response are becoming increasingly burdensome for support teams. Contact centers not only are answering communications in more formats—they are responding in new ways, for example with chatbots. 
To accommodate this explosion in communication formats, contact centers need AI solutions that can automatically ingest all kinds of data, process the information, conduct analysis, evaluate the inquiry and route and make recommendations regarding responses. Such solutions empower contact centers to seamlessly support whatever communications channels the customer desires on a 24/7 basis.
Provide Call Center Service Agents with Unified Analysis and AI Updated Inquiry Information
An optimal omnichannel AI solution would support multimedia interactions and ingest all types of content from a single ingestion point at a contact center. Moreover, it would deliver consistent interactions and a uniform experience with customers across phone, video, chatbot, email and social media communications channels. This approach would eliminate the need for contact centers to repeatedly request the same information from customers if those customers use multiple channels for inquiries.
Such a solution would operate consistently over multiple channels. For example, a customer might reach out to a contact center using multiple methods at different times, using a combination of phone calls, mobile texts and emails. A holistic AI solution would be able to work across every channel, providing service agents with unified analysis and updated information about the inquiry regardless of the communications media.
AI Algorithms Automate Call Centers Inquiry Processing, Routing and Response
To support processing across a wide range of communications formats, contact centers need AI solutions that combine the functionality of multiple types of AI algorithms, allowing contact centers to automate inquiry processing, routing and response. Such solutions harness the power of AI engines including voice recognition, text transcription, translation, speaker identification, face recognition, sentiment analysis and other text analytics. By bringing these AI engines together, such solutions can accommodate the myriad  communications formats employed by today's consumers, performing tasks including:
Identifying voice callers and transcribing their spoken words.

Conducting sentiment analysis of voice calls.

Running OCR and object detection on images emailed by customers.

Analyzing text in customer texts, emails, files and web pages.

Processing live audio/video streams to derive key information.

Leveraging text transcription and image recognition to monitor social media and video platforms.
These capabilities enable contact centers to efficiently handle all forms of incoming communications. They also parlay into more efficient responses to various forms of inquiries.
One AI system has already arrived on the scene that is designed to handle all types of communications formats: Veritone's Contact Center Automation Solutions. Veritone gives contact centers the ability to leverage the power of its aiWARE platform, which utilizes multiple, ready-to-deploy AI models. With these capabilities, contact centers can easily accommodate the vast range of communications channels used by customers.
Learn more about Veritone's Contact Center Automation Solutions, or contact Veritone today to find out more about how Veritone can transform your contact-center operations.
Further Reading
Webinar Replay: How AI Transforms Contact Centers in the Age of COVID
Add AI to Contact Centers to Generate Valuable Customer insights
Empowering Remote Contact Centers With AI Digital Workers
Use AI to Boost Contact Center Service Levels with 360 Customer Views