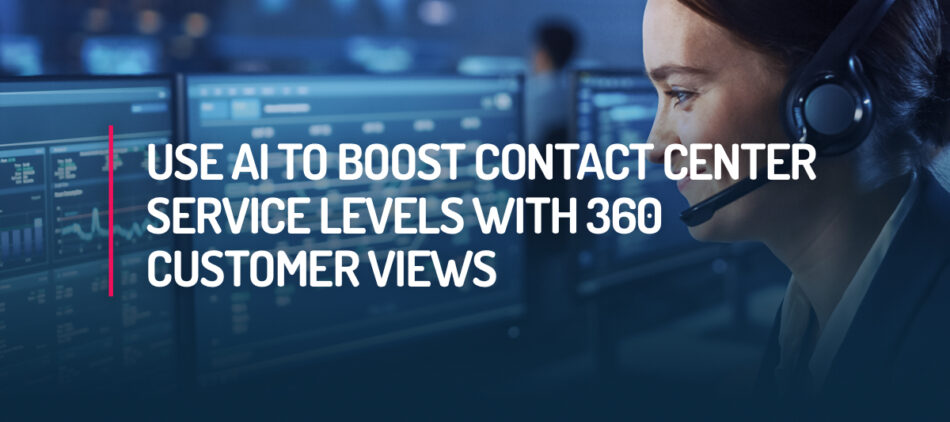 11.16.20
Use AI to Boost Contact Center Service Levels with 360 Customer Views
Once upon a time, customer service meant certain things: a familiar face, a friendly greeting and a relationship based on a history of personal interactions.
Nowadays, customer service means something very different: a call to a contact center, an anonymous voice on the phone—and a relationship that seems to go back to square one with each new interaction. All too often, before any actual customer service can start, customers must identify themselves and then wait for contact-center agents to manually search and retrieve their account information. This process can be repeated multiple times during a single call, as callers are shuffled between different agents.
Interactions like this underscore the impersonality of contact-center calls, making customers feel like numbers, rather than individuals. This process also slows the pace of response, eroding efficiency by lengthening average call-handle times.
What if contact centers could automate the process of identifying callers and providing agents with all the information they need to understand and serve the needs of each individual customer? This not only would allow contact centers to offer a personal touch, but also would dramatically boost contact-center efficiency by freeing agents from the task of tracking down basic customer data.
Making Automation Possible Today
Commercially available artificial intelligence (AI) algorithms are making this level of automation possible today. Before live engagement even begins, voice fingerprint and voice transcription algorithms can identify callers.
However, algorithms represent only part of the solution. Achieving the full efficiency gains promised by AI technology requires a comprehensive system that can manage algorithms, orchestrate and automate their operations, and integrate them into overall business processes. 
Imagine a solution that automatically gathers callers' voice samples from popular unified communications software, like RingCentral. The solution then would identify speakers in real time using voice fingerprinting, no matter what the language being spoken. Based on this identification, the solution can query various customer databases (Sales CRM, Support CRM, Billing CRM) to gather comprehensive, 360-degree-view data about the caller's account and present that data to the agent.
For example, the system can determine which company products the caller is using by checking their account in customer relationship management software like Salesforce. The system then can query customer engagement software such as Zendesk to check the status of any service tickets. Finally, the system can gather billing information from customer relationship software, like Oracle's NetSuite.
After this information is gathered, the system can instantaneously provide live service agents with a comprehensive view of customer status, with critical information including:
Open tickets, aging cases and escalations.

Billing, payments, warranties and products under current support.

Customer satisfaction score, net promoter score and overall health score.
Veritone's Contact Center Automation Solutions
With this 360 view in hand, agents can enter live calls with all the information they need to give customers immediate, personalized support—without having to ask the customer for personalized information like phone numbers, addresses or account numbers, and then searching various databases to get the information they need
One such solution has already arrived on the scene: Veritone's Contact Center Automation Solutions allow contact centers to leverage the power of multiple, ready-to-deploy AI models in a single automation solution without employing extensive coding expertise or resources. 
With Veritone, contact centers are armed with AI-powered workflows for 360 customer views that produce more efficient customer support and more satisfied customers. The solutions employ workflow steps for content ingestion, enrichment and integration. Organizations can leverage standalone AI engine workflows for 360 customer views, or those flows can be called by legacy contact-center applications or business process automation and robotic process automation solutions used for call-center process automation.
Learn more about Veritone's Contact Center Automation solutions, or contact Veritone today to find out more about how Veritone can transform your contact center operations.
Further Reading
Add AI to Contact Centers to Generate Valuable Customer insights
Webinar Replay: How AI Transforms Contact Centers in the Age of COVID