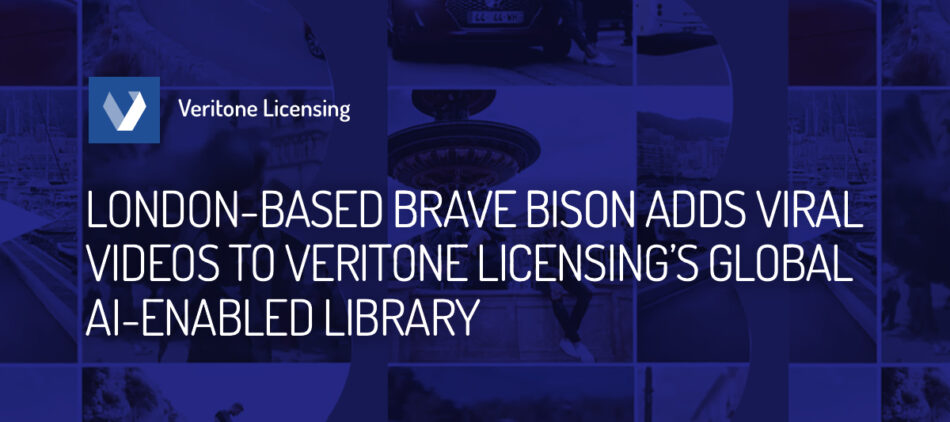 12.11.20
London-based Brave Bison Adds Viral Videos to Veritone Licensing's Global AI-enabled Library
Plus, preview our top five Brave Bison user-generated videos.
Veritone Licensing has announced a new licensing agreement with London-based international social video company Brave Bison that brings new viral videos to our collection of licensable content. 
The agreement is the third library of user-generated content Veritone has signed this year (following deals with Collab and Studio 71), and the first international user-generated content library. Responding to market demand, Veritone is pleased to add this international partner to our growing AI-powered content library. 
About Brave Bison
An international leader in social video, Brave Bison's portfolio of social-first media brands have developed a combined audience of 158 million followers through its online communities and drive more than 2 billion views per month. Videos from Brave Bison's library will be added each week to Veritone Licensing's AI-searchable collection, which can then be licensed to use in commercials and other creative projects. 
Watch a few examples of Brave Bison's library:
Cute videos of animals and kids
Who doesn't love adorable dog and cat videos and seeing kids deal with the pandemic in cute and creative ways? Videos like these are always great for generating goodwill in clever ad campaigns. 
Thoughtful pandemic-related videos
With the pandemic still raging all over the world, COVID-19 safety is still top of mind. User-created videos such as these capture real, touching content related to the pandemic that can be incorporated into a variety of creative projects.
Great anytime videos
Licensed content can help producers get around a variety of filming issues and establish authenticity with the audience, Videos like these can't be re-created in the studio, giving producers the opportunity to deliver something unique to viewers.
Further Reading
Veritone Licensing Announces Agreement with Brave Bison to Expand Global User-Generated Content Library
New Content Partner South China Morning Post Brings Videos of Protests, Historical Footage and More to Veritone Licensing
Content Licensing & Monetization
Veritone Signs Collab to Expand User-Generated Content Library