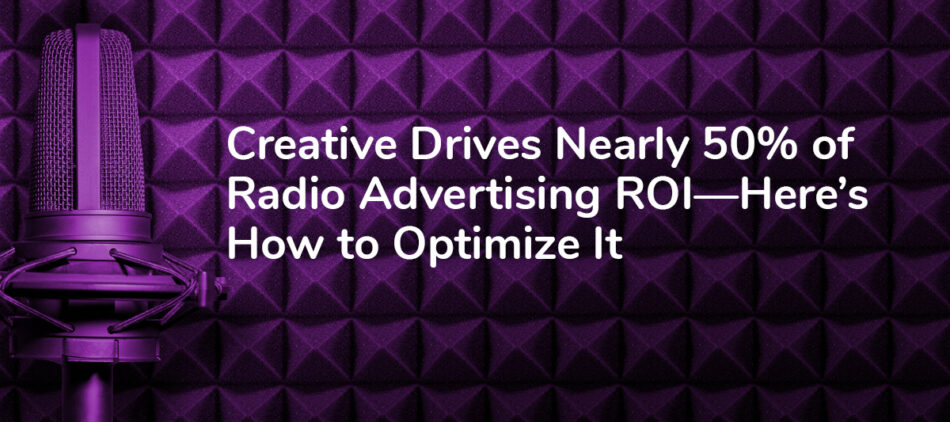 08.25.22
Creative Drives Nearly 50% of Radio Advertising ROI—Here's How to Optimize It
Summary:
With radio listenership back to pre-pandemic levels, now is the time for stations to make sure their ads are driving the maximum ROI for advertisers.
Increasing brand mentions and using more host-read ads are just two of the tactics you can use to improve ad performance.
AI is needed to provide the best campaign insights and optimize ads based on what's working.
---
When it comes to radio advertising, optimizing your ad creative is one of the best ways to maximize your reach and keep ad dollars coming in. However, that's easier said than done.
We'll dig into how radio operators can optimize their creative, but first, we should note why it's so important to make sure you're taking advantage of the best tools to maximize the impact of your advertising. As we highlighted in a previous blog, radio listening is back to pre-pandemic levels. With more jobs demanding workers come back into the office, it's no wonder there are more folks back on the road, listening to the radio throughout their commutes.
That means the time is now to make sure your ads are performing well—so you can take advantage of the bump in listenership, keep clients happy, and avoid losing ad dollars to digital audio. To make this happen, you need the right tools to ensure you can track creative at scale.
The Latest Performance Insights for Radio
According to a recent report by Cumulus Media, creative has become even more of a focal point for advertisers and brands, driving nearly 50% of advertising ROI. Cumulus Media Chief Insights Officer Pierre Bouvard highlighted that tracking creative and analyzing its performance will ultimately lead to higher sales if best practices are followed— especially because it's becoming harder to hold consumers' attention.
Creative that performs well leans on brand mentions. In fact, the number of brand mentions directly impacts recall and consumer familiarity, affinity, and the likelihood they'll seek more information (LTSI). We highlight these findings in the following table: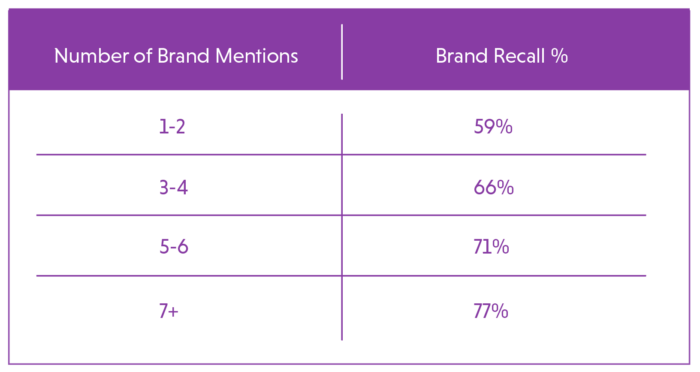 In addition to brand recall, mentioning the brand anywhere between seven and 14 times increases the following:
Familiarity – 40%
Affinity – 67%
LTSI – 43% or more
But that's just the tip of the iceberg regarding how to maximize performance. The study confirmed many things we already know, such as how host-read ads typically outperform prerecorded spots. However, to maximize performance, stations need to track creative so they can optimize the message.
How AI Can Help Take Creative to the Next Level
To become more competitive, stations need to track all their content, from how often a brand is mentioned to A/B testing creative. Artificial intelligence (AI) adoption in broadcast has increased for a reason. To automate and streamline manual tracking processes, stations can achieve greater scale and provide campaign insights to maximize an advertiser's ROI.
Using the cognitive capabilities of Veritone aiWARE, a hyper-expansive Enterprise AI platform, Veritone Discovery enables station teams to identify everything that's said or seen in a broadcast. By reducing the effort it takes to track content, teams can increase their awareness while reducing the amount of work it takes to stay on top of specific content.
To track performance metrics, Veritone Attribute can be paired with Discovery to correlate ad runs to an uptick in website performance on an advertiser's site. These two solutions have helped our broadcaster customers, big and small, stay on top of all their on-air campaigns, ensuring they can gain a competitive edge to reduce customer churn and win new business.
Learn More About Veritone Attribute and Veritone Discovery.