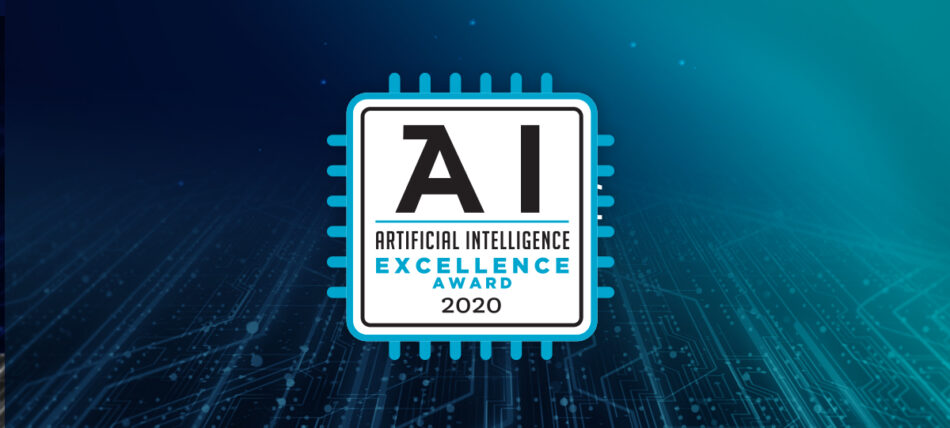 03.27.20
Veritone Wins 2020 Artificial Intelligence Excellence Awards
The Award Recognizes Two of Veritone's Innovative AI Solutions, IDentify and Redact
Veritone Inc. (NASDAQ: VERI), the creator of the world's first operating system for artificial intelligence, aiWARE™, today announced that Business Intelligence Group has named Veritone as a winner in the 2020 Artificial Intelligence Excellence Awards program for its applications Veritone IDentify and Veritone Redact, both of which are powered by Veritone's aiWARE platform.
"We are honored to be recognized as a top provider of AI solutions, particularly for our turnkey applications for law enforcement agencies, IDentify and Redact," said Jon Gacek, Head of Government, Legal and Compliance at Veritone. "For the last several years, our team has worked hard to provide innovative tools to accelerate workflows, save costs and valuable resources, and protect the public. This award aligns with the traction we are getting in the market and represents a huge milestone and great recognition for our team. We are excited to continue to bring innovative, pragmatic AI solutions to the table for these important sectors."
The Artificial Intelligence Excellence Awards program recognizes the organizations, products and people who bring AI to life and apply it to solve real problems. Nominations were received and winners were chosen in four categories of AI, including Reactive Machines, Limited Memory, Theory of Mind and Self-Awareness. 
"We are proud to name Veritone as a winner in our inaugural Artificial Intelligence Excellence Awards program," said Maria Jimenez, chief nominations officer for Business Intelligence Group. "It was clear to our judges that Veritone was using AI to improve the lives of their customers and employees. Congratulations to the entire team!"
Released in 2019, Veritone IDentify and Veritone Redact lower the barrier to access cutting-edge AI, enabling sectors like law enforcement and government to realize the power of the technology. Taken together, these products empower public safety by accelerating the identification of potential criminal suspects and protecting the privacy of civilians.
Veritone IDentify is a purpose-built solution that allows law enforcement teams to more quickly and accurately identify perpetrators of crimes. This application enables law enforcement agencies to easily upload still images and video of suspects in evidence footage and compare those images with thousands of known offenders in their existing criminal databases. The application gives investigators a list of potential matches for further investigation — dramatically increasing the efficiency of a process that has traditionally been very manual and time-consuming. And through aggregation, filtering and selective sharing capabilities, IDentify empowers the next level of inter and intra-agency collaboration.
As the volume of video footage collected by law enforcement and disclosed to defendants and in public information requests continues to increase, Veritone Redact ensures the privacy of innocent civilians isn't compromised in the process. Redact automates the process of obscuring both sensitive imagery and audio in video evidence, reducing the time required to redact these files by up to 90% compared with existing manual, frame-by-frame evidence redaction workflows. With automated face and head detection, as well as automatic tracking of manually selected sensitive imagery, Veritone Redact tackles massive volumes of audio and video content at incredible speed and efficiency –– freeing up valuable resources and helping agencies comply with privacy and disclosure laws quickly and efficiently.
For more information on Veritone's solutions for government and law enforcement, please visit https://www.veritone.com/solutions/government/. To learn more about how AI-powered technologies can help police departments efficiently redact audio and video evidence collected in the field, join our webinar with Microsoft and Pemberton Township Police Department's Chief David Jantas at 1 p.m. EST on April 2, 2020.
---
About Veritone
Veritone (NASDAQ: VERI) is a leading provider of artificial intelligence (AI) technology and solutions. The company's proprietary operating system, aiWARE™ powers a diverse set of AI applications and intelligent process automation solutions that are transforming both commercial and government organizations. aiWARE orchestrates an expanding ecosystem of machine learning models to transform audio, video, and other data sources into actionable intelligence. The company's AI developer tools enable its customers and partners to easily develop and deploy custom applications that leverage the power of AI to dramatically improve operational efficiency and unlock untapped opportunities. Veritone is headquartered in Costa Mesa, California, and has offices in Denver, London, New York, San Diego, and Seattle. To learn more, visit Veritone.com.
About Business Intelligence Group 
The Business Intelligence Group was founded with the mission of recognizing true talent and superior performance in the business world. Unlike other industry award programs, these programs are judged by business executives having experience and knowledge. The organization's proprietary and unique scoring system selectively measures performance across multiple business domains and then rewards those companies whose achievements stand above those of their peers.
Safe Harbor Statement
This news release contains forward-looking statements, including without limitation statements regarding the features of Veritone's IDentify and Redact applications, and the expected benefits to customers. Without limiting the generality of the foregoing, words such as "may," "will," "expect," "believe," "anticipate," "intend," "could," "estimate" or "continue" or the negative or other variations thereof or comparable terminology are intended to identify forward-looking statements. In addition, any statements that refer to expectations, projections or other characterizations of future events or circumstances are forward-looking statements. Assumptions relating to the foregoing involve judgments and risks with respect to various matters which are difficult or impossible to predict accurately and many of which are beyond the control of Veritone. Certain of such judgments and risks are discussed in Veritone's SEC filings. Although Veritone believes that the assumptions underlying the forward-looking statements are reasonable, any of the assumptions could prove inaccurate and, therefore, there can be no assurance that the results contemplated in forward-looking statements will be realized. In light of the significant uncertainties inherent in the forward-looking information included herein, the inclusion of such information should not be regarded as a representation by Veritone or any other person that their objectives or plans will be achieved. Veritone undertakes no obligation to revise the forward-looking statements contained herein to reflect events or circumstances after the date hereof or to reflect the occurrence of unanticipated events.