Case Study
Westwood One Makes 4-Hour Aircheck Searches take Minutes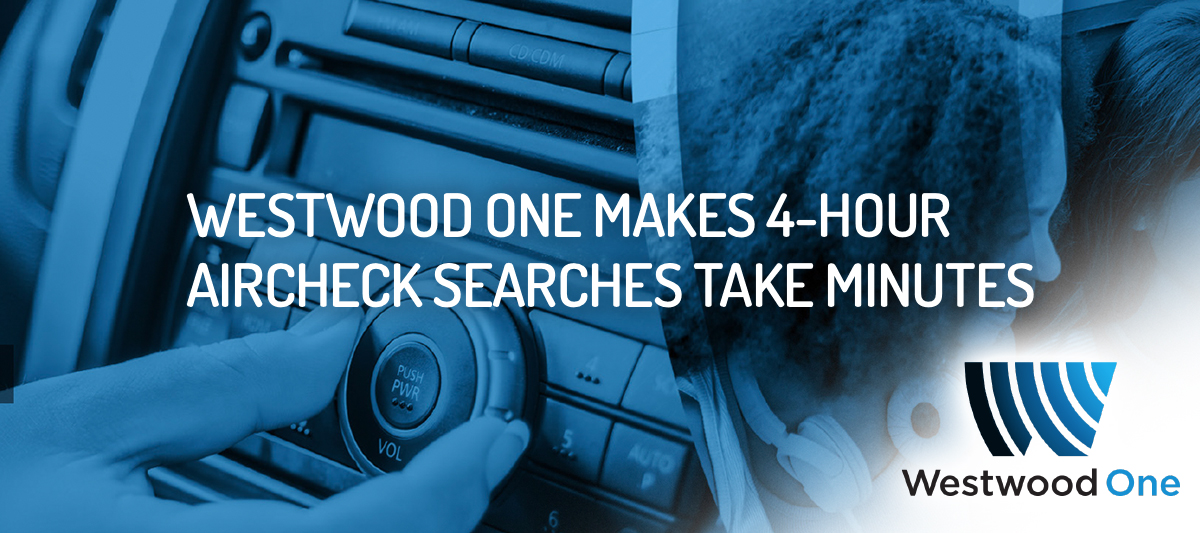 As the largest audio network in America, Cumulus Media's Westwood One connects listeners with their passions. They achieve this through their broadcast coverage across programs and platforms. In addition, the media giant delivers iconic, nationally syndicated sports, news, and entertainment content. 
Utilizing Veritone Discovery, Westwood One can provide its advertisers and brands with rapid, high-quality airchecks. Before using Discovery, audio stream monitoring took up too much time.
THE CHALLENGE
Quickly finding broadcast ad content
Westwood One lacked a broadcast
media monitoring solution
to track their programs, podcasts, and syndicated shows. Their staff needed a faster and more efficient way to conduct an audio stream search to find specific ad content. It was tough for their teams to find live reads quickly. These are typically provided to their advertisers after a show has aired or upon request. 
"Providing airchecks is necessary but takes a lot of time in radio," explains Katie Hancox, Sales Coordinator at Westwood One. "For years, our traffic team spent most of each day fast-forwarding and rewinding through our audio files to find single 10-second reads. Then we found Discovery."
THE SOLUTION
AI-powered radio content tracking
Veritone Discovery captures and transcribes Westwood One's shows and programs. It provides its staff with a powerful, intuitive user interface for broadcast monitoring. This helps them search and locate the specific ad content. Powered by aiWARE, the first operating system for artificial intelligence, Veritone Discovery helps Westwood One teams quickly find live reads. As a media monitoring tool, Discovery helps them turn a crushingly slow, manual process into a rapid, automated task.
Broadcasters can use Discovery for in-house content monitoring efficiently and effectively. However, the scale of Westwood One's operations prompted it to partner with Veritone's customer success team. This helped them to automate the generation of airchecks further. 
Veritone's customer success team created customized watch lists by advertiser, event, and program. The Veritone team curates the content for each watch list. This allows Westwood One to scale their
radio stream search
and their other channel searches across their designated market areas.
Now, they can rapidly grab airchecks across its thousands of radio stations. This frees up staff to focus on high-value activities rather than audio monitoring, increasing the value proposition of Discovery.
"We wanted to automate the process since we provide airchecks to nearly every advertiser across thousands of stations. With Discovery, we log in to the application and see all our airchecks sorted and listed. We can then easily send them to our advertisers," Hancox says. "It's impossible to overstate the amount of time we're saving." 
THE RESULTS
Faster airchecks and deeper advertiser engagement
In addition to saving time in the aircheck delivery process, Discovery is helping Westwood One win and retain advertisers. Fast, accurate airchecks give advertisers and brands the confidence to partner with Veritone as a customer-focused and professional organization. 
Brandon Berman, Executive Vice President of Sales and Sports Partnerships for Westwood One, says, "Discovery is a key element of our renewal strategy. We utilize the platform to demonstrate the advantage advertising with Westwood One provides. Clients appreciate that we're able to provide what is essentially a third-party verification of their ad play."
Discovery provides Westwood One with a competitive advantage in the marketplace. Hancox agrees and said, "We're providing a valuable service that our clients love and that many competitors cannot provide."
Westwood One can also use Discovery to increase engagement with advertisers."Discovery gives us a reason to reach out and make contact with our clients," Hancox says. "They may not even ask for an aircheck, but we send it to them perfectly packaged. It can be a conversation starter or opportunity to speak with them about their next ad buy."  
Westwood One captures the attention of millions of listeners each month. With Veritone Discovery, they can deliver even better service to their advertisers and win more business.