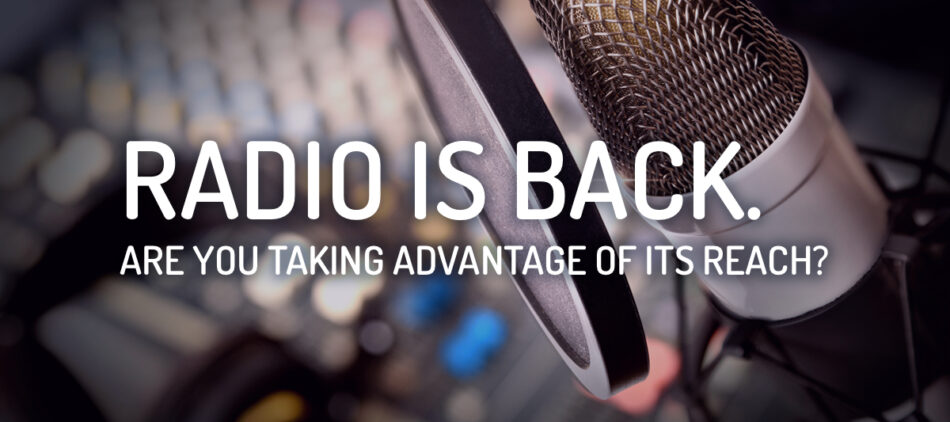 11.12.21
Radio Is Back. Are You Taking Advantage of Its Reach?
Summary:
Recent reporting shows workers are once again driving and listening to the radio, creating opportunities for radio operators and ad agencies to reach more consumers

Radio advertising remains one of the most effective methods of reaching consumers, with research showing broadcast outperforms digital advertising

In order to get advertisers on board with radio, you need an attribution solution that can tie campaigns to a lift in web traffic
---

The pandemic disrupted ongoing advertising efforts for agency professionals, resulting in a budget shift to measurable, performance-based media. 
Digital provides an obvious return on investment because actions and outcomes are instantly trackable—compared with ads on traditional channels such as radio, which doesn't have an easy way to validate performance. As the old joke goes, buy digital and get data; buy radio and get an invoice.
However, rumors of radio's death have been greatly exaggerated. With many employees previously working from home now back driving to their workplaces, at least part-time, recent reporting shows radio listening has rebounded. According to Nielsen, radio's average quarter-hour audience was up 4% year-over-year, while Statista reported that as of February 2021, 23% of survey respondents said they consumed more radio compared to the previous year, while only 13% said that they listened to less.
Clearly, radio still has a lot of sway with listeners. And smart brands and agencies are taking notice.
How broadcast advertising compares with digital
Global content consumption has never been greater, but advertisers have shifted to digital to maximize their ad spend, where advertising lift can easily be measured. However, broadcast advertising has the potential to outperform digital. According to the industry average, as well as results from our Uplift Study, which tracked more than 250 broadcast campaigns, these ads can drive up to 10 times the response rate than other leading digital tactics.
How radio operators and agencies can capitalize on the return of radio
To gain a competitive edge and take advantage of the fact that listeners are once again tuning in, both radio operators and agencies that place radio campaigns need a way to offer proof-of-performance metrics for their clients, clearly illustrating data that ad campaigns on radio work.
It's not enough to boast about listenership. You need to demonstrate the ROI of prerecorded spots, live reads, and organic mentions in a way that is measurable and easily understandable. Unfortunately, that's easier said than done.
Without a built-in method for showing ad effectiveness, many advertisers overlook radio. That all changes with an AI-enabled attribution solution that can provide the data to validate performance. 
For radio stations today, using an attribution solution such as Veritone Attribute can help prove ad attribution by tying ad campaigns directly to any lift in a brand's web traffic. You can easily track campaign performance with interactive, real-time dashboards and robust lift analytics that dissect campaigns by creative, geographic filters, daypart, and more. That's why station owners such as iHeartMedia, Cox Media Group, Primedia Broadcasting, and many more rely on Attribute to prove measurable campaign lift, empowering them to keep existing clients and win new business.
It's not just stations that can take advantage of an attribution solution. For advertising agencies, an attribution solution provides actionable ad placement data to optimize ad budget with their broadcast campaigns. As the Uplift study showed, broadcast campaigns have an average campaign lift of 6.6%, compared with the clickthrough rate of digital display ads (0.64%), Facebook ads (0.9%), and email marketing (2.6%). 
With Attribute, agencies can show their clients why they should be advertising on radio and guide them through how they can maximize ROI and performance. To get started with Veritone Attribute, see a demo, and start winning more broadcast business, contact Veritone today.
---