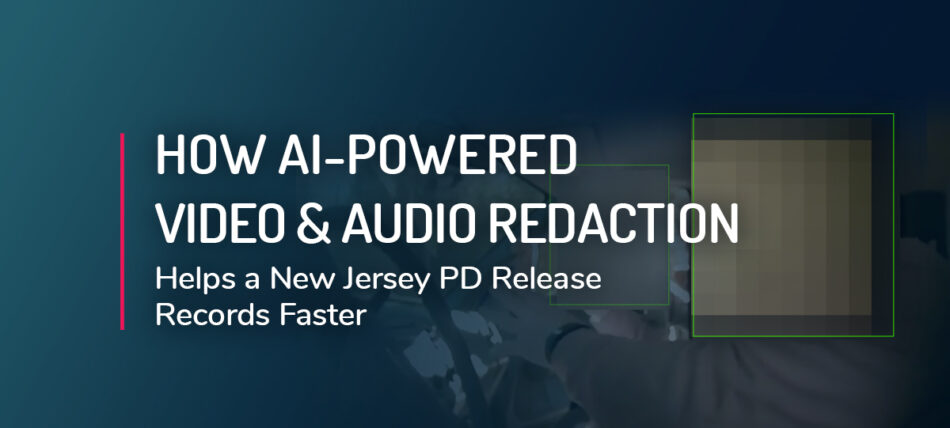 03.24.20
How AI-powered Video and Audio Redaction Helps a New Jersey PD Release Records Faster
Jon Gacek is Head of Government, Legal & Compliance at Veritone
In an era that demands increasing transparency from police departments, releasing body cam footage to the public in a timely fashion is vital. By showing events from the officer's point of view, body cam footage can show what actually happened during a controversial incident. Distributing footage can also help police solicit the public's help in solving crimes that were caught on camera.
However, police departments can't just release raw video footage to the general public. First, they must redact personally identifiable information (PII) that could compromise the investigation or put the safety of bystanders and officers at risk. Without the right technology, this process takes time and holds up the release process.
That's why when the Pemberton Township Police Department received a grant to buy body cameras for its 38 officers, Chief David Jantas knew they would need advanced redaction software, too. And they'd need to choose carefully: The department's caseload demanded an easy-to-use, efficient solution that could handle redaction of both video and audio evidence.
A need for faster redaction
The Pemberton Township Police Department plans to use its new body cam footage to share information with the public about crimes under investigation, without tipping their hands to show all of the information they had on a case.
An incident in early summer 2019 showcased the importance of camera footage to maintaining good community relations. A camera mounted on the dashboard of a police car caught footage of a police-involved shooting from a distance. Releasing that footage helped the department address questions and criticism in the aftermath of the incident — but Jantas says he wished that the footage could have been redacted and released much sooner.
Finding and deploying the right solution
To find the right partner for redaction software, Jantas and his team looked at offerings from several vendors, including the vendor that sold the department its body cameras. Pemberton Township Police Department selected Veritone Redact due to its ease-of-use and its audio-to-text transcription capabilities, which enable detectives to process recorded interviews and redact audio evidence much more quickly. 
The Pemberton Township Police Department deployed its new body cams in early March 2020. As more new footage starts coming in, Jantas looks forward to more efficient and effective public records release thanks to Veritone Redact. 
To learn more about how AI-powered technologies can help police departments efficiently redact audio and video evidence collected in the field, watch our recorded webinar with Chief Jantas from April 2, 2020.