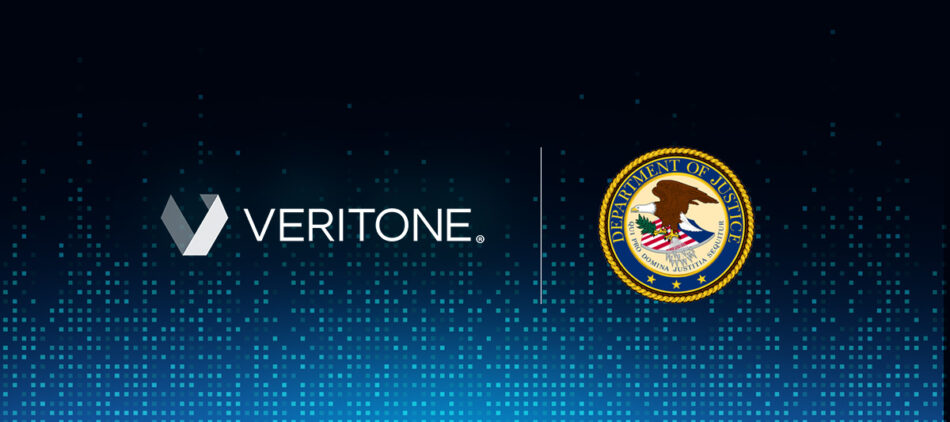 10.17.23
U.S. Department of Justice Awards Veritone Sole-Contractor Blanket Purchase Agreement at $15 Million
U.S. DOJ now able to rapidly acquire Veritone's AI solutions 
for a variety of projects and initiatives
 Veritone, Inc. (NASDAQ: VERI), the leader in enterprise AI software and services, today announced it has been selected by the U.S. Department of Justice (DOJ) for a $15 million Blanket Purchase Agreement, allowing all DOJ agencies to easily purchase Veritone software and services. Veritone will provide AI-powered software and professional services to rapidly transcribe, translate, locate, redact and extract critical evidence during early case assessment.
"This agreement provides streamlined DOJ purchasing capabilities across Veritone's AI-powered solutions, with the potential for future collaboration across the DOJ," said Jon Gacek, General Manager of Veritone's Public Sector business unit. "Our Public Sector solutions allow personnel to be significantly more productive as they investigate, review and redact a massive amount of unstructured data, including digital documents, audio and video files. In addition, the agreement further underpins our ability to provide trusted software solutions for a growing number of government-related workflows and applications."
This agreement follows the 2021 announcement detailing the expanded availability of aiWARE for all agencies of the DOJ, based on its enterprise-wide ATO (Authority to Operate) from the FedRAMP authorization board for its aiWARE Government platform deployed on both Microsoft Azure Government and AWS GovCloud environments. Historically, the DOJ has been procuring the Veritone solutions through Solutions for Enterprise-Wide Procurement contracts on an agency-by-agency basis.  
Additionally, the DOJ can leverage Veritone partners, including Deloitte, CACI, PAE, and Leidos, each of which holds a position on the DOJ's $1.5 billion automated litigation support contract. Veritone's relationships with these key partners provide the DOJ with access to Veritone's world-class AI technology and services for task orders placed under the $1.5 billion contract as well.
Built for justice systems, law enforcement, and intelligence agencies, Veritone's Public Sector solutions rapidly extract actionable intelligence from large volumes of data, including video and audio evidence from dash cameras, body cameras, CCTV, and interview rooms, as well as other sources used in investigations, surveillance, and criminal justice.
To learn more about Veritone, please visit: veritone.com
---
About Veritone
Veritone (NASDAQ: VERI) is a leader in enterprise artificial intelligence (AI) solutions. Serving organizations in both commercial and regulated sectors, Veritone's software, services and industry applications simplify data management, empowering the largest and most recognizable brands in the world to run more efficiently, accelerate decision making and increase profitability. Veritone's leading Enterprise AI platform, aiWARE™, orchestrates an ever-growing ecosystem of machine learning models to transform audio, video and other data sources into actionable intelligence. Through its robust partner ecosystem and professional and managed services, Veritone develops and builds AI solutions that solve problems of today and tomorrow.
Safe Harbor Statement
This news release contains forward-looking statements. Without limiting the generality of the foregoing, words such as "may," "will," "expect," "believe," "anticipate," "intend," "could," "estimate" or "continue" or the negative other variations thereof or comparable terminology are intended to identify forward-looking statements. In addition, any statements that refer to expectations, projections or other characterizations of future events or circumstances are forward-looking statements. Assumptions relating to the foregoing involve judgments and risks with respect to various matters which are difficult or impossible to predict accurately and many of which are beyond the control of Veritone. Certain of such judgments and risks are discussed in Veritone's SEC filings. Although Veritone believes that the assumptions underlying the forward-looking statements are reasonable, any of the assumptions could prove inaccurate and, therefore, there can be no assurance that the results contemplated in forward-looking statements will be realized. In light of the significant uncertainties inherent in the forward-looking information included herein, the inclusion of such information should not be regarded as a representation by Veritone or any other person that their objectives or plans will be achieved. Veritone undertakes no obligation to revise the forward-looking statements contained herein to reflect events or circumstances after the date hereof or to reflect the occurrence of unanticipated events.