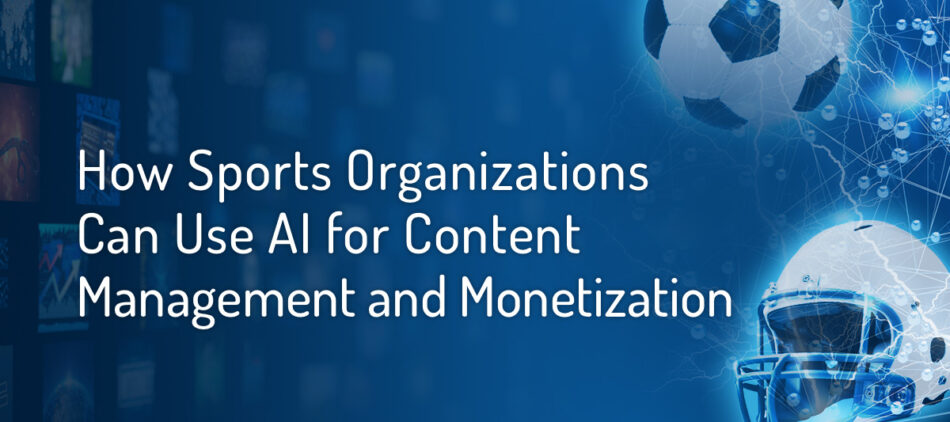 06.16.22
How Sports Organizations Can Use AI for Content Management and Monetization
How often do we consider the power of content in the sports industry? Not only is it the lifeblood of the organizations, but it's the key to fan engagement, taking them from casual viewers to fanatics and raising each fan's revenue potential.
Now more than ever, sports organizations are developing tons of content (including audio, video, images, and text) to better connect sports fans with their favorite teams. This means adding to an already massive media archive, without always having a clear way to organize and monetize that content.
In this blog, we'll cover:
Why digital asset management (DAM) is critical to sports organizations
The different issues sports organizations face when it comes to managing content
How artificial intelligence can relieve various pain points when it comes to content management and monetization
---
What content-related issues do sports organizations face?
Currently, sports organizations don't have full visibility into their archived content. This puts serious constraints on their ability to preserve historic moments, effectively distribute content over different channels and formats, and have the agility to jump on different monetization opportunities and social media trends.
We've seen four key issues:
1. Content is unusable in its current form
Major sporting organizations usually have hundreds of thousands of hours of digital assets stored away in their archives. For instance, the MLB Network produced an average of 7,000 hours of video content each week in 2017, which marks a 280% increase over 2011's numbers. Other leagues likely saw similar figures, and it's fair to assume that those numbers will continue to rise as sports organizations deploy more cameras to capture plays from different angles and include more pregame and postgame coverage.
So, what makes this content unusable? Because of the sheer amount of content building up in their archives, sports organizations end up with a library full of unsorted or untagged footage in multiple locations and formats. To make this content usable, organizations need the option to search and discover the content they need based on topics, players, or logos—but that presents another problem.
2. Manually adding metadata can take months or even years
Depending on the size of the digital archives, it could take months or years to manually add metadata to digital content—even with multiple people working on the project. While it's an important undertaking, many organizations don't have the time or resources to dedicate to a project of this size, especially when that time could have been spent growing revenue through fan engagement.
Thanks to artificial intelligence, this process takes days rather than months. Unfortunately, most legacy systems don't have built-in AI capabilities.
3. Legacy systems lack AI capabilities
Some sports organizations might use multiple solutions, storage methods, or tools to manage their archive. Others might have a media management or asset management solution but simply lack the AI piece. Using multiple solutions only adds complexity that requires employees to have cross training for multiple solutions. In moving between multiple tools, it slows down the process and reduces the efficiency of your teams.
The starting point for most organizations is digitizing their entire archive. Once digitized, they can integrate AI into their current MAM architecture or adopt a new DAM solution with AI built-in to process all of the metadata for each new digital asset.
4. There's no opportunity to monetize current or future content
Organizations need to tag their digital content in order to efficiently capitalize on their current or future assets. Incorporating the proper metadata allows users to grab a collection of assets of a certain player for a commercial or a Hall of Fame ceremony.
By combining their asset management processes with artificial intelligence (AI), sports organizations can drastically improve how they archive, locate, and make use of their content. Not only does AI offer automation that can save organizations hundreds of hours, but it also gives them the agility to meet quick turnarounds and take advantage of marketing and monetization opportunities as well as year-round engagements. Plus, adopting a solution with built-in eCommerce functionality can help end buyers use those same AI-derived metadata to easily find and license the content they need.
How can artificial intelligence eliminate content issues for sports organizations?
Content and digital asset management can be a tedious, time-consuming process. Adding AI to your technology stack automates a lot of the organization process so that you can focus on engaging with fans rather than admin work managing a constantly growing archive.
Veritone's Digital Media Hub is an AI-infused digital asset management platform that allows users to quickly tag, search, and discover all sorts of content (whether structured or unstructured) in an intuitive, easy-to-use space. Digital Media Hub also lets you set up your own white-labeled marketplace to license your content, helping potential customers to easily locate the content they need while giving you the access management, rights management, and analytics you need to operate a proper monetization strategy.
Veritone Digital Media Hub has already garnered huge successes, including helping the San Francisco Giants automate 60 years' worth of archive logging, which saved them the equivalent of 15 interns working on this project for an entire year.
For more information on Veritone's Digital Media Hub and how it can help your sports organization generate more revenue with your future and existing content, download our free white paper today.
Download