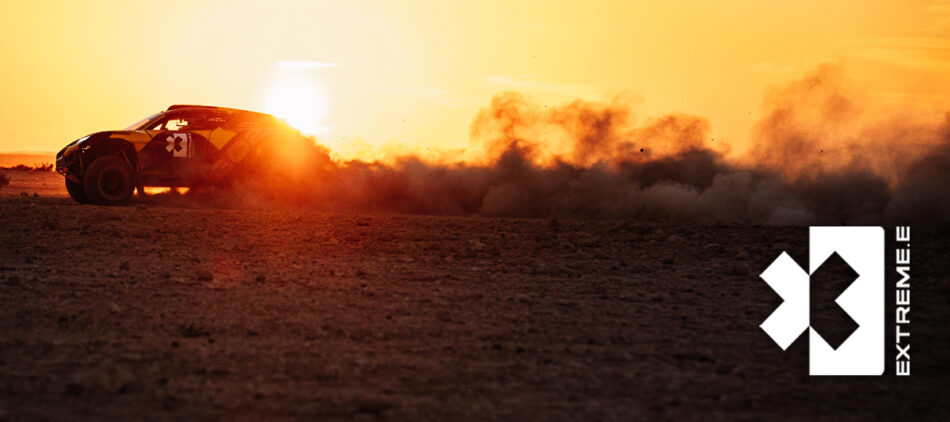 01.19.21
Eco-Conscious Sports Company Implements Remote Workflow With Help From Veritone Digital Media Hub
A multicloud distribution platform from Veritone and Base Media Cloud helps off-road racing series Extreme E store, manage and share assets with multiple global partners.
Summary:
Extreme E's remote production needs necessitated collecting and distributing data from multiple sources
The solution needed to allow them and their media partners to search, view and download content
A combined solution from Veritone and Base Media Cloud helps meet sports production's unique needs
---
Extreme E is an exciting new sports organization that uses groundbreaking electric SUVs to race in remote parts of the world, from the Amazon rainforest to the Arctic, while raising awareness about climate change.
The series aims to bring viewers a completely new way to interact with racing, as each event seeks to not only entertain with high-speed races in exotic locations, but raise awareness of the need to protect these remote environments.
The series launches April 2021 in the deserts of Saudi Arabia and will continue in Senegal, Greenland, Brazil and the Amazon.
A complex production
With such an ambitious undertaking, Extreme E needs to employ a broad range of solutions to produce sensational race coverage, as the organization revealed during a tech talk, "Remote Working at the Extremes," at the SVG Summit earlier this year. Extreme E needs to utilize technology such as track, on-board and POV cameras (across water features, jumps, etc.), drones, virtual reality and augmented reality, and timing and telemetry data will consist of hundreds of pieces of data that will then be fed into the live TV program.
For broadcast, its races will stream live on a variety of digital platforms. Each two-day race will conclude with a two-hour transmission, distributed to global rights holders. In addition, clips will need to be generated for TV shows, documentary series and social media.
Given the scale of production, Extreme E needed a system that would allow them to manage content that is created all over the world, including the ability to upload from anywhere into a centralised secure storage location. They also needed to be able to manipulate, search, view and download content; and to give this functionality to its authorized media partners.
If that level of operation weren't enough, Extreme E is also fiercely dedicated to making its production as environmentally conscious as possible. By employing remote workflows, they can transport fewer people and equipment to each far-flung locale, reducing their carbon footprint.
"We're a TV-only product. We don't have spectators on-site, partly because we're so remote, and partly because we 'race without a trace' — we don't want people damaging the already delicate locations we're at," explains Dave Adey, head of broadcast and technology for Extreme E. "Being a TV product, content is our most valuable asset, and the robust management of that is a fundamental requirement."
Implementing a remote workflow solution
Extreme E (and its production partners Aurora Media Worldwide and North One) chose to use a sports multi-cloud distribution solution created through a partnership between Veritone and Base Media Cloud, a centralized cloud storage provider that helps its clients manage multiple terabytes of data using multiple clouds. Veritone and Base Media Cloud began their partnership nearly four years ago to form the solution, which is already used to meet the unique needs of some of the largest sports federations in the world.
The sports solution combines accelerated file transfer and cloud object storage services from Base Media Cloud with Veritone's Digital Media Hub AI-powered intelligent asset management system for a cloud-native integration from which all global content access is handled in the cloud, making it ideal for remote workflows. It standardizes the ingest process from multiple partners, accelerates content into secure object storage and then provides instant access to those assets to key rights holders and stakeholders, such as broadcasters, teams and sponsors. This takes place at the heart of the production, where multiple production companies and partners can coordinate upload and standardize media access.
By using Veritone and Base Media Cloud's solution, Extreme E coordinates and simplifies their content and metadata aggregation from multiple partners and makes it easier to discover and share content globally and securely. The combined platform is built to scale, is able to connect to multiple services as the business grows (e.g. a comprehensive range of AI services, eCommerce for monetizsation, open API's for third party connectivity, remote editing, branded channels for streaming purposes, automated distribution workflows, etc.)
"The benefits of cloud production and distribution with Base Media Cloud and Veritone is a real 101 for us," Adey says. "It's the initial building blocks that we need."
If you're interested in exploring implementing our combined sports solution in your own organization, get in touch with one of our representatives to see how you can solve your remote working challenges.
Further Reading
The Increasing Role of AI in Sports Broadcasting
Veritone and Base Media Cloud Announce Six-Year Agreement with Extreme E