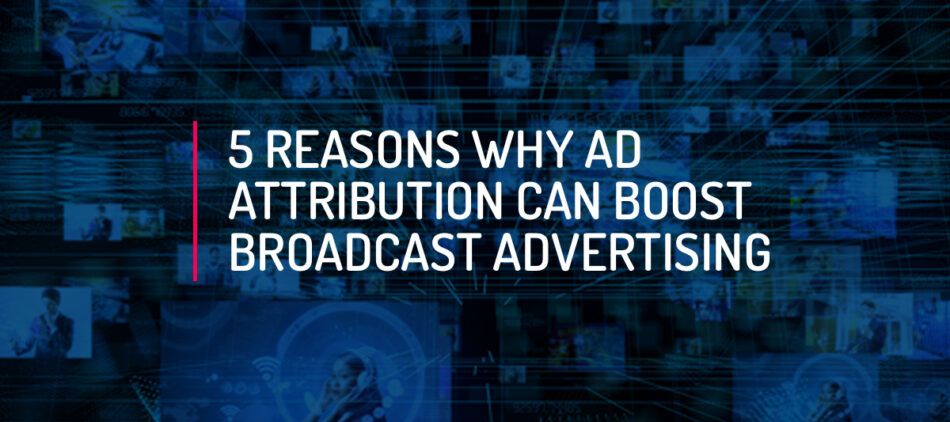 09.10.20
5 Reasons Why Ad Attribution Can Boost Broadcast Advertising
Traditional broadcast TV advertising faces constant competition from streaming services, social media, the web and podcasting. That competition is only growing as consumers have more options than ever for entertainment and news. 
In the face of this competition as well as cord-cutting, it's tough to justify the large ad spend that TV advertising commands. People are still watching TV, but they're streaming more and more — twice as much as the previous year. Broadcasters need a way to show that advertising through traditional TV is still an effective means of reaching customers — after all, TV is still one of the most popular mediums, with the average U.S. adult watching 27 hours of traditional TV each week. 
You need actionable intelligence so you can show your advertisers that their TV ad campaigns have a measurable impact on sales. An attribution solution such as Veritone Attribute can provide this information, offering comprehensive ad performance analytics for spots, in-content placements and campaigns.
Here are a few ways in which an attribution solution can help you meet the challenges you face in broadcast TV advertising.
1. It helps TV compete with the growing threat of digital ads by making TV advertising trackable.
It's tough to compete with digital media's built-in method of tracking ad ROI by measuring clickthrough. In contrast to web advertising, there's a chasm between broadcast TV advertising and conversion to sales.
An attribution solution bridges this gap by giving you on-air to online analytics and insights, such as showing lift in online traffic after a set time period immediately following an ad airing. This time period, called the attribution window, helps you demonstrate an ad's effectiveness and justify spend to advertisers.
"That's where the fusion of broadcaster and advertiser data, along with AI, really intersect and produce rich analytics that create a clear, data-centric path to ROI," said Michael Kennedy, senior director of product management for Veritone.
2. It offers visibility into how ads run and correlates this data with web traffic.
An attribution solution such as Veritone Attribute, together with WideOrbit's WO Traffic, works by giving you log data of the ad as it ran on TV. This lets you see information such as the timestamp and the station on which it aired. 
Combined with the broadcaster's TV feed and an advertiser's user session data, which provides such information as traffic channels and geographic location, the solution can provide rich insights into how TV advertisements connect with specific web audience segments. You can also adjust the time period after which an ad runs to look for lift so that you can customize your data to that specific market, going beyond the typical eight-minute on-air to online time window.
"Ultimately, it produces this really intelligent ad segmentation and classification," Kennedy said.
3. The data provided by an attribution solution shows how TV advertisements improve sales in comparable periods.
You can use an attribution solution such as Veritone Attribute to compare period-over-period web traffic. This function allows you to visually show your advertisers how web traffic increases after they've advertised with you, compared to when they didn't, as well as the impact of running more versus fewer ads. This information helps drive renewals, increases in spend and budget reallocation.
"It really begins to tell a story and create a narrative of that period-over-period growth and to be able to show an advertiser that, during the time that they were advertising with you, they saw significant increase in consumer engagement," said Jeanette Kadow, regional sales director for Veritone.
4. It helps you work with your advertisers to optimize their ad campaigns and increase their ad spend.
An attribution solution helps you break down the components of a campaign. For example, with Veritone Attribute, you can break down the campaign by the time of day, daypart, week, length, location, creative type and frequency that it ran. 
You can also track on-air mentions and live reads that aren't typically accounted for — and correlates this information with any added increase in lift. This helps you understand where there is success and where there is room for improvement in order to generate the highest amount of subsequent web traffic.
"It's really important that we're telling our advertisers the whole story and showing them holistic data analytics, not just what ran in their commercials," Kadow said.
Advertisers, accordingly, can alter campaigns using any of these measures. You can help your advertisers optimize their ads as they're running, giving you the agility to adjust campaigns on the fly.
"Being able to show success metrics and measure a linear broadcast schedule by means of digital reporting really gave us a powerful tool to say, 'hey, this is your compass. This is your attribution,'" according to one digital sales manager for a local TV station.
5. It improves trust between you and your advertisers.
Besides helping you earn more money through advertisers improving their campaigns and spending more dollars with you in the short term, sharing data helps buoy trust between you and your advertisers, improving long-term relationships — and ad spend down the line.
"[These insights] provide a fantastic opportunity to either establish or strengthen rapport and trust with your advertisers by collaborating on the results," Kennedy said. "By analyzing and processing that data, understanding the salient points that are getting surfaced through that data, unearthing those insights across a number of campaign dimensions like time, geography, creative type, duration … [you] can create a narrative and package those findings in an empirical and digestible manner that lends itself to additional revenue opportunities." 
Watch the webinar
Interested in learning how AI can be applied to live linear and post-broadcast content and how to demonstrate the effectiveness of campaigns through attribution and more? Watch our free webinar and find out how Attribute can help you drive client satisfaction and secure ad budgets.