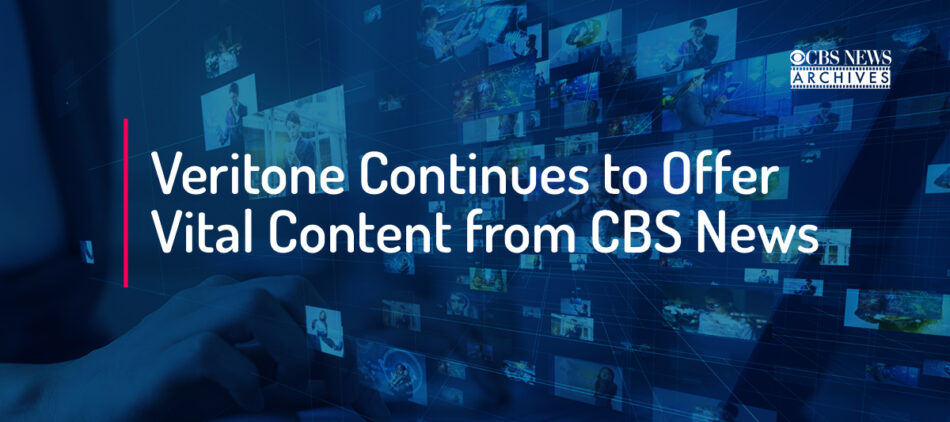 10.29.20
Veritone Continues to Offer Vital Content from CBS News
A multi-year content licensing agreement brings more award-winning CBS News content to Veritone.
Recently, we here at Veritone Licensing announced a multi-year extension of our existing partnership with CBS News. 
I had the good fortune of starting with Veritone, formerly Thought Equity Motion, right around the birth of this collaboration 10 years ago. The first project I had a chance to work on was the Academy Award-winning film Argo. The compelling drama, centered around the Iran hostage crisis in the late '70s, featured CBS News and other archival content to revisit this unprecedented time in our nation's history. I remember going to the theater the day it came out and being incredibly proud to have contributed, be it in a small way, to this important film.  
Now, 10 years later, certainly a lot has changed. We consume content in ways that were not even imaginable back then. Our tastes have evolved as well. Documentaries have always held an important place in media and entertainment, but the popularity of this genre has certainly exploded. Water cooler and dinner party conversations often revolve around the latest documentary they caught on HBO or Netflix.  
The power of archival and historic news footage
Archival content can play a key role in documentaries. Sometimes it's as simple as reinforcing the narrative of a particular piece by complementing an interview with related footage.  Other times, archival footage can help create a transcendent, cinematic moment that really can't be recreated. Think of the student blocking a military tank in Tiananmen Square or Walter Cronkite announcing the death of President Kennedy. Not even the best acting can do justice to the real thing.  
Over the last decade, I have had the opportunity to work with some remarkable people at CBS News. I think what is uniquely special about the company is that they recognize how important storytelling is in these unprecedented and turbulent times. CBS News has an incredibly important job — to inform the public of the issues and events that shape our lives. Their content has an equally important role — it helps the world's greatest storytellers educate, entertain and inspire.  
Unlocking the CBS News vault 
Here at Veritone, we are proud to continue our partnership with such an iconic news organization. Each and every day, our licensing team works with our partners to achieve a common goal — improving the licensing experience for television producers, filmmakers and content creators. To aid in that effort, over the past year, we have unlocked the CBS News vault to make even more programs available for creatives to access and ultimately license. 
We recognize that maybe the biggest hurdle in our business is finding that precise moment — the hidden gem that can make a compelling scene a truly memorable one. To that end, we will be placing a great deal of focus on improving content search and discovery in the coming months. 
We understand the creation of an epic story is not something that comes easy, and we appreciate you letting us come along for the ride. Let the journey begin.