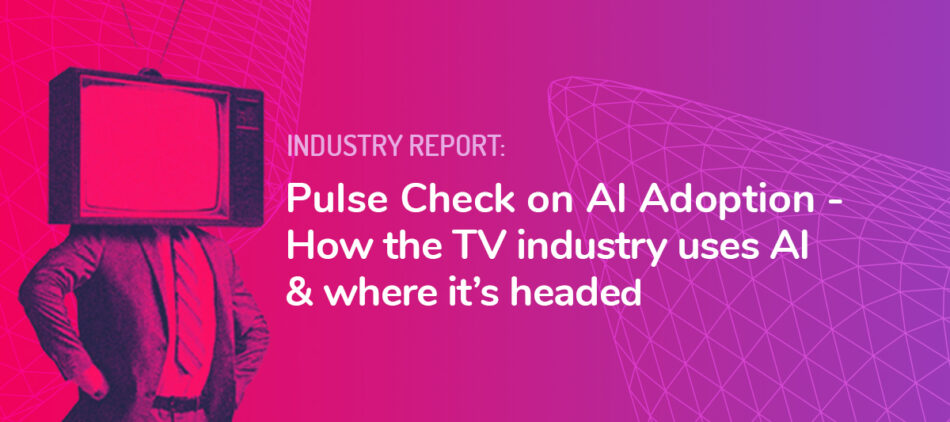 06.2.20
Taking the Pulse of AI's Role in TV
Making the modern TV experience seamless and simple is laborious. Despite technological leaps, complex behind-the-scenes processes need to happen in order to offer television customers the experience they expect from streaming services and traditional linear broadcast. 
Tasks like metadata creation, captioning, content licensing and post-production work to fit media onto ever-changing delivery and packaging needs are daunting. But they are important pieces of the revenue puzzle that cannot be ignored. As these tasks become more complex, the role of artificial intelligence (AI) is coming into focus in the television industry — both as a differentiator and a power tool to help organizations handle massive amounts of content much more efficiently. 
The emerging part AI plays in the TV industry is the focus of Veritone's latest industry report, Pulse Check on AI Adoption: How the TV industry uses AI today and where it's headed. As part of a collaboration with Future Media Entertainment Group, we surveyed more than 100 TV organizations about their familiarity and use of AI to get a better idea of how it is being deployed and the impact it's making. 
While 54% of the industry is preparing to implement AI, the survey reveals a long road ahead before it's widely used to strategically track, analyze and monetize content. What's more, it appears those who have implemented the technology have experienced mixed results — findings that show adoption is tracking at about the same pace as other industries. It's also important to note some early failures are not always a bad thing — technology takes time and iteration to find footing within an industry, and that appears to be what's happening now. 
Here are some more key insights from the data: 
Differentiation is the biggest opportunity,

with

73% of TV CEOs reporting that innovation and differentiation make AI appealing as a solution. For the most part, the data shows CEOs are in the driver's seat for AI adoption, and 63% say that strategic efforts are being made toward automation through AI.



AI adoption is growing

as

54% of respondents say they are making efforts to implement AI, and 60% anticipate adopting AI tools within the next five years. But early implementations are seeing varied results — 37% of respondents said their outcomes have been mixed, and 32% say it's too early to tell if AI has helped them achieve their goals. This data makes it clear organizations must be careful when choosing partners and vendors.



Budgets and lack of AI knowledge

are keeping most organizations from adopting the technology. Additionally, the data shows those on the business side and those on the tech side of organizations are misaligned on how the tech can be implemented. 
As the data shows, the TV industry is far from automation-driven operations, but is in the early stages of adopting AI-enabled solutions to help boost revenue and achieve efficiencies. TV professionals interested in familiarizing themselves with how AI could help their organizations and understanding other organizations' experience with the technology can also glean important insights from the report: 
Where misalignment occurs between technology and business teams on AI 

Detailed breakdowns of AI implementation by industry size, as well as results 

A task-specific list of where TV organizations are implementing AI

Veritone's industry-leading commentary and analysis of the data 
As organizations discover and embrace automation for metadata creation, content recommendations and more, they are unlocking smarter, more optimized operations and freeing up an often resource-exhausted workforce to focus on the creative tasks they excel at. 
Prioritizing proven AI strategies and aligning internally on these efforts can set media organizations up for success and set them apart. While there will be growing pains, those that embrace AI and implement it strategically stand to thrive. 
Details on these and other findings are included in the full report, which can be downloaded here.