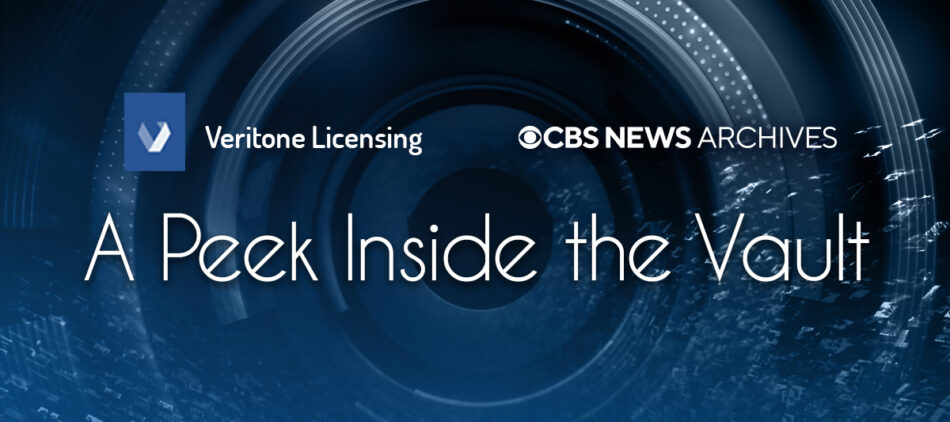 05.25.21
Take a Peek Inside the CBS News Vault
The second annual CBS News upfront covered licensing process updates and a special panel of CBS News Correspondents
Summary:
Our second annual event reached nearly 400 international attendees
Progress continues to be made in digitization of CBS News archival content and the content licensing, search, and discovery processes
Sign up for a monthly newsletter and follow CBS News Archives on Instagram to get the latest news and updates
---
On Tuesday, May 25, we hosted our second annual upfront event titled "A Peek Inside the Vault" with CBS News Archives. We were pleased to have nearly 400 guests from 17 countries in media and entertainment represented from Amazon to Warner Brothers Television.
Veritone and CBS News shared updates with the creative community on the initiatives set in motion to improve their content licensing experience. In addition, we were very fortunate to have three CBS News Correspondents join us to recall some of their most memorable moments of their respective careers while also sharing their thoughts on how they use the archive to better report on the stories of yesterday and today.
A Theme of Greater Access
A primary theme of the event was to continue to offer "Greater Access." CBS News has the  largest and most compelling archive in news, going back nearly 90 years. While flagship shows such as "60 Minutes" and "48 Hours" remain incredibly popular for licensing, we are excited to unlock even more opportunities with specialty programs from other areas of the CBS catalog. Currently, more than 320 programs are in the process of being reviewed for possible licensing in the very near future.
Along with greater access, we will provide greater visibility. We are excited to report that our two organizations are committed to the digitization of the archive. In little over a year, the percentage of the archive digitized has grown from 3% to 15%. In only the last two months, 6,000 tapes have been digitized, and we have dedicated efforts to digitize trending topics, which garner a great deal of interest.
Finally, film cards which document many of the most treasured, archival assets, are being digitized. These will provide more information to our research team and expedite the approval process for the archive.
A New Standard in Licensing
Veritone and CBS News find themselves in a unique position—a marriage of iconic talent with the power of artificial intelligence. With such good fortune, we are committed to creating a new standard in licensing. Three current efforts were detailed as part of the event, starting with The Metadata Commerce Project.
This project will greatly enrich the metadata on the Veritone Commerce platform, where creators of all kinds can peruse clips from a wide variety of content providers to license for their projects. The information which is provided to creatives on browse sheets will soon reside on Commerce. Users will have more pertinent asset information available to them, and the project will also expedite the approval process.
Next, significant progress has been made in the creation of Rights Ready Reels. These compilations will provide creatives memorable moments with a focus on three categories of content:
Historic Events (e., 9/11)
Captivating Personalities (e.g., Robert F. Kennedy)
Major Cities, (e.g., New York, Los Angeles, and San Francisco)
Finally, Veritone gave a demonstration of aiWARE, the first operating system for artificial intelligence. aiWARE, along with its roster of cognitive engines, can solve arguably the tallest hurdle in content licensing—search and discovery. The demonstration showcased four of the cognitive engines, including Transcription, Facial Recognition, Object Recognition, and Text Recognition.
CBS News Correspondents Peek Into the Vault
After the Veritone presentation, we were thrilled to have CBS News correspondents Michelle Miller, Erin Moriarty, and Anthony Mason join the event. They shared some of the most memorable experiences and interviews they had as reporters and discussed how the archive plays a role in how they may cover a particular story. They shared some personal moments as well.
One of the most impactful stories, one that shows not only the importance of preserving an archive but the power of its content, involves an ancestor of Michelle Miller. Several years back, she told her young son that her father was a delegate to Robert F. Kennedy and that he was the first to get to him when he was assassinated in 1968—her son didn't believe her.
So, to prove the story, Miller went to the computer and searched for the event. She found one piece of evidence that talked about two CBS reporters giving her father a lift in exchange for an interview. Immediately she asked herself, "Would the archive have that footage?"
The CBS archivists found a seven-minute-long unedited clip of her father being interviewed by Terry Drinkwater. She had not heard his voice in nearly 20 years, and there it was, preserved in the archive. This was a story that she would turn into a special news report of her own. See this clip and more on the new CBS News Archives Instagram account.
Stay Connected with Veritone Licensing and CBS News Archives
To conclude the event, we launched the Peek Inside the Vault Newsletter. This newsletter will provide updates on digitization, the Metadata Commerce Project, highlight trending topics, and reveal new videos available for licensing. The first 200 people that subscribe to the monthly newsletter will receive a $50 screener credit. Subscribe here.
Additionally, the CBS News Archives team has launched an Instagram account, which will showcase unique moments from the archive that are available for licensing. It will also provide updates to the initiatives covered from the event. Follow @CBS News Archive to see the great content coming out of the vault and becoming available for licensing.