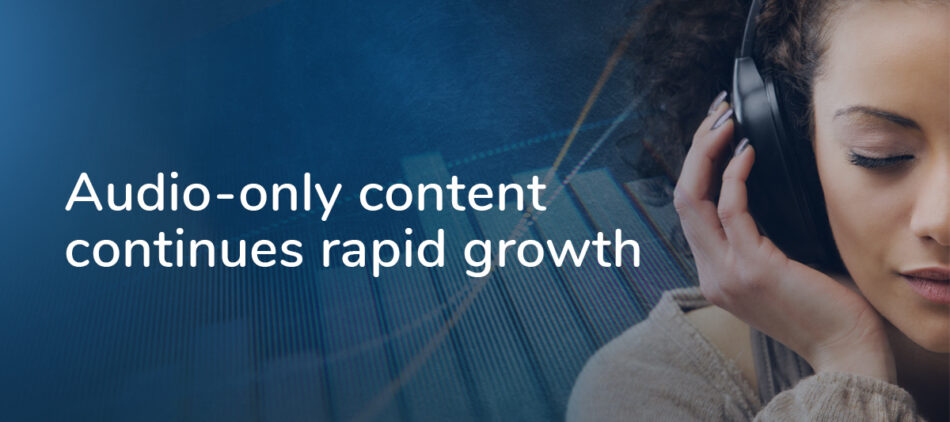 01.28.21
More Major Players Join the Audio Game
Summary
Audio content creation and consumption is on the rise
Netflix, Youtube, and other major publishers are pivoting to take part in the audio entertainment world
Veritone Licensing offers content licensing for your audio and podcast projects
---
The coronavirus pandemic accelerated many trends that were rising before the spring of 2020. Consumption of media, especially audio content, continues to rapidly grow and expand. New audio content feeds a growing audience that wants to listen while working out, doing chores around the house, or while running errands in the car.
Podcasts are experiencing explosive growth with podcast listeners set to reach 160 million by 2023, a growth of 20 million listeners per year. However, the potential for audio content stretches beyond podcasts as brands leverage licensed content in their business and marketing strategies.
Major brands capitalizing on audio-only content
The rising audio trend has another major new adopter as Netflix experiments with a feature for Android users. The new Android feature gives users the option to select audio-only playback for any Netflix program. This allows the listener to tune into their favorite show as if it were a podcast while reducing their device's bandwidth pull for video.
Netflix is certainly not the first to transform video into audio-only content. Late last year YouTube launched 15-second audio ads to target people who listen to videos in the background. Taking aim at Spotify, which leverages audio ads already, YouTube validated their move to not only improve revenue for artists but also provide a better user experience when people tab away from a video to work on something else.
How Veritone is driving audio consumption
As other companies shift to building new content where it's consumed most—like in podcasts—Veritone is helping enable creation by partnering with content creators in this space. To support creators, Veritone Licensing announced a new audio offering last November. Podcasters and other audio project creators can leverage our vast library of audio clips to enhance audio projects and license and monetize their own content through Veritone Licensing.
Powered by our proprietary AI-based technology, we have made it easier than ever for podcasters, broadcasters, and other audio content creators to find the precise audio clips they need to tell their story. Veritone Licensing uses this technology to make it faster to search and resurface audio content from interviews with historical figures, athletes and celebrities, news broadcasts, feature films, documentaries, television programs, sporting events, and more.
But don't simply take our word for it. You can search our content library and browse much of our audio and video available for audio-only licensing. Powered by rich metadata and proprietary artificial intelligence, quickly sift through millions of clips, filtering by type, brand, category, date range, and more. Plus we ingest hundreds of new assets every month.
Contact Veritone Licensing today to seamlessly license the photo, video, and audio content you need for your projects.
Further Reading
Veritone Launches Premium Audio Licensing Library and Services