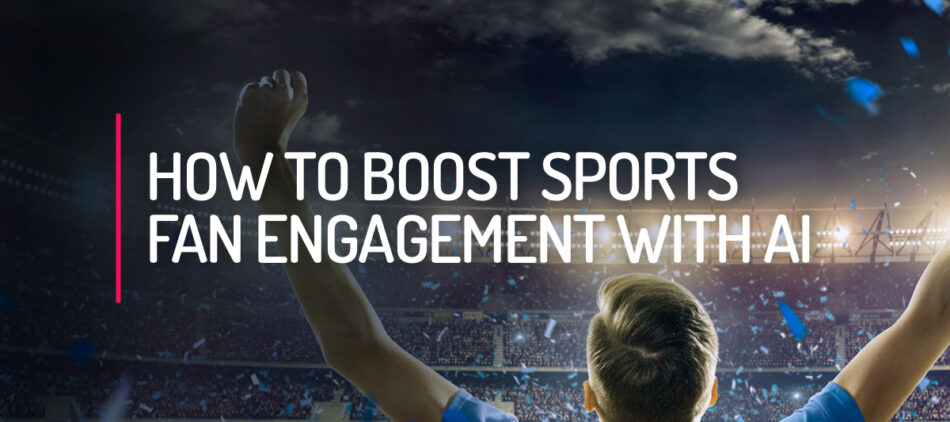 09.24.20
How to Boost Sports Fan Engagement With AI
COVID-19 has been an event that, among other aspects of our lives, has dramatically changed how sports are being played, viewed and monetized. And a lot of these changes we expect to stick around much long after the pandemic ends.
One encouraging sign has been the many innovations in the space that have risen out of necessity, such as the complete overhaul and launch of the NBA season from a bubble with fantastic tech such as virtual fan boards, and new camera technologies and angles. The result has been higher-than-average NBA playoff primetime ratings.
Along these lines have been innovations related to virtualization, remote editing workflows, collaboration, cloud distribution, more aggressive content licensing opportunities and many more, all requiring new technology and most requiring some level of artificial intelligence.
AI and Sports use case: the San Francisco Giants
New creative opportunities in sports have arisen from capitalizing on existing content through licensing opportunities.
One example has been through the San Francisco Giants. With 60 years under their belts, the amount of content the Giants have available is so large that identifying valuable moments is very difficult. They were sitting on 16,000 tapes, 20,000 hours and more than 2 PB of content with limited ability to surface any or all of that to their specific fans and key stakeholders 
Through working with Veritone as their artificial intelligence partner, the Giants have been able to leverage ingest workflows with Veritone Digital Media Hub, a cloud-based digital asset management (DAM) platform with artificial intelligence capabilities. From the point of ingest, they've enabled such features as facial recognition, transcription on all audio and video files, and image recognition to identify any brand in any image or video. This not only has given them the ability to virtualize their content into the cloud — which is vital for workflows during the pandemic — it also gave them the ability to create metadata associated for each audio file, video file or image so that they could quickly find and share this compelling content through their social and digital channels, keeping fans engaged between games.
To do something like this manually, without AI, they would have needed 13 full-time employees, working 40 hours per week, for a year.
Reasons to give a DAM
A cloud-native digital asset management application also gives each internal team appropriate permissions to rapidly access only the content they need in a virtual system. Each team can activate that content for their specific requirements — in most cases, from a monetization perspective.
An example of this rapid access in action came when Giants Hall of Famer Hall of Famer Lou Brock died this September. The Giants' media team was asked to deliver any footage they had of Brock in action to a regional sports network. Having worked with Veritone to digitize their metadata, they were able to find that content instantly.
"Within five minutes, I was able to share that with the regional sports network," said  Brad Martens, manager of media systems and workflow at the Giants. "They had that as an asset to use. Before, I wouldn't have known where to start because I wouldn't have known when he had visited or anything else." 
Others in the sports industry can similarly activate their legacy content and enable metadata extraction with AI. By doing so, they'll be able to quickly find clips, games and other content based on specified criteria and capitalize on it. This helps sports organizations fully utilize their libraries — particularly during a time in which games are just starting to be played again, and fans and broadcasters are looking for historic content to fill the void.
More Ideas for Monetization
Another initiative we took part in went from ideation to execution within a few weeks of inception, thanks not only to artificial intelligence but also to content partners who were eager and willing to find ways to continue engaging their fans.
Thanks to our existing relationships with the Big Ten Conference, the Pac-12 Conference and the NCAA, we were able to quickly launch DraftClips.com, a new site featuring highlights from hundreds of draft prospects. First launching for the professional football draft and soon to relaunch for professional basketball, the site helps identify and curate relevant and engaging moments to surface to fans. We were able to tag players by relevance, teams, positions and other data to turn this into a compelling, free offering for fans and talent scouts alike.
To learn more about how AI and sports interact, and how Veritone can help you better engage sports fans, watch my on-demand webinar on sports in the new economy.
This webinar was part of the IABM Future Trends Channel online event. 
Further Reading
San Francisco Giants Choose Veritone for AI-Powered, Rapid Media Discovery and Workflows to Further Fan Engagement
Five Costly Pitfalls of Digital Asset Management (DAM) Implementations and How to Avoid Them
aiWARE™ Takes Veritone's Digital Asset Management Solutions to the Next Level