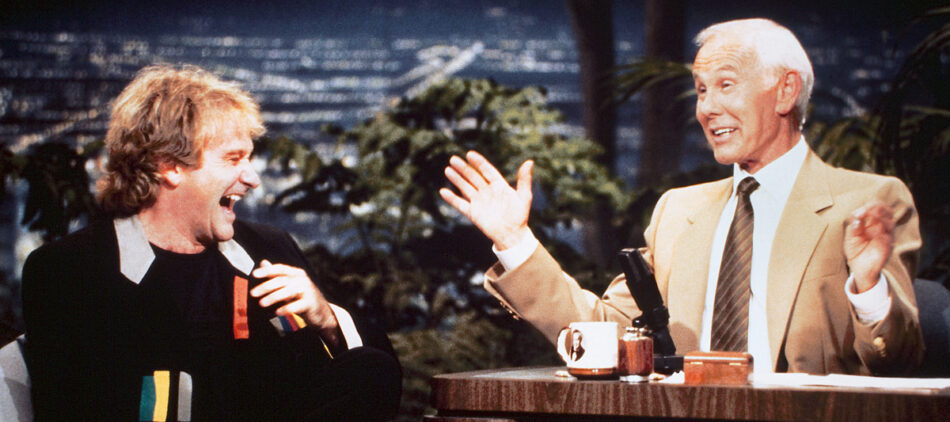 03.13.19
Here's Johnny! A Conversation With Carson Entertainment Group About Licensing Through Digital Media Hub
We could talk all day about how great Digital Media Hub is for capturing, licensing, and distributing assets through the cloud to anyone with permission. But we figure it's better to let a rights holder tell you instead.
Carson Entertainment Group (CEG), the television licensing company established by Johnny Carson in 1981 to control the rights to "The Tonight Show Starring Johnny Carson," recently launched a Digital Media Hub to archive and license clips from the show's 30-year history. The entire Carson Library of television has been painstakingly cataloged, transcribed, and synced to timecodes to display in an online, searchable platform. All episodes recorded from 1962 through 1992 are available for licensing through CEG.
We talked with CEG's Jeff Sotzing (president) and Jonathan Sotzing (sales and marketing) about how Digital Media Hub will bring the company's licensing operation into the here and now. Robin Melhuish, Veritone's Director of Customer Solutions, worked closely with CEG on the project and joined us for the conversation.
First of all, why did Carson Entertainment Group need a new licensing solution?
Jeff: We have 30 years of late-night television in our library, and after being off the air for 26 years now, there's still a tremendous amount of demand for it, especially from the broadcast industry. As the industry evolves, we must evolve too. The site we had was fine, but it was 10 years old and built on flash technology. It needed an upgrade for the way people work today. The number one goal was to make it accessible across platforms.
Jonathan: Right. And we really wanted the user experience to be much more than it was. We wanted people to be able to do things they couldn't do with our last licensing site.
Like what? What can people do with Digital Media Hub that they couldn't do before?
Jonathan: The most important thing is that they can access the site, search and watch clips, make selections, and request pricing, all from a mobile device. Almost everything they can do on the desktop, they can do through their phone or tablet.
Beyond that, the whole experience is much smoother, more modern, more intuitive. For example, the search capabilities fell short with our last site. Users had trouble finding particular air dates of shows or particular guests, so we ended up manually pulling the footage ourselves, which was time-consuming and defeated the purpose of having a licensing site. I think all of this will go away with the new Digital Media Hub, which we launched in January. It's an all-new search experience. Our users can search for guests and phrases in transcripts across our entire library and find the clips that are most valuable to them. It's much faster and easier.
Jeff: Another big improvement for users is the advanced player, which is very smooth and very easy to use. It will make things much simpler for the client because they'll always know where they are in the show.
Jonathan: That's important when you're licensing video. Someone looking for a particular clip will mark start and end points, and if the video is choppy, then they can't get exactly what they want. That has been an issue for our users. But with Digital Media Hub, everything flows like butter, so users won't have that problem any longer.
What part of Digital Media Hub do you think will be especially useful?
Jeff: Being able to search a transcription of each show and find something very quickly is a major benefit of this search engine. So, if a client is doing a story about Michael Jackson, they not only can find the segments of the show that Michael Jackson performed on, but they can also go into the transcription and find out what people said about him during the show. For producers and researchers, that's an invaluable tool.
What was involved in setting up CEG's Digital Media Hub?
Robin: CEG had excellent metadata, including full transcripts, built into their last licensing site, where customers went to find clips to license amongst 3,900 hours of programming. We've built the Digital Media Hub to CEG's branding specs and migrated their 75 terabytes of assets from their old website to the new Digital Media Hub site.
There are other licensing solutions out there. Why Digital Media Hub?
Jeff: Because Digital Media Hub takes large television libraries and film libraries and makes them accessible, we felt Digital Media Hub would not only be the best option for our customers, but it would get us a little more visibility, too, which is good for our business.
How do you expect Digital Media Hub to benefit your business most?
Jeff: I think it's going to make our business more visible and easier to find, which will, in turn, generate more sales.
Jonathan: Not only that, but it'll be easier for users to find what they're looking for. And when they can find it, they can buy it.
Robin: In terms of the bottom line, Digital Media Hub now handles all of CEG's direct revenue.
What makes Digital Media Hub so well-suited for rights holders like CEG?
Robin: Digital Media Hub is the only "off-the-shelf" product that delivers the user experience CEG requires, is fully configurable to their brand, and is cost-effective. The alternative would be custom website development, which would typically cost more than $100,000 for this sort of site. Through Digital Media Hub, CEG and companies like it get a branded licensing portal that can be tailored to fit their business needs.
CEG's Digital Media Hub is an example of how the cloud is making it possible for rights holders to directly control and monetize their most valuable video assets. There all sorts of celebrities, influencers, production companies, and advertising agencies who can now take direct control of their brands and revenue streams. Before the cloud and Digital Media Hub, those rights holders had to use large media companies' infrastructure and technology because it was too expensive and difficult to build their own. Now they can do it themselves as a monthly service.