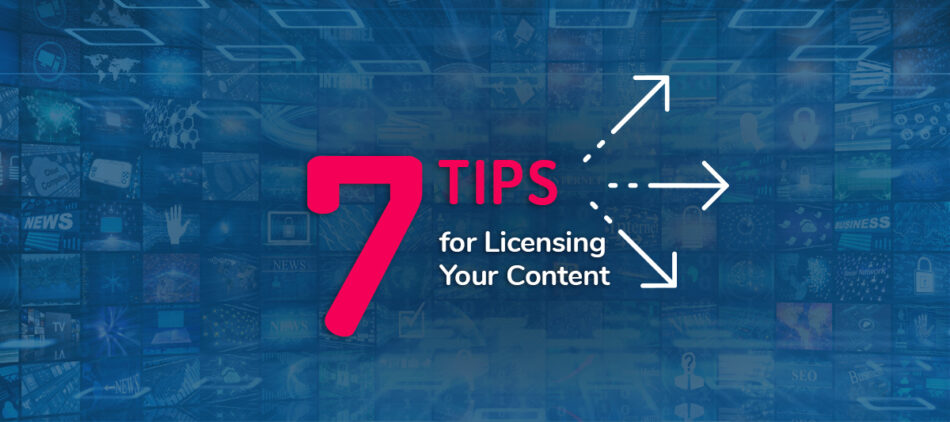 07.23.19
Heed These Seven Tips When Licensing Your Content – Veritone
As a content owner or rights holder, creating and distributing content isn't your only concern. It's equally important to make sure your content is stored and curated properly to enable discovery and future use. Rather than using it once for its original purpose and then letting it sit in a vault somewhere, there is tremendous value in getting your content into the hands of producers, broadcasters, ad agencies, and others who need clips for their projects. That means licensing.
In my almost 10 years of working in sports licensing, I've become intimately familiar with the intricacies of content rights, licensing, and intellectual property. I can't watch any kind of program without thinking about (and often mentioning) the licensing and rights nuances included within it. My wife hates it. "Why can't we just watch TV like normal people?" she says. In this article, I offer up some best practices for enabling discovery and licensing of your content while protecting your copyrights as a rights holder.
1. Make your content easily accessible.
The licensing space is extremely competitive, runs 24/7, and requires a quick turnaround. If your content is quick and easy to find, explore, and acquire, then people are more likely to license it. If not, then they won't hesitate to move on. Don't lock your content up behind a highly restrictive firewall or create other barriers that will ultimately hinder discovery. For monetization, it's essential to have a user-friendly content discovery and licensing website — whether built internally or via a strategic partnership — that lets creatives across all production verticals quickly search, preview, create lightboxes or collections and download approved production files. Even if your content is highly protected and rights-managed, having an intuitive platform where people can review proxy files is critical.
2. Make content preservation and metadata a priority.
Whether you're a national sports league, a major news division, or an individual rights holder, you should always be thinking about what's going on behind the scenes — that is, your internal workflows for preserving content and assigning metadata to it. After all, metadata is what makes it possible for people to search and discover the content, which ultimately leads to monetization. Top-line metadata is essential (names, date, event, etc.) for basic search, but don't stop there. Look for ways to gather as much metadata as possible to make it easier for creatives to find the perfect clip. Manual content curation is extremely time-consuming and expensive, but there are other methods — including artificial intelligence (e.g., audio transcription, object recognition engines) — that will not only make the process easier and more efficient but will allow creatives to dig deeper into your content and find the very best (often hidden) moments to match their creative brief or story.
3. Understand your prospective buyers and anticipate their needs.
You can inspire sales and develop creative partnerships by understanding the different types of buyers, knowing their buying habits, and anticipating their needs. Start by segmenting the markets — news, sports, broadcast, feature films, documentaries, digital media, advertising, government, education, corporate, etc. Know the type of content they're looking for and how they use it. For example, agencies and brands working on an ad have vastly different needs than original programming producers working on a long-form show or digital highlight outlets looking for up-to-the-minute sports clips.
Also, keep an eye on the calendar, and reach out to prospective buyers well ahead of occasions when they're likely to buy. For example, sports broadcasters are likely to need certain types of content around major annual tournaments or events. News producers might want to license content around anniversaries or election cycles. Creatives at advertising agencies will start buying for holiday campaigns 45-60 days out. Having a deep understanding of the editorial calendar, anticipating buyer needs, and understanding how each of those segments engages with your content will speed up your go-to-market strategy and fuel rights monetization. If you can establish yourself as a true creative partner across all verticals, and not just a one-off licensor, you'll not only see increased engagement but long-term customer retention.
4. Increase monetization by restricting rights when appropriate.
Exclusivity yields monetization. A strategy of withholding content rights, or being appropriately restrictive with content rights where applicable, can increase licensing revenue. Carving out restrictions for different types of use — such as requiring a license to distribute over digital or OTT mediums, or requiring broadcast partners to have separate licenses for evergreen long-form original programming — yields monetization opportunities.
Shortening the news window — the time during which broadcasters can use your content in news reports without fees for news programming — is another way to restrict rights. If a sports league reduces the news window for its events from, say, one week to 24 hours, imagine the extra revenue that could be generated for topical news coverage when content is still highly relevant.
Being appropriately protective is a balancing act. This strategy varies greatly across rights holders, with newly established rights holders having to weigh the upside of free exposure against potential income from rights fees.
5. Look to strategic, trusted partnerships to help you drive licensing sales.
Your primary focus as a rights holder (as it should be) is running your organization and creating your content. Instead of waiting for rights inquiries to come in, take a proactive sales approach by joining forces with a licensing partner. A knowledgeable, well-connected licensing partner will have regular conversations on your behalf with networks, agencies/brands, and creatives of all types across your market segments to uncover opportunities, and then bring those opportunities back to you for review. Such a strategy maximizes licensing revenue.
Say you're a sports federation tasked with airing 700 events a year. Your staff doesn't have the time to understand all the third-party stakeholders who might have a vested interest in distributing your content and covering your events in a more comprehensive format. A licensing partner, on the other hand, can meet with those potential buyers, present your full slate of events, and work with buyers to create a win-win scenario.
6. Be an expert in copyright and intellectual property.
Advising your buyers is a key part of licensing, so you need a deep understanding of the differences between your copyright (the rights you own) and third-party intellectual property rights contained within your content (the rights someone else owns).
For instance, a sports conference owns the copyright to its own footage, but it doesn't own the rights to the star athlete whose likeness appears in that footage. That likeness is the athlete's intellectual property and needs to be cleared with the individual for certain use cases.
How footage will be used for a given licensing request — whether for promotional and commercial use or purely for editorial purposes — can have a huge impact on the level of clearance that is needed (copyright only or copyright plus intellectual property). It's extremely important to establish the context at the outset so you can get out in front of any issues and clear any underlying intellectual property where needed.
Understanding this distinction and explaining it to your clients will help mitigate the licensing risk for both of you and avoid any potential litigation. Such transfer of knowledge also builds trust with your buyers.
7. Protect your copyright.
More content is being created now than ever before across all platforms. With digital distribution comes rampant unauthorized use of the content on YouTube, social media, and other platforms, so it's important to understand your options for copyright protection and have a plan in place. Claiming the use of your content on YouTube — either manually, via YouTube's Content ID function, or by a third-party team of experts — can certainly yield revenue, but that's not all you should be doing. Track your content across all mediums to get a sense of where and how it's being used and the value others are deriving from it if they didn't secure a license upfront. Then have a business conversation with those who are infringing upon your copyright or intellectual property rights. These conversations can lead to new business opportunities and more revenue.
Licensing and monetization are inextricably linked, especially if your business is premium content. It pays to know how it works, what your buyers need, where your licensing opportunities lie, and how to use licensing to your advantage to increase revenue. A solid licensing strategy based on these best practices will help ensure you can protect your content and extract the most value from it.
Learn about our content licensing and monetization offerings for rights holders.