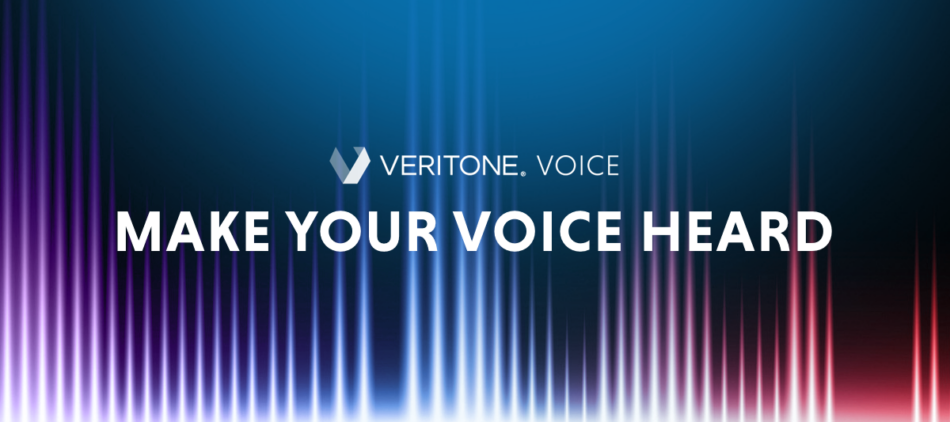 05.14.21
Announcing the Launch of Veritone Voice, A New Voice as a Service Solution
How AI-Enabled Synthetic Voice Will Help Media Companies, Brands, and Influencers Accelerate and Amplify Content Creation
Summary:
Content creators of all kinds face serious challenges in overcoming content production caps and localizing and personalizing content cost-effectively 

Synthetic voice helps bridge the content gap media companies, advertisers, celebrities, athletes, and influencers currently face 

Veritone Voice is a hyper-realistic synthetic Voice as a Service (VaaS) solution that will change the way we create content 
---
With consumers constantly craving new content, media companies have to increase their capabilities so they can work as efficiently as possible. But it's not always easy to accelerate content creation when they are limited by the speed at which they can move, lacking the necessary time to increase output, and rigid budgets. 
The advent of new technologies is changing that. Synthetic voice, also known as voice cloning, is the creation and replication of someone's voice through artificial intelligence (AI) and machine learning algorithms from audio samples. While this technology is relatively new on the scene, it has the potential to change how people accelerate, diversify, and scale their content production.
Challenges synthetic voice can help content creators overcome
Most content creators face a cap with their content production. A variety of reasons hold them back, such as booked schedules for individual talent to the sheer cost of creating more content for brands. Simply put, everyone can only do so much at any given time. And with trending topics changing hour by hour, creators can't react quickly enough.
Synthetic voice changes that by allowing media companies to create authentic-sounding voices that they can own and manage. They can even select professional-quality synthetic voices others have created. For example, broadcasters, particularly smaller ones, typically use the same voice talent for all of their weather, traffic, and breaking news reports. With synthetic voice, they could provide a variety of voices to deliver this content. They can even go as far as creating a brand character or persona for that voice.
Localizing content more cost-effectively is another application for synthetic voice that has huge benefits for both broadcasters and other types of media companies. The process before this technology was a project in itself, requiring lots of coordination, time, and money. And for smaller brands, most don't have the budgets to localize and personalize content to the extent that they would want to. But with synthetic voice, they can take their content and make it more impactful by translating it by regional accents, dialects, or languages. 
As for celebrities, athletes, and influencers, the main struggle is overcoming their booked-out schedules. And right now, they are a hot commodity. Influencer marketing is expected to reach a market size worth $14 billion by year-end, up from $1.7 billion back in 2016. But given most of these individuals have busy schedules, they have to turn down opportunities since they can only be in so many places in a week. 
All of that changes with synthetic voice. With complete control over their voice and its usage, any influencer, personality, or celebrity can quite literally be in multiple places at once. This would open the door to a new level of scale that was not humanly possible before, allowing them to increase the number of projects, sponsorships, and endorsements they can do in any given year.
What is Veritone Voice?
We've created a new offering called Veritone Voice, a hyper-realistic synthetic Voice as a Service (VaaS) solution that allows anyone to create, manage, share, license, and monetize their professional-quality synthetic voice and easily convert it into different tones, dialects, accents, and languages. Supporting both text-to-speech and speech-to-speech, Veritone Voice offers the most advanced synthetic voice models on the market. 
As an end-to-end synthetic voice solution, media companies, brands, advertisers, celebrities, and influencers can create voices, define their usage, manage voice content, and deploy workflows to automate processes. Bringing together our vast network of licensing customers as well as our team of experts, they can monetize their voice content and generate licensing opportunities while easily navigating compliance and clearance. 
How is Veritone Voice different from other synthetic voice solutions?
As a company with a heritage rooted in AI, Veritone is continually extending the power of this technology in new and innovative ways. Veritone Voice is the next logical step, delivering synthetic voice that leverages both AI and machine learning to generate authentic-sounding voices. With our unique and extensive expertise in this field, Veritone has the capability to create and scale VaaS through our proven business applications in audio, advertising, licensing, and media.
Built on Veritone aiWARE, the first operating system for AI, Veritone Voice gives all users access to multiple, best-of-breed voice engines. These engines can combine with other cognitive capabilities such as translation, sentiment analysis, content classification, and many more to create content at scale. Using these engines and creating automated workflows to reduce manual work, Veritone Voice can help content creators monetize their content and provide brands with a cost-effective means to make impactful, personalized messaging.
Taking our established AI technology and fusing it with our years of experience in digital content licensing, we are striving to build the largest and safest ecosystem for voice content. We aim to serve as the leading repository and distribution outlet for synthetic voice, bringing together creators of all kinds to enable a new, AI-powered revolution in content.
Learn More About Veritone Voice
---
Additional Reading:
AI-enabled Synthetic Voice Is Poised to Solve the Media and Content Creation Gap 
Growing Influencer Marketing with AI-Enabled Synthetic Voice Technology
---