BECOME A PARTNER
Veritone partners with the world's best technology innovators, solution providers, cloud-based infrastructure players, resellers, and distributors alike to help you expand your network and accelerate your customer's AI enterprise journey.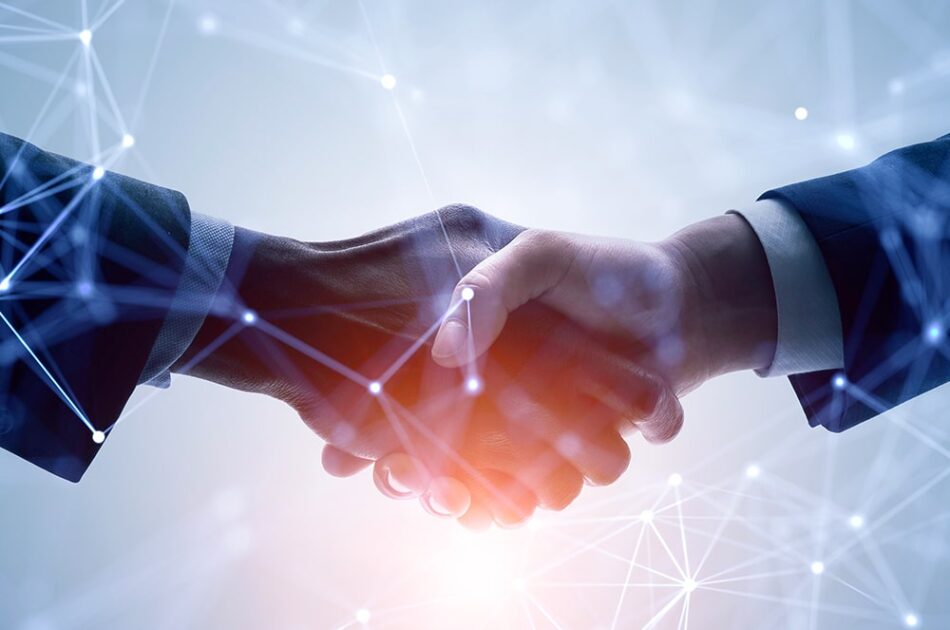 VERITONE PARTNERS HELP DELIVER THE FUTURE OF AI
Our mission is to help transform our customer's operations and solve the complexities of digital information. To achieve this, we want you to join and help build an unmatched partner ecosystem of managed service providers, system integrators, resellers and distributors, technology partners, and cloud infrastructure providers. Through this ecosystem, we'll work together to help deliver the best AI solutions and services while leveraging aiWARE™, Veritone's enterprise AI platform. 
You'll be able to:
Boost Revenue
Amplify Intelligence
Add Value for Customers
Reach New Markets
PARTNER BENEFITS
When we say partnership, we mean it. We're in this together. Veritone provides best-in-class training, sales enablement, product support, and cooperative demand generation support for you.
Go-To-Market Support

You'll have access to sales and marketing resources focused on accelerating your growth.

Sales Tools

As a member of the Veritone Partner Program, you'll benefit from product discounts and deal registration.

Partner Portal

The Veritone Partner Portal is the hub for everything you need to grow your business with Veritone.

Training & Support

Veritone offers sales enablement and on-demand training designed to quickly onboard your sales and technical teams.
What our partners say
Boost Revenue  •  Amplify Intelligence  •  Add Value for Customers  •  Reach New Markets

Veritone aiWARE makes it easy for content owners to apply artificial intelligence to automate content ingest of unstructured data, enrich metadata, and analyze content. By creating actionable business intelligence, content owners are more easily able to increase the value of their media.

Since March, our customers have seen a 56% increase in the volume of public records requests. This significant increase adds to the daily strain government agencies feel in terms of balancing public transparency with individual privacy, especially within public safety agencies. This joint automation will serve as the first step in providing immediate relief from this balancing act, while ensuring compliance with privacy laws. Future AI-enabled compliance workflows will only continue to reduce manual intervention when dealing with records requests while freeing up precious resources that can be redeployed in these challenging times.

It is increasingly clear that the unification of analytics, data science and integrated process automation is essential in delivering powerful business outcomes for organizations and AI is a critical part in automating these processes. "This partnership with Veritone will enable our customers to quickly transform disparate, unstructured data into actionable intelligence and valuable AI-powered insights for quick business wins.

Our integration offerings with leading edge companies like Veritone allow that paradigm to shift. We can provide data to facilitate near real-time response metrics to better guide advertising sales managers to optimize campaigns and capture the true ROI that television ads deliver. This results in better retention and more renewals, as evidenced by the success our clients have seen in leveraging our joint solution with Veritone.

We're excited to partner with Veritone to power Extreme E's unique motor sport production coverage from some of the world's most remote locations. Our solution will enable easier remote editing and automate distribution workflows, ultimately providing increased access to Extreme E's footage and bringing awareness to the critical cause of climate change.

Our content is our most valuable asset, and the robust management of that is essential. Veritone not only exceeded that need, but matched our mission of sustainability that is critical to our goal of advancing climate change awareness.

We are very excited about how Veritone is leveraging the power of the NVIDIA accelerated computing platforms to streamline the management and optimization of clean energy. We believe that this will help provide more predictable and reliable energy. The combination of Veritone CDI and NVIDIA EGX provides the millisecond-level autonomous decision-making capabilities required for smart grid management and resiliency." Keith Cockerham, Utilities Industry Lead at NVIDIA.

We're thrilled to further our partnership with Veritone and release this powerful integration. The Digital Media Hub will now serve as a centralized location where mutual customers will now be able to access Getty Images' award-winning visual content, in turn simplifying complex creative workflows and saving time.

What excites me about our partnership with Veritone is the tremendous amount of value we can help unlock for our joint customers and find new business opportunities where we can help them leverage unstructured data within Snowflake's Data Cloud."
— Michael Westra, Corporate Account Executive, Snowflake
Infrastructure Partners
Veritone has partnered with all the leading and trusted global cloud infrastructure providers to help you with digital transformation, AI enterprise capabilities, and security requirements.  From commercial to government cloud-based solutions, Veritone's infrastructure partners are there, at every step of the way, to support your cloud and security needs. 
Technology Partners
Veritone has partnered with many of the most proficient technology innovators in the market. Through these partnerships, we work diligently to help our customers simplify their operations, drive innovation, and stay competitive. These fellow innovators supplement Veritone capabilities by providing infrastructure, storage, line of business applications, development tools, and more.
SYSTEM INTEGRATORS
Veritone customers, like you, expect trusted subject matter experts to design, specify, and deliver solutions. That's why we've partnered with top System Integrators to architect, implement, and deliver the AI-powered solutions and services you require to meet your organization's needs.
Managed Service Providers
We understand that you expect experienced and proven partners to design, specify, and deliver solutions. Working with some of the best Managed Service Providers in the world, we have the access to the best people in the business to architect, implement, and deliver the AI-powered solutions and services you require to get the job done.
Resellers and Distributors
We've teamed up with some of the best resellers and distributors from around the world with a shared goal to help you address your business challenges with the right AI-driven solution. Contact us now to join the Veritone ecosystem and start expanding your reach today. 
Discover how Veritone's AI solutions and services can maximize your organization's capabilities.