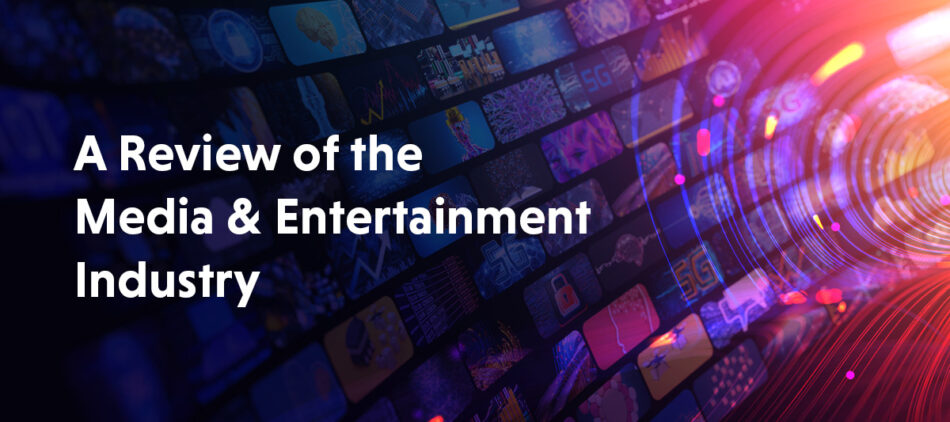 11.10.22
A Review of the Media & Entertainment Industry
Summary: 
Ad spending and media consumption have recovered since the pandemic and have achieved record amounts of growth in some cases. 

To keep up with high demand and channel proliferation, the M&E industry is turning to AI to help achieve the required scale. 

Well-known brands such as the San Francisco Giants and Westwood One have adopted AI to solve the pandemic's intensified challenges. 
While we were right in the middle of the pandemic, we wrote a blog discussing the changing landscape of the media and entertainment industry. Now, two years later, we are looking at what the new world order in the M&E space looks like, looking at the results of trends, which predictions came true, and where we landed with the adoption of cloud and artificial technologies in the industry. 
Ad Spend Has Recovered 
After ad spending declined by nearly 20% in 2020 due to the economic uncertainty of the pandemic, causing advertisers to tighten budgets, last year was a record year of growth, and that has continued into 2022. Below are some of the highlights of ad spend growth by category over the last two years: 
Radio ad spending up 21% 

TV ad spending up 6% 

Digital video ad spending up 50%

Digital audio ad spending up 58% 

Social media advertising up 39%
This year, ad spending is estimated to top $300 billion for the first time ever. 
Media Consumption Skyrocketed and has Stayed There 
As stay-at-home orders were put in place across the world, people went home and were bored. They naturally turned to TV, radio, OTT platforms, and other media channels for entertainment. U.S. adults spend roughly 13 hours and 11 minutes daily consuming media (helping drive ad spending)— that's across various channels, including social media, TV, streaming, and more. It only slightly decreased from 2021, showing that higher media consumption has largely remained unchanged. 
The Film Industry Recovered, Thanks to Streaming 
The film industry had relied on a more even split between theatrical revenue and digital, with physical purchases and rentals retaining a small percentage. However, the pandemic made digital the main revenue driver for film, and that trend has only furthered. In 2019 digital accounted for 46% of revenue, compared with theatrical, which accounted for 42%. Digital accounted for 75% of revenue in 2020, with theatrical accounting for only 14%. In 2021, the total film market reached $100 billion in revenue, exceeding pre-pandemic levels, with digital accounting for 73% of total revenue and theatrical only holding 21%. 
Sports is Back in a Big Way 
Everyone was craving sports when seasons were postponed. Now that they're back in full swing, we've seen a shift in consumption due to the proliferation of digital channels. Nearly 41% of digital fans are consuming sports content through digital platforms, with as many as 80% using a second screen in addition to their primary screen to watch sports events. 
In alignment with what we saw with streaming platforms, approximately 40% of sports fans will watch non-live content related to a live match, and another 34% will consume content unrelated to a live match (such as sports docuseries or podcasts). Moreover, sports fans are usually multitasking while watching a sports event. That means there are more avenues than ever to reach this audience from a content and advertising perspective. 
However, with the increase in consumption and all the avenues to reach audiences, companies face the herculean task of actively placing their brand in front of them—a task that legacy practices from before the pandemic simply cannot deliver. 
Using AI to Keep Up with Higher Demand 
To adapt to the realities brought on by the pandemic, the M&E industry looked for ways to migrate much of their content workflows to the cloud. But to make it truly accessible to their teams and unlock revenue potential, they also needed automation. In fact, 52% of companies accelerated their AI adoption plans due to the pandemic. 
The M&E industry is adopting AI even faster. ABI Research estimates that spending on artificial intelligence and machine learning in the M&E industry will reach $16.5 billion by 2026. Many have realized that with record high content demand and the proliferation of venues to reach audiences, artificial intelligence is needed to help achieve the required scale and timely delivery of modern content demands. 
One example of a venerable M&E entity adopting AI in a big way is the  San Francisco Giants, who used to help preserve their aging content as well as make it usable by their teams to engage with fans on their digital channels and in-person at games. The LA Chargers also added AI to their MAM technology stack, saving them from having to rip and replace their old system by modernizing it instead. 
Radio stations also onboarded AI into their practice, allowing them to track ad campaigns and provide success metrics to their advertisers. Westwood One started using AI to help them build stronger relationships with their clients, providing timely air checks and recaps as a way to open up conversations more organically and optimize campaigns. 
But AI is doing more than simply making it easier to manage and track content. It's also creating new forms of content to engage with fans. StatsPerfrom recently adopted AI voice enables sports fans worldwide to listen to play-by-play commentary in multiple languages and voices.
New use cases for AI continue to surface daily as more adopt the technology and uncover other areas of their business that they can ingest. Long touted as a means to automate data and business processes (which it does), AI can now help creative teams engage with audiences digitally in exciting, wholly humanistic ways. 
Further Reading
Veritone and Partners Activate 24 Hours of Action-Packed Live Racing Content at the 50th ADAC TotalEnergies 24 Nȕrburgring 
PROGRESS Monetizes More Than 20,000 Historic Films Digital Media Hub