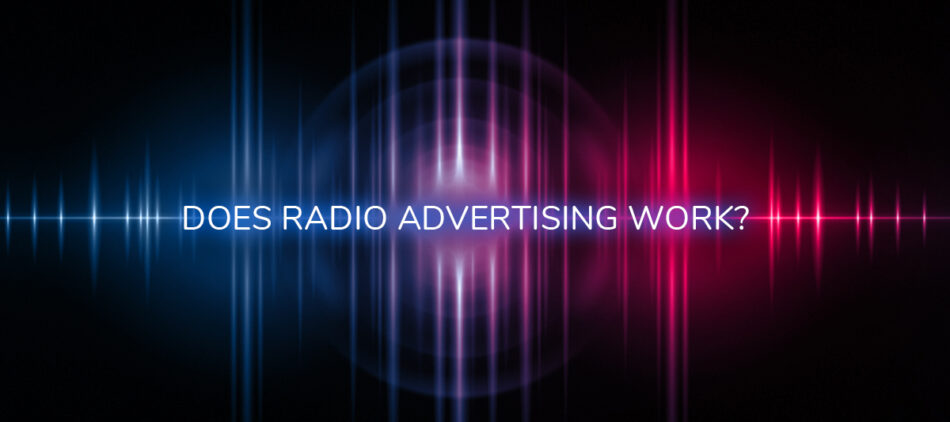 03.10.22
Does radio advertising really work?
A look at the channel for 2022 and beyond
Radio is still popular and resurging, but ad dollars haven't followed. Smart sales teams and marketers need a way to get their share of advertising budgets.
Summary: 
Radio remains popular and could see 6% growth, but advertisers aren't spending in accordance with listener habits.
Radio ads can benefit from incremental spend on streaming audio and podcasts.
To ensure radio gets its due from advertisers, you need a way to prove attribution.
---
Even with the rise in streaming, radio remains as relevant as ever. For decades, radio was one of the top media platforms, but the use of radio advertising took a dip in 2020. As budgets tightened due to economic uncertainty around the pandemic, many advertisers shifted spending to more predictable channels.
However, after a 12% increase in 2021, experts predict a 6% growth in 2022, particularly in the automotive, auto aftermarket, entertainment, financial services, pharmaceutical, professional services, retail, telecom, and travel categories. With radio as a resurging advertising channel, experts are recommending advertisers and investors to ride that wave.
Highlighting expert predictions
According to Cumulus Media CEO Mary Berner, recovery is expected to continue. "Even now, the spend in certain advertiser categories … continues to be effected by supply chain and labor supply issues that have been knock-on impacts of the pandemic," Berner explains. "So the recovery of just those categories represents a pretty material increment over this year's levels."
Radio Advertising Expenditure Worldwide from 2019 – 2024
(in Billion U.S. Dollars)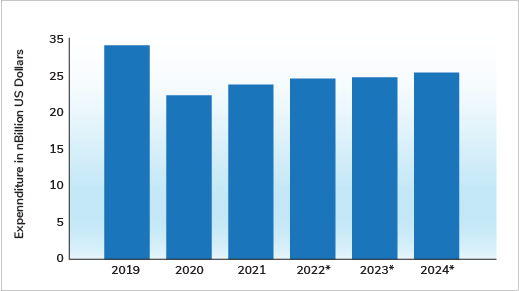 Other experts seem to agree with Berner's predictions. Hubbard Radio CEO Ginny Morris reveals that 2021's billing levels rose closer to 2019's, leaving her optimistic that it'll continue to rise.
And Audacy CRO Brian Benedik shares that the audio content company is also optimistic about radio ads' recovery. Benedick says, "While we have COVID-related issues to navigate, our portfolio of assets is diverse, and we see our partners leaning into us—and audio for that matter—in many ways."
Take a nod from consumers
As the forecast for radio ads looks promising, other experts recommend taking a long-game approach.
B. Riley Securities analyst Daniel Day advises investors to not be discouraged by the supply chain's impact (particularly on the auto and other key industries) and to follow consumers, which he expects will result in increased audio ad budgets.
Day also suggests that radio ads are "particularly well-positioned to benefit from this incremental spending on newer audio media including podcasts and streamed radio," as opposed to traditional AM/FM.
Triple audio ad spend
In Oct. 2021, WARC released a study that revealed audio garnered only 8.8% of ad spend, even though consumers spend 31% of media time with audio.
The Investment Gap: Consumers Spend 31% of Their Media Time with Audio, yet Audio is Only Allocated 8.8% of Media Budgets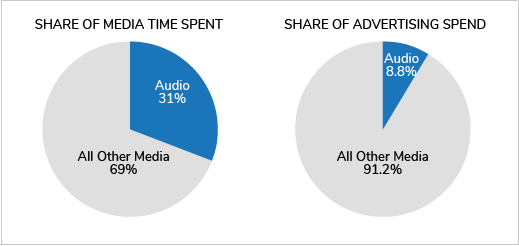 Source: The WARC, the Investment Gap: Understanding the Value of Audio
The study reveals that brands are severely overspending on TV and digital ads by 32% and that the budget for audio is 28% of what it should be. WARC says advertisers should "spend their money where the audience spends their time."
In response to these findings, Berner remains hopeful that the "study, combined with the collapse of linear TV and the excitement over digital audio … will cause the imbalance between share of consumer time spent and advertiser spend to narrow."
As one of the most prominent trends in advertising, screen-free media is opening up a lot of opportunities for marketers to dedicate more budget to audio. According to Katz Radio Group President Christine Travaglini, "Radio delivers incremental reach and fuels the effectiveness of other media. … Audio provides unique contextual targeting strengths, allowing advertisers to target audiences in specific contexts and is a powerful and highly effective tool."
And this is particularly true when paired with the right technology.
Using AI to increase ROI
Even with these promising forecasts, part of the reason why advertisers pulled spending was because radio lacked ways to track metrics of success. That's changed with AI-based attribution solutions. Now, advertisers can correlate an ad with an uplift in website traffic, helping them determine what ads were the most effective and optimize campaigns based on data rather than guesswork.
With Veritone Attribute, radio salespersons and advertising agencies can gather data on their clients' radio campaign performances (as well as live reads and organic mentions) in near real-time. By correlating the ad or mention with website interaction, dashboards in Attribute offer data-driven insights that enable marketers and advertisers to optimize campaign strategies, increase ROI, and keep their audience engaged.
Contact Veritone today to learn more about Veritone Attribute, see a demo, and start winning more business through radio and broadcast advertising.