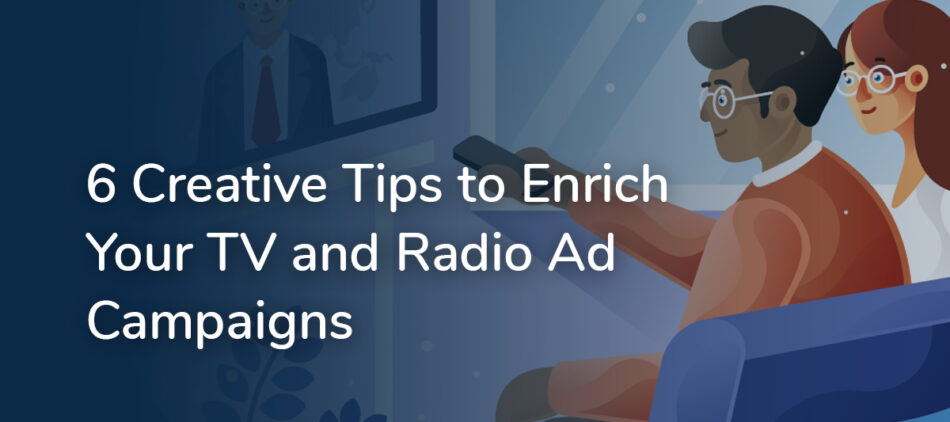 10.13.20
6 Creative Tips to Enrich Your TV and Radio Ad Campaigns
Read on to learn easy ways to improve your broadcast campaigns and read about examples of these tactics in action.
Summary:
The Veritone Uplift Study uncovered several creative tips in which broadcasters and advertisers can improve their campaign performance

One such finding was that "get rich quick" still sells

Broadcast advertising is still highly effective and can be tracked and quantified using an attribution solution
---
In light of industry changes that have only been compounded by the COVID-19 pandemic, ad dollars have been shifting to data-driven mediums, such as social media and online display ads. Advertisers want to make sure their ad dollars are converting into tangible sales and online activity, and that's historically easier to do with online ads—but not anymore.
To help broadcasters and advertisers recharge their broadcast ad campaigns, we launched the Veritone Uplift Study, in which we followed more than 250 radio and TV ad campaigns over nearly 100 broadcast stations. The good news? Our study found an average campaign lift, or increase in online activity on an advertiser's website just after an ad runs, of 6.6% across all campaigns. Contrast that to the average clickthrough rate of digital counterparts such as display ads (0.64%), Facebook ads (0.90%) and email marketing (2.6%).
The Uplift study also found several ways in which broadcasters and advertisers can improve their campaigns to ensure maximum lift. We'll detail six of those here, along with sample campaigns that incorporated those elements to great effect.
1. "Get rich quick" still sells

Rich offers drive response. People are naturally drawn to offers that make it sound easy to win something or save lots of money, and ad campaigns that utilized this strategy saw the highest lift of those we studied.
"If you have the ability to save a lot of money, if you have the ability to win big, get free services, that's obviously a great, rich offer," said Paul Cramer, managing director of enterprise radio solutions at Veritone. "It's going to generate more response."
One campaign that used this tactic to great effect was a radio station that used the phrase "Win double your paycheck," with the clear call-to-action, "Sign up and we'll pay up!" The campaign was also time-sensitive, and it ended up generating 59% lift
2. Urgency and time sensitivity

There's nothing like a sense of urgency to get people moving. Ads that compel people to act immediately, lest they miss out on an offer, see a significant lift.
"That's going to drive much more response from someone who hears it and says, 'hey, I need to act on this because if I don't, I'm going to miss out,'" Cramer said.
A local car dealership used this tactic in a campaign and saw a 14.2% increase in web traffic with an entirely prerecorded ad that offered $10,000 off, 0% financing, three days of included maintenance and a free remote starter—for three days only. However, there was no web call to action in this campaign—listeners who redeemed it went through an organic search to learn more—so a best practice would have been to include a call to action (including a URL that's easy to remember).
3. Intrigue and visual teasing

Ads typically hit the highlights of an offer, but another way to boost effectiveness is to leave the listener a bit curious.
"Radio has been called the theater of the mind," Cramer said. "There's often this validation that happens in radio where when you hear about something, you want to see it online."
A radio campaign that saw 15.8% lift was another local car dealer that offered $150 off a lease of a brand new vehicle, and listeners were encouraged to visit the website to see details and customize the vehicle.
4. Novelty

People want to see something new and exciting. When a new product is combined with a discount or promotion, this helps drive substantial lift.
"A lot of times, a new local business or restaurant, a spa, an experience wants to engage in product sampling to create awareness for their business, and they'll provide these half-off offers online and will see these campaigns do really well," Cramer said.
In one campaign that saw 59% lift, an advertiser offered a coupon to "buy certificates for goods at ⅓ face value," with coupons people could download online. These were also limited, creating a sense of urgency, and driven by a combination of prerecorded and live mentions.
5. Clear call to action

The most successful ad campaigns share something in common: They all offer a clear, concise call to action. Examples include "see it online," "visit abc.com" and "order now on our website."
Another local car dealer saw a 22% lift from prerecorded spots that offered $15,000 off a new Audi. This was a rich offer that directed listeners to visit the dealer website.
6. Easy URL/web address

As long as you're sending customers online, you should make sure the URL of that website is easy to remember. The best URLs (think Hotels.com) stick in consumers' memories long after the ad airs.
One van customization dealer we studied used the URL VansVan.com. Combined with intrigue and visual teasing ("visit website to see examples"), they saw a 13.2% lift.
In conclusion
In short, (contrary to some beliefs) it's actually an ideal time to be in broadcast, whether you are a station or advertiser selecting a channel in which to allocate your dollars. There are several easy things broadcasters and advertisers can do to maximize their ads, and they're even more effective when used in tandem with one another. 
Broadcast advertising is just as, if not more, effective than online advertising at driving consumer response. The results of broadcast campaigns can be quantified using an attribution tool such as Veritone Attribute to demonstrate effectiveness of an ad campaign by tying broadcast ad placements to website interaction data in near real-time.
"It's so important to have partner insights; really, that's what attribution can do for linear broadcast television as well as radio," Cramer said. "It's really important to be able to measure those metrics of success today and also provide those insights on what's working with the campaign not only to get your fair share of credit, but to really optimize those dollars which are under even more intense scrutiny today."
Find out more about the Uplift study, including bonus insights on how to maximize your broadcast ad campaigns, by signing up to watch the Uplift Study Webinar