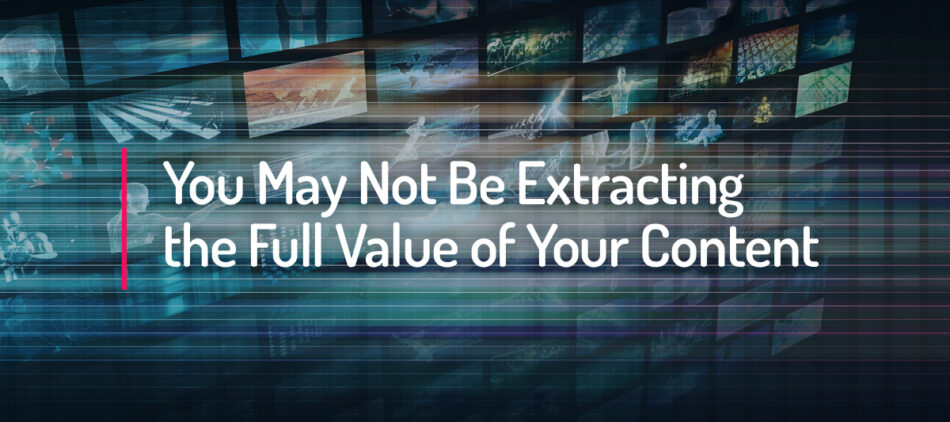 07.13.21
You May Not Be Extracting the Full Value of Your Content—Here's How You Can
Modernizing your current media management systems and processes unlocks more revenue opportunities  
Summary:
Despite the COVID-19 lockdowns, content consumption doubled, forcing companies to adapt to capitalize on this opportunity 

Many companies are managing their media with inefficient solutions and methods, holding them back from extracting more ROI from their content 

There are two categories of content monetization, direct and indirect, which can never fully be realized without the help of artificial intelligence  
Due to the lockdowns last year, companies have been forced to adapt in order to maintain media production—and continue generating revenue. While many have not been prepared for this disruption, causing content production slowdowns initially, a new opportunity has revealed itself.
Digital consumption skyrocketed last year as consumers were sent home and sought ways to entertain themselves. In response to this opportunity and faced with limitations because of the pandemic, many companies have been looking to their past content.
However, as you repurpose and revitalize old content to keep up with content demands, you may uncover  inefficiencies within your media management systems and processes. To capitalize on this opportunity, you have to rethink how you managed your media and solve your limitations quickly—or miss out.
Overcoming content management and distribution challenges
Rights owners have to get creative to keep up with today's content demands while dealing with pandemic protocols. But if your archive is disjointed and ineffective, you won't be able to surface the content you need at a moment's notice, holding you back during a time when agility means survival.
In finding ways to overcome your content management and distribution challenges, you may struggle with:
   

Enhanced content data and workflow automation.

   

Tagging videos with metadata.

   

Managing and working with preexisting or archived content resources.

   

Searching for specific assets within an existing management system.
With digital TV and video content set to reach $119 billion by 2022 and content consumption in many categories continuing to grow this year, managing content effectively is business-critical for generating revenue and unlocking more opportunities.
Understanding how AI-enabled media asset management equals more opportunities
The first step you take starts with making sense of what content you have available. With improved metadata tagging, you can obtain a clear view of what's in your inventory and surface it with a few keystrokes. But tagging content manually with interns or contractors isn't the most cost-effective method, can lead to errors, and will take a lot of time. That all changes with artificial intelligence.
AI is key to modern media asset management, and has become the standard to properly migrate and accurately capture the data associated with your media in a single location. This acts as the prerequisite to enabling two categories of monetization with content: direct and indirect.
Start by improving your media management first 
To monetize content, you need to digitize and consolidate all your assets into a single, AI-processed location in the cloud. With a complete inventory of your archive, you can increase your ROI per media asset that you have and will create.   
With AI as the key, you can unlock the total value of your content, helping you become more agile and accelerate production and distribution. This begins by reassessing your applications and tools, identifying where there's the most friction, and then using this intel to make the best decisions possible going forward.
Take the first step in improving your media management
Additional Reading: 
What is Media Asset Management (MAM) and How is It Different?