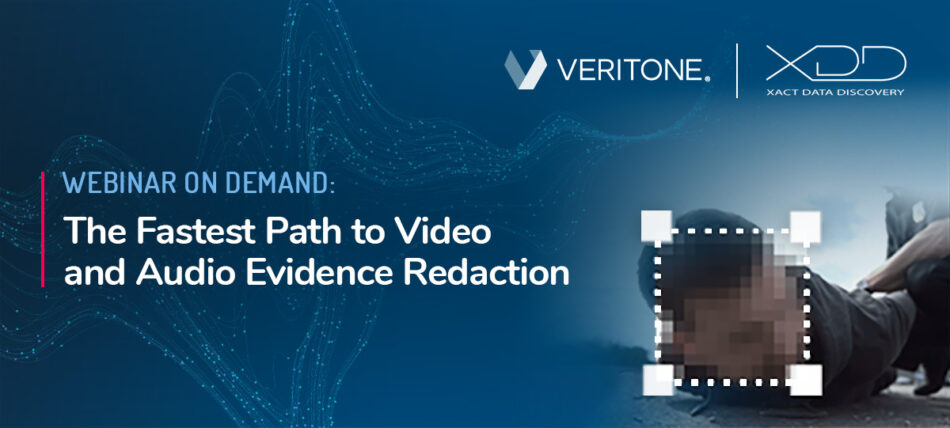 01.15.20
Webinar OnDemand: The Fastest Path to Video and Audio Evidence Redaction
As the world of audio, video, and social surveillance exponentially evolves, so must the services, technologies, and expertise of law enforcement agencies and legal communities that use it. Whether video is captured via cell phones, dash-cams, drones or beyond, video data and the intelligence it provides are critical components in capturing, reviewing, preserving, preparing and producing potential evidence to be used in court as well as satisfying public records requests.
To protect the innocent while preserving context, surveillance video must be collected, reviewed, redacted and produced accurately and efficiently to ensure evidence and legal chain of custody is secure throughout the entire process. Personally identifiable information including, license plates, heads, tattoos, names, identification cards and beyond that might appear in video and audio footage must be redacted within the video itself to ensure anonymity where applicable.
Watch this informative Evidence Redaction webinar OnDemand
In partnership with Veritone, the leader in automated audio/video redaction software, join XDD for a 1-hour webinar / demo showcasing Veritone Redact.
Veritone Redact provides law firms, corporate legal departments and law enforcement agencies with a powerful, easy to use, legally-compliant technology service to capture, review, prepare and produce redacted audio and video for use as evidence or in response to public records requests.
– Automated head detection
– Transcription based audio redaction
– Downloadable audit logs
– User defined redaction regions
– Automated forward tracking
– Intuitive interface with one-click redaction
– Labor and cost reductions
– Inter-agency workflow support
– Available in Microsoft Azure and AWS Gov Cloud
Jointly presented by XDD and Veritone, the webinar / demo discuss changing legislation, the exponential growth of the video surveillance market and legal issues, coupled with a 15-20 minute product demo.
Watch this informative webinar onDemand
Further Reading
Veritone Redact – Automated Video and Audio Evidence Redaction
Lake Stevens Police Department Increases Productivity & Workflow …
Intelligent Digital Evidence Redaction for Judicial and Law Enforcement Agencies
Veritone Announces New AI-Powered Law Enforcement Application Suite to Collectively Expedite Investigations and Evidence Disclosure
Adoption of Veritone's AI-Powered Public Safety Solutions Grows Across the U.S. as Public Safety Agencies Seek to Increase Transparency and Accountability