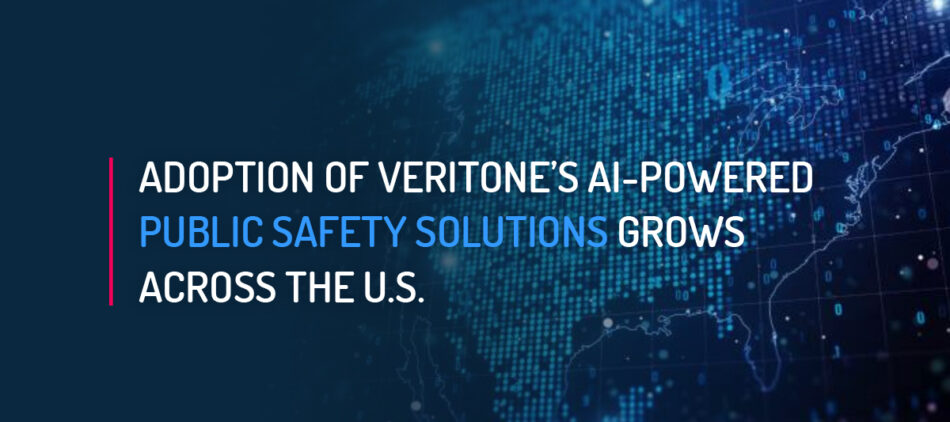 07.14.20
Adoption of Veritone's AI-Powered Public Safety Solutions Grows Across the U.S. as Public Safety Agencies Seek to Increase Transparency and Accountability
Company seeing significant increase in new customers for the company's advanced and highly scalable video and audio redaction solution
Veritone Inc., (NASDAQ: VERI), the creator of the world's first operating system for artificial intelligence, aiWARE™, today announced that the company is experiencing rapid adoption of its AI-enabled public safety solutions. 
Hosted securely in the cloud and accessible from any browser, the Veritone suite of applications is designed to enable the public safety sector to increase efficiency and accelerate evidence search and discovery, as well as video and audio evidence redaction. The company has seen a swell of adoption in 2020, signing more new agencies during the first half of 2020 than in all of 2019. Agencies are seeing the measurable impact of Veritone's AI-enabled solutions even more during this unprecedented time, as budgets are overwhelmed by the ongoing challenges posed by the COVID-19 pandemic and the need for transparency and accountability is greater than ever before.
"Audio and video evidence collected from crime scenes has become essential to police departments, but presents a significant challenge when it comes to reviewing and processing  these large data sets," said Jon Gacek, Head of Government, Legal and Compliance at Veritone. "Veritone's government solutions enable police departments to process and search any media type to extract actionable intelligence quickly and easily, significantly enhancing agencies' transparency. We're excited to be partnering with more agencies than ever before, and are looking forward to a strong year of innovation in 2020."
Over the past several months, many new police departments have selected Veritone and its AI-enabled redaction software, Veritone Redact, to accelerate the timely release of video and audio evidence requested by the public and other agencies, enhancing their transparency and accountability to the public. 
"In this day and age, a police officer's word is not exactly accepted as the Gospel truth," said Chief David Godlewski, Chief of Police of Lakemoor, Illinois. "Our philosophy is that in the event of an accusation of police misconduct, we want to review and release the audio and video evidence as quickly as possible. Veritone's redaction software allows us to do that in minutes, not days."
Released in 2019, Veritone Redact lowers the barrier to access cutting-edge AI, enabling the public safety and justice sectors to realize the power of the technology. The product contributes to safer communities by enhancing agencies' transparency and accountability to the public, while protecting the privacy of civilians.
Veritone is also seeing a jump in interest in other public safety and justice solutions. In May, the U.S. Department of Justice signed a contract with Veritone to use its aiWARE Government platform, allowing the DOJ and the 94 United States Attorneys Offices throughout the country to use AI-enabled audio and video transcription and translation services to expedite evidence discovery, greatly reducing human labor and associated costs and accelerating the disclosure of relevant evidence.
For more information on Veritone's solutions for government and law enforcement, including Redact, please visit www.veritone.com/solutions/government. 
Further Reading
Webinar Replay: How AI is Helping Public Safety Agencies Demonstrate Greater Transparency
Intelligent Digital Evidence Redaction for Judicial and Law Enforcement Agencies
The Power of Artificial Intelligence for Government Agencies
Why Companies of All Sizes Need to Invest in AI
---
About Veritone
Veritone (NASDAQ: VERI) is a leading provider of artificial intelligence (AI) technology and solutions. The company's proprietary operating system, aiWARE™ powers a diverse set of AI applications and intelligent process automation solutions that are transforming both commercial and government organizations. aiWARE orchestrates an expanding ecosystem of machine learning models to transform audio, video, and other data sources into actionable intelligence. The company's AI developer tools enable its customers and partners to easily develop and deploy custom applications that leverage the power of AI to dramatically improve operational efficiency and unlock untapped opportunities. Veritone is headquartered in Costa Mesa, California, and has offices in Denver, London, New York and San Diego. To learn more, visit veritone.com. 
Safe Harbor Statement
This news release contains forward-looking statements, including without limitation statements regarding the company's expectation of a strong year of innovation in 2020, its expectation of increased usage of its aiWARE Government platform, the capabilities of the company's AI-enabled public safety solutions going forward, and the expected benefits of aiWARE and AI technologies to customers in the government sector. Without limiting the generality of the foregoing, words such as "may," "will," "expect," "believe," "anticipate," "intend," "could," "estimate" or "continue" or the negative or other variations thereof or comparable terminology are intended to identify forward-looking statements. In addition, any statements that refer to expectations, projections or other characterizations of future events or circumstances are forward-looking statements. Assumptions relating to the foregoing involve judgments and risks with respect to various matters which are difficult or impossible to predict accurately and many of which are beyond the control of Veritone. Certain of such judgments and risks are discussed in Veritone's SEC filings. Although Veritone believes that the assumptions underlying the forward-looking statements are reasonable, any of the assumptions could prove inaccurate and, therefore, there can be no assurance that the results contemplated in forward-looking statements will be realized. In light of the significant uncertainties inherent in the forward-looking information included herein, the inclusion of such information should not be regarded as a representation by Veritone or any other person that their objectives or plans will be achieved. Veritone undertakes no obligation to revise the forward-looking statements contained herein to reflect events or circumstances after the date hereof or to reflect the occurrence of unanticipated events.