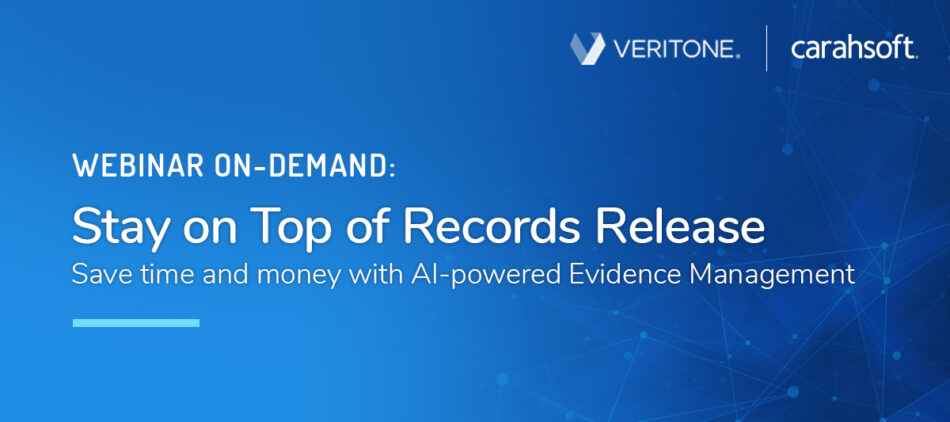 05.15.20
WEBINAR ON-DEMAND: Stay on Top of Records Release | Veritone
Save time & money with AI-powered evidence management with audio and video redaction for help with a record release
Law Enforcement Agencies need a way to manage and find key moments in audio, video and document evidence for efficient release to the public they serve. Veritone provides data management and search capabilities to cull through evidence from any source or vendor to seamlessly review and redact for timely release.
If your agency is looking for an integrated records management solution, join us for an educational webinar with our partner Carahsoft, overviewing our transcription, translation, and redaction applications built for Public Safety. We'll offer expert insight on how to implement this solution into your administrative and records teams while reducing costs and personnel time.
In this webinar, covers:
How to manage evidence from multiple sources (in-car, BWC, audio calls, text documents) for quick retrieval
Why leveraging AI-powered Redaction software, yields reduced time from request to release
Why collaborating across your agency is key to developing a sustainable evidence management program
Join this recorded webinar to stay on top of your evidence management and release process.
Register Here for the Record Release Webinar
Further Reading
Intelligent Digital Evidence Redaction for Judicial and Law Enforcement Agencies
How AI-powered Video and Audio Redaction Helps a New Jersey PD Release Records Faster
Veritone Announces New AI-Powered Law Enforcement Application Suite to Collectively Expedite Investigations and Evidence Disclosure