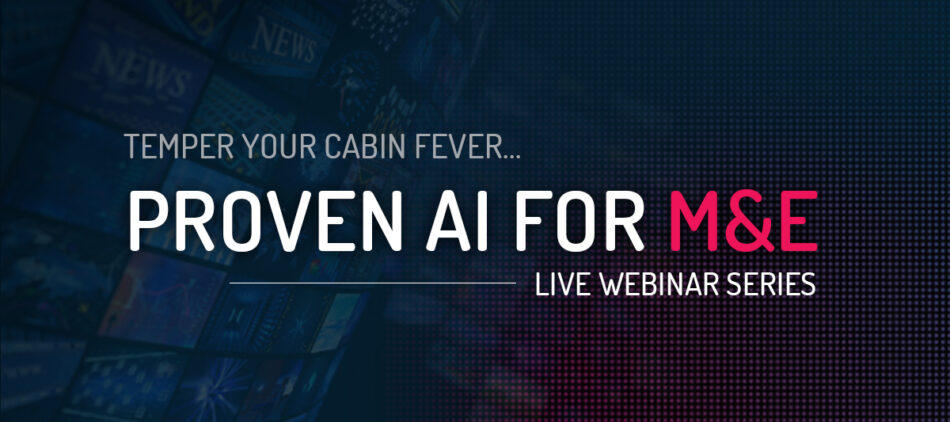 04.6.20
Temper Your Cabin Fever. Tune into Veritone's Live Webinar Series: Proven AI for M&E
There is so much we want to share with the community, be it our clients, partners, or future clients! So we, like many others, have decided to host our own "virtual tradeshow" – a series of webinars that will help us connect with you all in a meaningful way. Suddenly, that seems more critical than ever before. 
Our media and entertainment solutions are multifaceted, and they support numerous sub-verticals. In this series, recorded in April 2020, we will highlight five, each with its own webinar:
Whether you are a current or future client, I encourage you to explore all of our solutions and see for yourself how Veritone can support you and your business. From content and ad intelligence, ad attribution, intelligent media management, and monetization, to a multi-cognitive, AI-driven API, our offerings fit seamlessly into existing workflows and deliver on two primary objectives: 1) to make your lives easier 2) to help you grow your revenues.

Free 60-day Access to our Flagship Applications
At Veritone, we're here to help, and the webinar series is just one example of how. We know these are tough times for your company, and we're aware you probably have a large percentage (if not all) of your team working remotely. In order to help you manage the disruption and maintain business continuity, we're extending free access to our core applications — Veritone Essentials, Attribute, and Digital Media Hub — for 60 days. All of these SaaS solutions are field-proven to help operations save time, reduce costs, and drive seamless, connected workflows — all of which are vitally needed in these challenging times. Go here for more information.
We Are Here For You and Your Teams!
It is our hope that programs like these webinars will not only provide an escape from the news, quarantine, and rerun programming but that you will be able to take away information to boost your day-to-day work and enhance your organization's productivity. Because, in the end, all anyone really wants right now is to make each day a little better, a little brighter, and a little more hopeful.
Further Reading
aiWARE™ Takes Veritone's Digital Asset Management Solutions to the Next Level
How Cloud and Virtualization Can Help the M&E Industry Adapt to COVID-19
How to Get Powerful Radio Analytics Tools for Free and Boost Revenue