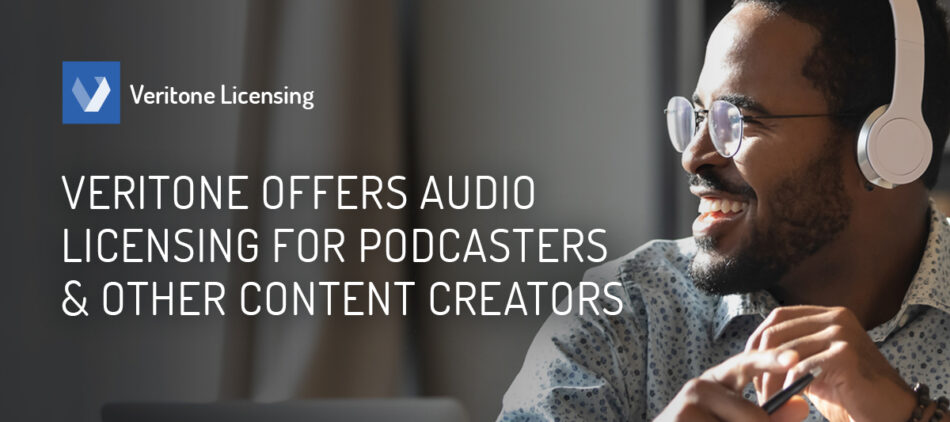 11.16.20
Veritone Offers Audio Licensing for Podcasters and Other Content Creators
Content from Veritone Licensing's roster of iconic libraries is now available to those looking to license audio clips to enhance podcasts and other audio projects; licensing and monetization services are also available for podcasters.
Veritone Licensing has always strived to be on the forefront of licensing to content creators. As home to the world's largest database of historic news and sports coverage as well as user-generated content from the top influencers on the web, we have worked to bring content from iconic brands such as CBS News, NCAA, The New York Times, Bloomberg and South China Morning Post to video projects such as films, TV shows and commercials. 
With the infrastructure for ingesting and licensing content already in place, it's only natural that we've extended our focus to include audio. As podcasts in particular are projected to see double-digit growth even during the pandemic, we have the opportunity to be a part of a tremendous and creative new medium that is bringing tons of news and entertainment to listeners during a tumultuous year. 
Licenseable Content for Audio Creators
Podcasters, radio hosts and other audio creators can license audio clips for their podcasts from these brands the same way they would video content. Search our library at licensing.veritone.com to quickly search through millions of available clips using our AI-enabled search capabilities, filtering by file type, brand, category, date range and more. Our library includes both audio and video content, and any video can be licensed for audio-only projects. Thousands of new clips are ingested and added to our library each month, so creatives will always have something new to find.
Licensing and Monetization for Podcasters, too
The opportunity works two ways. Podcasters and networks can monetize their back content by offering archived episodes and shows for license into other podcasts, films, documentaries, television shows and more by licensing through Veritone.
Just as we've done with countless photo and video partners, we want to help audio content creators protect and monetize their archives. Our team of industry experts will represent your assets to content creators who are searching for a perfect audio moment to complete their project. Veritone Licensing provides full-service audio consulting and research including access to project management professionals for photo, video, and now audio licensed projects.
Over the last year we have had the good fortune of working with some of the most established podcasts from companies like Stitcher and Audible. By drawing attention to this capability, we want to let creators of all size and reach know that they have a partner in Veritone when it comes to creating or licensing their archives for audio projects.
To get started, visit licensing.veritone.com.
Further Reading
Content Licensing and; Monetization
Veritone Launches Premium Audio Licensing Library and Services
Seven Things About Licensing Every Content Buyer Should Know
Veritone® Launches VeriAds™, a New Suite of AI-Enabled Ad Revenue Solutions for Radio and TV Broadcasters, Podcasters and Social Media Influencers