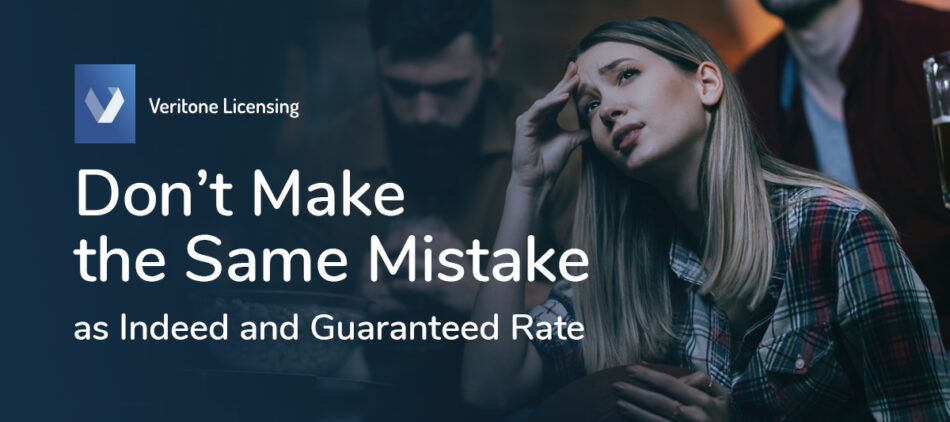 02.11.21
This year at the Super Bowl, advertisers learned a painful lesson about self-service stock footage
Here's how Veritone Licensing can help Indeed, Guaranteed Rate and others avoid similar mistakes using stock footag in the future
This year's Super Bowl was different from years past. There were only a small number of fans in attendance, Super Bowl parties were not encouraged and attendance at local establishments was naturally lower than ever. Major advertisers from Budweiser to Coca Cola even opted out, leaving the spotlight open for others.
The absence of the typical advertising brands made the spotlight even brighter for some of the newcomers. Unfortunately, one distraction that caught everyone's attention was the fact that Indeed and Guaranteed Rate used the same stock clip during their Super Bowl ad. They were called out for it, not only by the advertising world but also by a few other brands including Popeyes, which spliced the clip into a 15-second ad for its chicken sandwiches on Twitter adding the caption, "Does this mean we have an ad in the big game too, y'all?"
This short but very extreme example highlights a key risk of using self-service stock footage. Let's look at why this happened and how advertisers creating new ads with licensed footage can avoid making the same mistake.
Pandemic production limbo
There is a clear reason why and how this happened. The pandemic and its restrictions have made it difficult, and even unsafe, for creative agencies to shoot their own content. Across the board, brands have needed to find agility when it came to creating new ads that resonated with their customers. Their ad agencies needed to find quick solutions—enter stock footage.
Stock footage is enticing because you don't have to interact with anyone. You can just search for what you are looking for and download it. Even more so if it's royalty-free, as is often the case.
However, stock footage has always carried a critical risk for advertisers—even if you pay for the footage, there is no guarantee that you are the only one using it. Like we saw with Indeed and Guaranteed Rate, nothing stops another brand from coming along with the same idea and buying the exact same footage from a self-service footage site.
Avoiding the pitfalls of stock footage
Veritone Licensing helps advertisers avoid this type of embarrassing situation. We offer brands and ad agencies a totally customized, white-glove approach.
The vast majority of our collections of footage are exclusively represented by Veritone, and can only be licensed from us. Our helpful experts, who are up-to-date regarding current usage of footage from our collections, steer our clients away from footage being used by others, to ensure they are protected from making similar selections.
With the help of our proprietary AI platform, we can narrow your search and find the content that best suits your creative needs in a matter of minutes. Human interaction doesn't slow down the process. It adds an extra safety net and attention to detail that ensures you deliver something truly unique, helping you focus on your creative process and not worry about exclusivity or gathering the clearances or approvals you need. Learn more about licensing content with Veritone.
Futher Reading