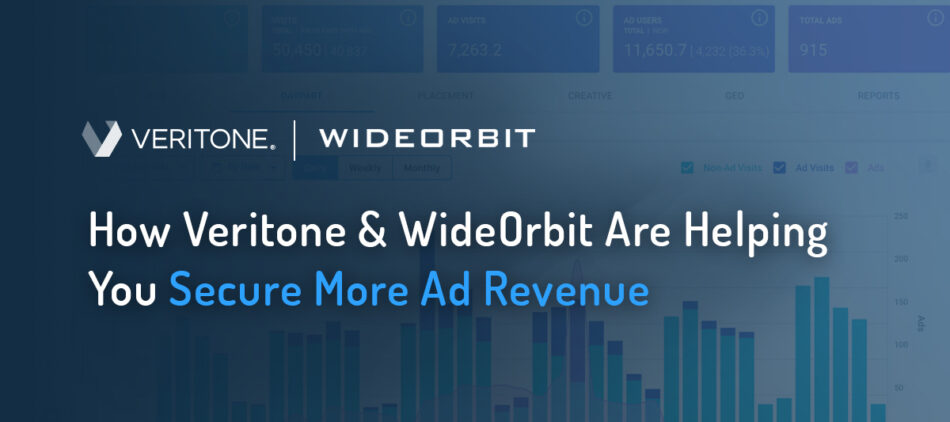 08.18.20
How Veritone and WideOrbit Are Helping You Secure More Ad Revenue
Together with WideOrbit, Veritone is giving broadcasters more ways to net ad dollars
Since its inception, Veritone Attribute has been giving radio and TV broadcasters a solution to measure on-air to online campaign efficacy in an approachable, user-friendly interface.
Attribute customers who subscribe to WideOrbit's WO Traffic, a market-leading ad management and trafficking platform, benefit from a partnership between the companies. The integration between Attribute and WO Traffic gives broadcast sales teams a turnkey mechanism to not only correlate broadcast ad placements with website interaction but also automatically retrieve ad logs in a seamless and secure manner.
WO Traffic logs adds to Attribute's existing value of programmatically and accurately tracking and measuring in-content live reads and organic mentions. This means Attribute (along with Veritone Discovery) catches anything that might not appear in the logs, such as off-the-cuff mentions of an advertiser's products or services.
The benefits of this integration are many for broadcasters looking to grow shrinking ad margins, according to Michael Kennedy, senior director of product management for Veritone.
It eliminates the burden of providing ad data manually—and does so safely.
"Where other attribution tools might rely on cumbersome processes like sourcing log data and uploading them one by one for each campaign, Attribute takes a more progressive approach by utilizing a client's existing relationship with WideOrbit to serve as a conduit and data management system to ensure quality, safety and delivery."
These logs are available in near real time.
"Attribute lets users quickly benefit from rich, empirical attribution information without data latency. This, in turn, is useful for broadcasters to advise their buying client, the advertiser, of performance and optimizations intra- and post-campaign."
Data logs help you give advertisers visibility into their ads so they can maximize ROI.
"The advertiser gains tangible and directional insights that link broadcast ad delivery with online consumer response, demonstrating the value of the medium.
"Each ad extracted from the broadcast logs contains rich detail about the advertiser and its advertisements—the time of day it aired, the creative length, the particular station and other useful identifiers. This log information not only powers the application, it augments it with contextual elements that allow for a holistic view of campaign performance."
More visibility into how ads perform also helps build trust between broadcasters and advertisers.
"It's imperative that the broadcaster and advertiser alike can make data-informed decisions. To that end, data quality, speed and accessibility are paramount in being able to react in real time and position a campaign for optimal success. We've seen broadcasters win over their buyers and retain advertisers as a result.
"Trust is one of the cornerstones of building any relationship, and it's often earned with transparency. Vertione Attribute empowers broadcasters to offer up mathematically sound attribution results to strengthen their advertiser relationships."
The integration also creates new touchpoints for sales to interact with advertisers.
"With the advantage of timely data insights, broadcasters and advertisers can establish cadences to meet and discuss performance metrics, creating additional opportunities. Building on the proposition of valued touchpoints, an attribution solution like Attribute equips the broadcaster with quantitative and qualitative data that not only makes the buy more defensible but also produces optimization insights that pay dividends for future buys."
In an increasingly digital world, better data around radio and TV ad performance makes buying ads on these media more appealing.
"At the end of the day, advertisers are asking for each medium, whether digital or not, to measure return on investment, and the broadcaster log data helps fulfill that objective."
To find out more about how Veritone Attribute and WO Traffic work together to improve your ad sales workflow, tune into our webinar recording today 
Further Reading
Veritone and WideOrbit Integration Yields Newfound Metrics of Success for TV Stations
Veritone Attribute and WideOrbit media operations platform are moving the dial at TV Stations
New Veritone Attribute Capabilities Take Ad Performance Measurement to the Next Level
Seven Things About Licensing Every Content Buyer Should Know