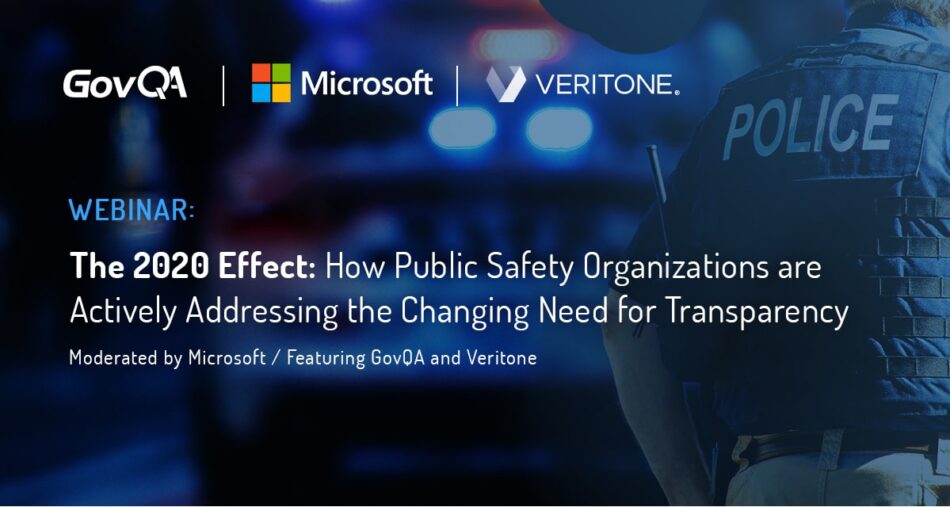 09.22.20
Webinar On-Demand: How Public Safety Organizations are Actively Addressing the Changing Need for Transparency
Featuring Clark County Washington Sheriff's Office, Moderated by Microsoft
Join Microsoft, Veritone & GovQA to learn how public safety organizations are actively addressing the increasing need for public transparency in 2020.
With critical incidents on the rise, transparency has become paramount for public safety agencies needing to release more public records than ever before. Eager to provide the public they serve with key insights, law enforcement is leaning on new technologies to securely manage, redact, and release information within days of an event.
Watch this comprehensive webinar to hear firsthand from Clark County Sheriff's Department how the events of 2020 have reshaped the public records and redaction landscape and the tools they have deployed to keep up.
In this webinar, you'll learn more about –
The impact of recent events causing an increase in records requests
The importance of the timely release of evidence
New technologies to support secure data hosting, public records management workflow, and the redaction of PII (Personally Identifiable Information)
Featuring Clark County Washington Sheriff's Office

Sarah Leffler

Public Disclosure Manager

Sarah Leffler has led the Public Disclosure Unit at Clark County Sheriff's Office in Vancouver, WA since June 2015. She & her team strive for excellent internal and external customer service as they navigate the challenges of public records in law enforcement. Originally from Arizona, in her free time Sarah enjoys exploring the Pacific Northwest with her spouse and her dog.

Moderated by Microsoft

Rick Zak, Microsoft

Director of Justice and Public Safety at Microsoft

Richard Zak leads solution initiatives at Microsoft to support safer citizens, communities, and responders. He also serves with a range of public safety community organizations including the Communications & Technology Committee for the International Association of Chiefs of Police, the board for iCERT (Industry Council for Emergency Response Technologies), the Corporate Council for the Citizens Crime Commission of New York City, and previously the U.S. Department of Justice Law Enforcement Video Working Group. He is a retired member of the fire service.

Jon Gacek

Veritone

Jon Gacek leads Veritone's business unit providing AI-enabled solutions for the Government, Legal, and Compliance sectors. Jon is passionate about delivering flexible, scalable, and future-proof AI technologies that drive cost, time, and resource efficiencies while helping to keep our communities safe. Jon has 18 years of public company C-suite experience, including President and CEO of Quantum, and was an audit partner at PwC.

Jen Snyder

GovQA

As GovQA's Chief Evangelist, Jen is interested in meaningful conversations that look both at the big picture, as well as dig deep into nitty-gritty best-practice working sessions on all government challenges and opportunities including those related to technology, transparency, security, procurement, legislative mandates, compliance, staffing challenges, and more. Jen's 15 years of experience in the state and local government space includes guest speaking and moderating for government events, roundtables, and associations. She has another 10 years of experience managing local and international business development initiatives for B2B tech companies.