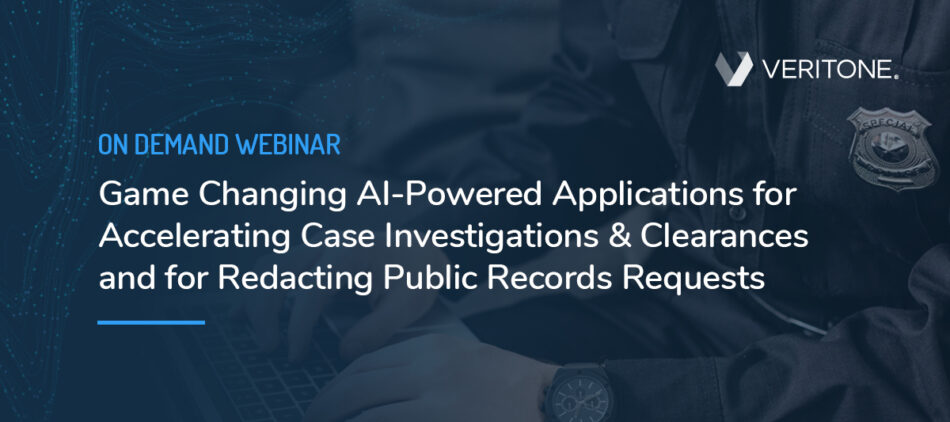 08.10.20
Webinar On Demand: Game Changing AI-Powered Applications for Accelerating Case Investigations & Clearances and for Redacting Public Records Requests
Over the last few months our nation has seen an increase in violence, community protests, and public outcries for greater police transparency. With some law enforcement agencies experiencing a decrease in funding and others are at risk, police agencies are now looking harder for ways to maintain operational continuity while improving officer's workplace productivity, and saving money.
Join Veritone to watch the recorded webinar for a live product demonstration and discussion about their AI-powered software applications (Veritone Illuminate and Veritone Redact) helping public safety agencies enhance workflow efficiency, save time, valuable resources and money.
In this webinar, you'll learn how…
Accelerates disclosure and other review efforts by automatically making unstructured data searchable by keyword, faces, objects and more,
Reveals front-end insights that might not have been uncovered in subsequent search efforts with cutting-edge conceptual and structured text analytics, and
Reduce transcription and translation costs by leveraging automated machine-based
Automates and accelerates evidence redaction workflows,
Automatically detects heads, license plates, mobile data terminals, and sensitive imagery in audio video evidence,
Transcribes audio to keyword search PII
Captures and maintains full chain of custody requirements, and
Securely hosts evidence within a CJIS compliant cloud environment.