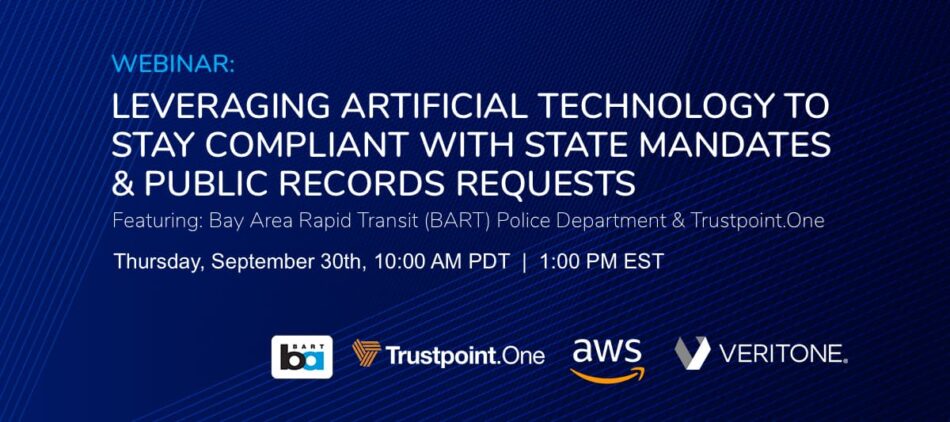 08.24.21
Webinar: Bay Area Rapid Transit (BART) Police Department Case Study – Leveraging Artificial Intelligence Technology to Increase Transparency and Stay Compliant with Public Records Requests
Over the last year, we have seen a growing nationwide trend toward transparency in law enforcement.  As state mandates, and Freedom of Information Act (FOIA) requests for public access to police audio and video evidence such as body-worn camera, in-car dash camera, jailhouse calls, and surveillance camera footage, law enforcement agencies are under pressure to release this evidence quickly or otherwise face possible lawsuits and fines. This was the case for Northern California's Bay Area Rapid Transit (BART) Police Department.
Join Veritone and AWS on Thursday, September 30, 2021 at 10 AM Pacific / 1 PM PM Eastern for a special customer case study webinar featuring BART PD and redaction services provider, Trustpoint.One.  Hear from Justin Morgan, Administrative Supervisor, of BART PD, and Andrew Milauskas, Director of Operations, of Trustpoint.One as they'll discuss how BART PD and Trustpoint.One leveraged AI technology to help them stay compliant with California State Bill (SB) 1421: Peace Officers – Release of Records.
In this webinar, you'll learn:
Best practices and lessons learned for managing large volumes of audio and video evidence while trying to stay compliant with state mandates and public records requests;

How Trustpoint.One used Veritone Redact, an AI-powered redaction software application, to automate BART PD's audio and video redaction workflow, saving them time and valuable resources; and 

Understand the importance of having Criminal Justice Information Services (CJIS) compliant solutions supported on AWS GovCloud.
Register Now