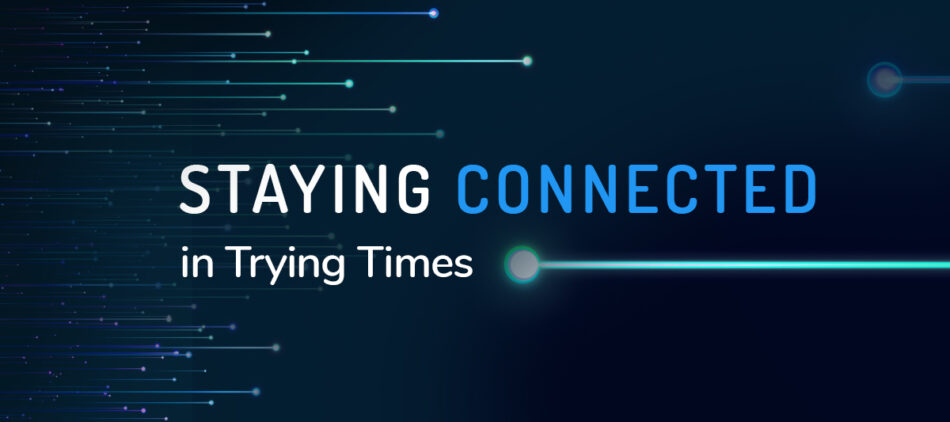 04.6.20
Staying Connected in Trying Times
Has there ever been another time when we so desperately wanted to get together but could not? Certainly not in my lifetime. Is it just me, or does anyone else feel like our restricted access to the outside world feels like a step back in time? Before, this might have meant little access to information, but in today's mass media age, it means little or no contact with people and places — since we can still check online and tune into news programs for the current state of affairs. 
I am imagining how it was in the 1940s during World War II (BTW, the last time NAB was cancelled was 75 years ago, during WWII), or the Vietnam War era, or the assassination of Martin Luther King, Jr.  – when families huddled around their radios or black-and-white televisions to tune into news coverage. The only comparable thing that I can remember in my lifetime — when society as a whole came to a halt —  was the 2001 September 11 attacks. Of course, that was unimaginably devastating, but even then, the majority of organizations and individuals operated as "business as usual" shortly thereafter (with the exception of travel, security, and those directly impacted.) 
Over the last couple of decades, we have increased our digital interactions exponentially through online shopping, education, and communications, and we've created vast online social communities. All of that has brought many advantages including convenience, entertainment, information sharing, and monetization – but it's also come with the risk of losing "real," in-person connection and slipping into isolation. Ironically now, it's that connection we crave. We want to shop in stores, dine in restaurants, and hold large events, but we are not able to do so until it is safe and the COVID-19 curve has been flattened. There is some interesting psychology and sociology to study here; take truisms like "the grass is always greener" or "people want what they can't have" and multiply them by 10. 
Cancelled shows don't have to mean lost connections
On Sunday, March 22, nearly 600,000 people downloaded the video conferencing app, Zoom – myself included. Like many others, I welcomed Zoom as a way to have an encouraging chat with my family while practicing social distancing. How wonderful it was to see their smiling faces during an uncertain time when we need endless comfort. We were dispersed across the U.S. pre-COVID-19, so, why didn't we do these types of virtual family get-together before? 
I'll say it: During these unprecedented times, we (the collective we) have never been BETTER equipped to host virtual gatherings small and large. Is this one of the silver linings of the global pandemic? Are we rising to the occasion and using this opportunity to become more connected (both virtually and physically) than ever before, once the crisis has passed? 
I have to admit, I have a love-hate relationship with the NAB Show. This year would have been my fifth NAB (I'm such a newbie compared to some of my colleagues, who have been going for upwards of 20 years!). On the love side is the focus, high energy, relationship-building, creativity, sense of pride, and increased team morale, and the excitement around product advancements. Hate is a strong word, but what I dislike about NAB is the Vegas scene (it's simply not my cup of tea), being held up in a convention center for days (foodie + nature junkie here), the time and resources it requires to pull off a successful show, and the stress that comes along with meeting deadlines and corralling people so that we are all marching to the same beat (which, in the end, is actually one of my loves). So, when I found out that the physical NAB Show was going to be cancelled for 2020, I was torn — but ultimately I was more disappointed than relieved.
There is so much we want to share with the community, be it our clients, partners, or future clients! So we, like many others, have decided to host our own "virtual tradeshow" — a series of webinars that will help us  connect with you all in a meaningful way. Suddenly, that seems more critical than ever before. 
I would like to invite you to ease your cabin fever and join us for one or all of our webinars this month. Our media and entertainment solutions are multifaceted, and they support numerous sub-verticals. In this series, we will highlight five, each with its own webinar: Radio Stations, TV Stations, TV Networks, Sports, and Podcasting. Whether you are a current or future client, I encourage you to explore all of our solutions and see for yourself how Veritone can support you and your business. From content and ad intelligence, ad attribution, intelligent media management, and monetization, to a multi-cognitive, AI-driven API, our offerings fit seamlessly into existing workflows and deliver on two primary objectives: 1) to make your lives easier 2) to help you grow your revenues.

Free 60-day Access to our Flagship Applications
At Veritone, we're here to help, and the webinar series is just one example of how. We know these are tough times for your company, and we're aware you probably have a large percentage (if not all) of your team working remotely. In order to help you manage the disruption and maintain business continuity, we're extending free access to our core applications — Veritone Essentials, Attribute, and Digital Media Hub — for 60 days. All of these SaaS solutions are field-proven to help operations save time, reduce costs, and drive seamless, connected workflows — all of which are vitally needed in these challenging times. Go here for more information.
We Are Here For You and Your Teams!

It is our hope that programs like these webinars will not only provide an escape from the news, quarantine, and rerun programming, but that you will be able to take away information to boost your day-to-day work and enhance your organization's productivity. Because, in the end, all anyone really wants right now is to make each day a little better, a little brighter, and a little more hopeful.

Temper Your Cabin Fever. Tune into Veritone's Live Webinar Series:
Proven AI for M&E.