Veritone aiWARE for Alteryx
Alteryx customers: Leverage cloud-native AI to expand your analytics to the 80% of data that is unstructured. Veritone's aiWARE™ operating system for AI and the Automate Studio low-code workflow tool integrated with Alteryx helps you uncover insights and leverage them in near-real-time, event-driven processes. aiWARE's cloud-based, scalable architecture delivers insight across massive enterprise data sets, helping you drive informed and autonomous decision making throughout your organization.
Contact us to discuss your Alteryx AI analytics needs.
Free Trial
Data Insight – Unstructured, In Near-Real-Time, At Scale
With over 80% of the world's data unstructured and growing 30-60% per year according to Gartner, data analysts need a way to quickly and easily extract from video, images, audio, text, and sensor data streams, then analyze for greater insight and improved business outcomes. The combination of Alteryx and Veritone gives the user visibility into 100% of the data in their organization – structured and unstructured.
Veritone has integrated its cloud-based aiWARE platform with Alteryx Designer to achieve this 100% data visibility, through Alteryx Desktop-callable tools that execute aiWARE engines for speech, vision, and text extraction and understanding–at scale. Data analysts can blend aiWARE results with their structured data and publish to a data visualization platform.
Additionally, developers can access the full power of aiWARE through Veritone's cloud-based Automate Studio workflow tool, which makes available hundreds of AI models and enables infusing of near-real-time data insights into applications and event-driven business processes.
Veritone aiWARE for Alteryx
With Veritone's aiWARE tools for ingesting data, running AI jobs and returning results, Alteryx users can harness the power of the aiWARE operating system. aiWARE makes available hundreds of ready-to-deploy AI engines and allows for rapid AI-enabled analytics. Now the power of AI to produce unstructured data insight is available to every Alteryx user.
Alteryx Customers:
Prep and blend both structured and unstructured data types, including video, images, audio, sensor data, and text, and drive near-real-time, event-driven processes at scale.
Alteryx System Integrators:
Gain insights into historical and real-time process data across all  data types – structured and unstructured – and use those insights to drive near-real-time, event-driven decisioning at scale.
Many Layers of Value with aiWARE for Alteryx
Veritone technology adds many layers of value for the Alteryx user, who can leverage aiWARE and Automate Studio to:
Expand analytics scope to prepping, blending, and analyzing 100% of an organization's data using pre-integrated aiWARE AI engines

Drive near-real-time, scalable, event-driven processes and take immediate action on analytical insights
Build custom AI workflows using any aiWARE engines, or multiple engines

Apply AI engines and workflows within select industry applications, allowing any business user to self-service and get insight from any data source. 
aiWARE for Alteryx Starter Kit for Conversational Intelligence
Enterprises expend valuable time and money manually extracting conversational intelligence from customer interactions including voice calls, texts, emails, chats, social streams, images and videos. Veritone Interaction Analytics automates this process, providing valuable insight into these customer conversations.
Jump-start your project with pre-configured Interaction Analytics solutions integrated with Alteryx Designer.
Conversational Compliance

Transcribe call recordings and make them searchable for company and regulatory compliance

Social Media Insight

Listen, learn, and leverage brand and competitor insights across your social media presence

Contact Center Insight

Identify speakers, transcribe calls, gauge intent and measure sentiment for reduced costs and satisfied customers
Make better business decisions while boosting revenues, reducing operations costs and improving customer satisfaction.
Tackle other use cases with unique solutions enabled by the aiWARE low-code Automate Studio workflow tool.
Key Features
Built-in Alteryx tools
Data ingestion:
Insight export:
Insight into audio files
Transcription

Transcription with speaker separation
Insight into video and image files 
Face/person detection

Trainable face recognition

Object detection

Trainable object recognition

Trainable logo recognition

License plate recognition

Text recognition (OCR)
Insight into text files
Entity extraction
Keyword extraction
Content classification
Sentiment analysis
Translation
Custom AI workflows 
Use Veritone Automate Studio to develop your own custom AI workflows
Drive real-time processes and take action on analytical insights
Streaming, event-driven data sets (weather data, stock data, etc.)
Call any engine, and multiple engines
Send time-stamped data insights to human for review and edit
Custom engines and training data sets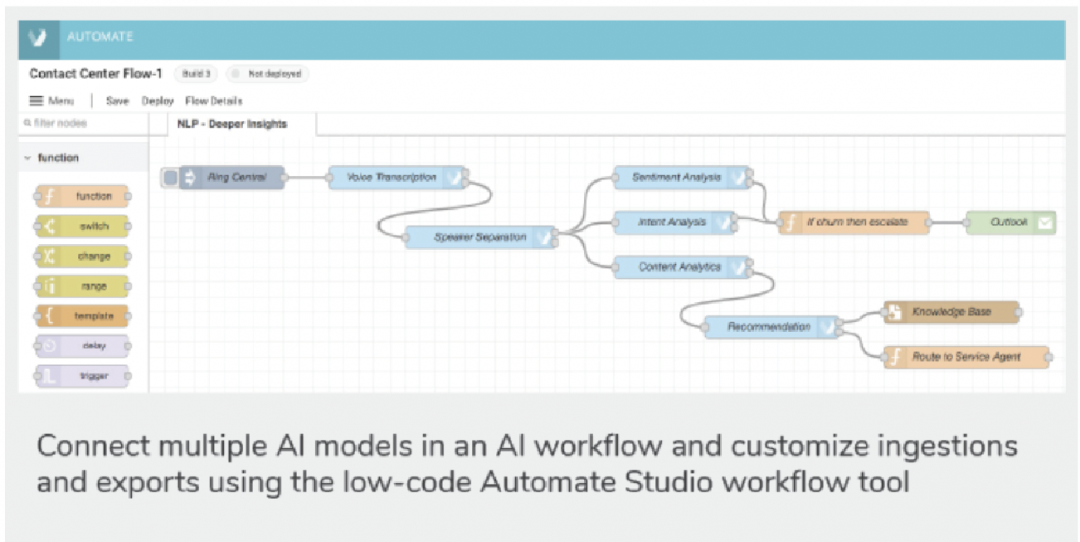 aiWARE OS for AI 
API access to entire ecosystem of hundreds of best-of-breed, ready-to-deploy AI engines

Included applications for library management and content management

Add-on applications available for law enforcement, media and entertainment, government, legal and compliance use cases
Try Veritone aiWARE for Alteryx today, for free
Product Demo
Watch this 5-minute video demonstration to see aiWARE for Alteryx in action.
Use Cases
With Veritone aiWARE, Alteryx customers can take advantage of AI-powered video, image, audio and text extraction across a number of industries, including:
Insurance Companies
In-depth claims analysis of call, image and video evidence to detect policy risk and fraud, leveraging behavioral patterns and transaction histories
Retail Banks and Credit Unions
Use text analytics of customer communications for greater customer insight and the ability to offer relevant products and services, assess risk and improve customer experience across channels

Health Care Providers
Extraction of insight from image scan test results for a more complete view of patient health history
Oil and Gas Companies
Analyze satellite video and images to make more informed exploration decisions for drilling and bidding
Retailers
Video insight and analysis of customer and employee traffic patterns and detection of theft

Federal Government
Analyze intelligence fused from thousands of sensors on vehicles, drones, personnel and other locations for improved situational awareness and more informed decision making
State & Local Government
Extract valuable insights from large quantities of smart city sensors, including street and municipal vehicle cameras, traffic and roadway sensors, green building and environmental sensors and more
Law Enforcement Agencies
Improve transparency of law enforcement actions through analysis of officer and witness video evidence, including the automatic identification of potential officer misconduct, and matching of records in regional known offender databases to expedite suspect identification
Energy
Predictive optimization, synchronization and control of distributed clean energy sources
Contact Centers
Call transcription, translation, and sentiment and intent analysis to gain additional customer insight around potential upsell opportunity and churn risk
What our Customers Say
As an Analytics consultant, I am frequently asked about machine learning and AI. I never thought that I could do AI so easily, without coding. But with Veritone's aiWARE Tools for Alteryx, now I have all the answers in one place for any structured or unstructured data sets. aiWARE Tools for Alteryx is an approachable new offering in the market that is fully integrated with Alteryx and puts AI and ML at your fingertips. There is no coding required (but you can if you wish), and the tools give access to numerous AI engines for insight into video, audio, images, text and data, all running within a simple workflow."
Veritone's aiWARE Tools for Alteryx make AI consumable by any Alteryx user -- no AI expertise needed. With aiWARE's ready-to-use models for extracting insight from video, images, audio, and text easily accessible from the Alteryx Designer application, along with their free trial, you simply can't go wrong."
Expert Help with aiWARE for Alteryx
These Veritone Ambassadors, also recognized as Alteryx ACEs, are analytics experts in Alteryx and aiWARE. Contact us to make the connection and get the assistance you need with your AI analytics project.
Alteryx ACE (2015-Present) | Alteryx Community Top Contributor (2015 – Present) | AFG Champion (2017, 2018) Mark is an ACE of ACEs.

Connect with Mark

Alex is a Consultant at Blue Reply focusing on data analysis, visualization and automation.

Connect with Alexander

Alberto "AJ" Guisande has been an ACE since 2015, and is currently Director at Decision Science.

Connect with Alberto
Attention ACEs! Want to be on this list? Contact Veritone for attractive referral and resale terms.
About Alteryx
As a leader in analytic process automation (APA), Alteryx unifies analytics, data science and process automation in one, end-to-end platform to accelerate digital transformation and rapidly upskill the modern workforce. The Alteryx APA Platform™ provides hundreds of automation building blocks for data prep and blending, diagnostic and predictive analytics, AutoML, and code-free data science.
The self-service platform requires no specialized skillsets and is designed to put automation in the hands of all data workers; it can automate analytics and data science pipelines, manage complex data-centric business processes and deliver actionable insights to stakeholders in every line of business. Thousands of organizations globally use Alteryx to deliver quick wins and high-impact business outcomes. For more information visit https://www.alteryx.com/apa
CONTACT US ABOUT AIWARE FOR ALTERYX