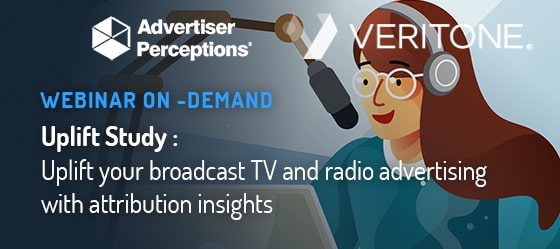 09.18.20
Webinar On-Demand: Uplift your broadcast TV and radio advertising
Get tips and advice on the highest-performing broadcast TV and radio ads
TV and Radio consumption is up across all markets, with TV reaching 90% and Radio 92% of the U.S. adult population each week. This makes broadcast advertising a smart and strategic choice for advertisers who want to maximize reach and exposure.
How can broadcast advertisers and stations create and measure high-performing campaigns that not only get noticed, they get acted on?
The Veritone Uplift Study shares best practices that help generate maximum lift in broadcast advertising. It's a comprehensive look at what works and what doesn't in broadcast advertising. Some of the findings may not surprise you — but others definitely will.
Join us along with industry business intelligence experts Advertiser Perceptions to learn the answer to these questions and so many more, such as:
What's the difference between attribution and lift?
Which creative elements have the most impact?
At what time should my ads air?
Is there a day of the week that's best?
Are prerecorded spots as effective as live reads?
Which market size will give me the best lift?
Hear from the experts and explore the findings of our comprehensive study that will help you to optimize the performance of broadcast ad campaigns.
SPEAKERS
Paul Cramer, Managing Director of Enterprise Radio Solutions, Veritone, Inc.
Lauren Fisher, VP Business Intelligence, Advertiser Perceptions
DATE AND TIME
Tuesday, September 29
10:00 a.m.–10:45 a.m. PDT
1:00 p.m.–1:45 p.m. EDT