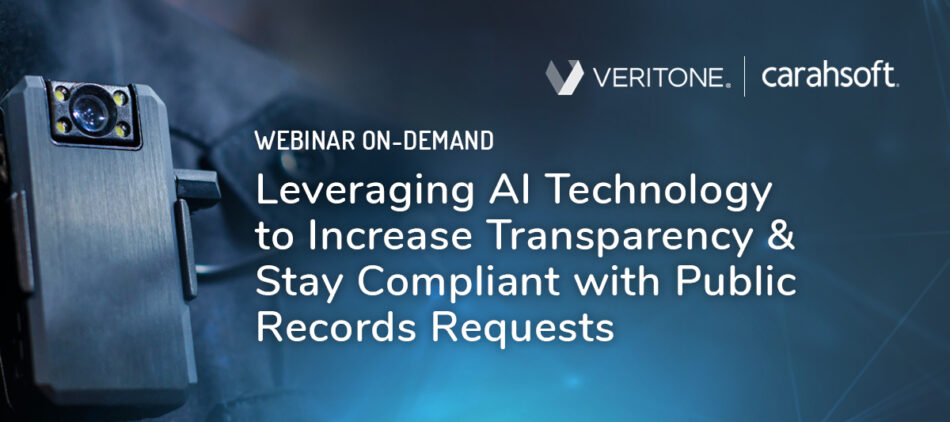 06.8.22
Webinar On-Demand: Henderson Police Department (Nevada) Case Study – Leveraging Artificial Intelligence Technology to Increase Transparency and Stay Compliant with Public Records Requests
Featured Speakers:  
Katrina Farrell, Police  Officer, Henderson Police Department
Alan Olvera, Police Officer,  Henderson Police Department
Like most law enforcement agencies across the nation, the Henderson Police Department, located near Las Vegas, Nevada, was not immune to the growing nationwide trend and outcry for more public transparency in law enforcement and the judicial system overall. Over past the past year, the number of Freedom of Information Act (FOIA) requests for public access to police audio and video evidence such as body worn camera, in-car dash camera, jailhouse calls, and surveillance camera footage, have soared and law enforcement agencies, as well as judicial branches, are under pressure to release this evidence quickly or otherwise face possible lawsuits and fines. 
Join Veritone and Carahsoft on this webinar replay for a special customer case study webinar featuring Henderson Police Department.  Hear from Public Information Officers Katrina Farrell and Alan Olvera of Henderson PD as they'll discuss how Henderson Police Department leverage AI technology to help them stay compliant with public records requests 
In this webinar, you'll learn:
Best practices and lessons learned for managing large volumes of audio and video evidence while trying to stay compliant with public records requests;

How Henderson Police Department used Veritone Redact, an AI-powered redaction software application, to automate Henderson PD's audio and video redaction workflow, saving them time and valuable resources; and 

Understand what factors and features you should consider when looking to select a redaction software tool.