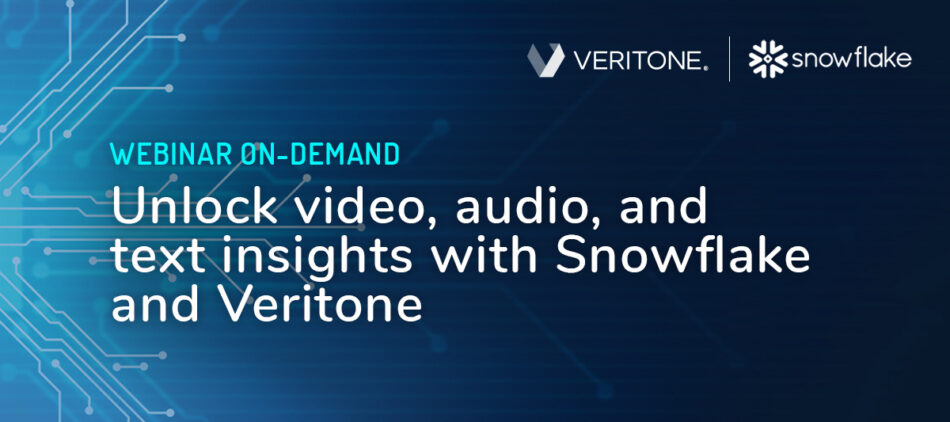 02.4.22
Webinar Replay: Unlock Video, Audio, and Text Insights with Snowflake and Veritone
– WEBINAR REPLAY-
Need to find that face, logo, or object in video or images?
What about identifying the audio speaker, and when they said a certain word? Or locating that keyword or entity in text streams? Obtaining this type of insight has historically required manual, costly, and time-consuming file review–until now.
Snowflake and Veritone have partnered to bring best-of-breed data mining capabilities to your audio, video, and text data. Snowflake users can now easily extract these difficult-to-mine data sources with Veritone to digitally transform content-centric processes and uncover new data insights.
In this webinar, you will learn how modern business leaders are making better business decisions and scaling their business processes through insights from unstructured data.
Attend this webinar and:
Learn about best practices for mining audio, video, and text data in the modern enterprise

Discover how aiWARE and Snowflake can be used together for the ideal data mining workbench

Explore how companies across different industries are realizing tangible business benefits
Now you can mine 100% of your data–structured and unstructured–with Snowflake and Veritone.
Speakers
Saurin Shah

Senior Product Manager Snowflake 

Trevor Jones

VP Technology Partner Management at Veritone, Inc
Watch the Replay!