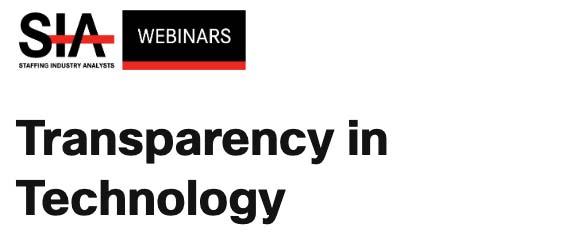 10.4.23
SIA Webinar: Transparency in Technology – October 18, 2023
Transparency in Technology
Wednesday, October 18, 2023 10:00 AM – 11:00 AM
(UTC-07:00) Pacific Time (US & Canada)
As a staffing firm leader, you are very aware that technology and AI are key to your current and future success. This webinar will help you target and solve key issues when it comes to AI and transparency in technology.
• What is the state of the staffing industry when it comes to AI and technology?
• How can you use AI responsibly?
• Where exactly is technology transparency most important?
We will also share three case studies that apply AI to recruiting and empower you to intelligently source the best candidates. Join April Arteaga with Broadbean and SIA as they answer these critical questions and more in this upcoming webinar.
Speakers:
April Arteaga, Director of Sales-RPO & Staffing, Broadbean
Curtis Starkey, Senior Research Analyst, SIA
Moderator: Adrianne Nelson, VP Solutions Delivery, SIA