aiWARE for Relativity
Artificial Intelligence from Veritone Embedded into Relativity
aiWARE for Relativity allows for viewing and processing of audio and media directly with Relativity, finally extending eDiscovery beyond the boundaries of text documents.
Learn More
AIWARE FOR Relativity Delivers Benefits to:
Legal law Firms
The days of managing audio and video files outside of Relativity are over. And the ability to cost-effectively manage and analyze large amounts of unstructured evidentiary media are now a reality. With aiWARE for Relativity, leverage the power of AI to help you rapidly transcribe, translate, redact, locate objects, discover content and key topics in case critical evidence all within the Relativity eDiscovery platform. aiWARE for Relativity uses the best of breed cognitive AI engines to produce an index of enriched metadata in minutes — a process that previously took thousands of hours.


Judicial Agencies
With aiWARE for Relativity, case teams can quickly transcribe, translate, redact, locate objects, and discover key content topics in multimedia and text-based evidence all within Relativity, while saving time and money. aiWARE for Relativity helps teams review and analyze unstructured evidentiary media from depositions, body worn cameras, car-dash cameras, interview rooms, surveillance cameras, and more. As a result of this more efficient eDiscovery process, case teams are able to meet tight deadlines while reducing associated costs.
Transcription
aiWARE for Relativity allows you to effortlessly transcribe audio and video files with the Relativity platform.
Visually follow the transcript and follow the playback

Select any part of the transcript and the video playback will automatically sync

Transcribe individual or multiple files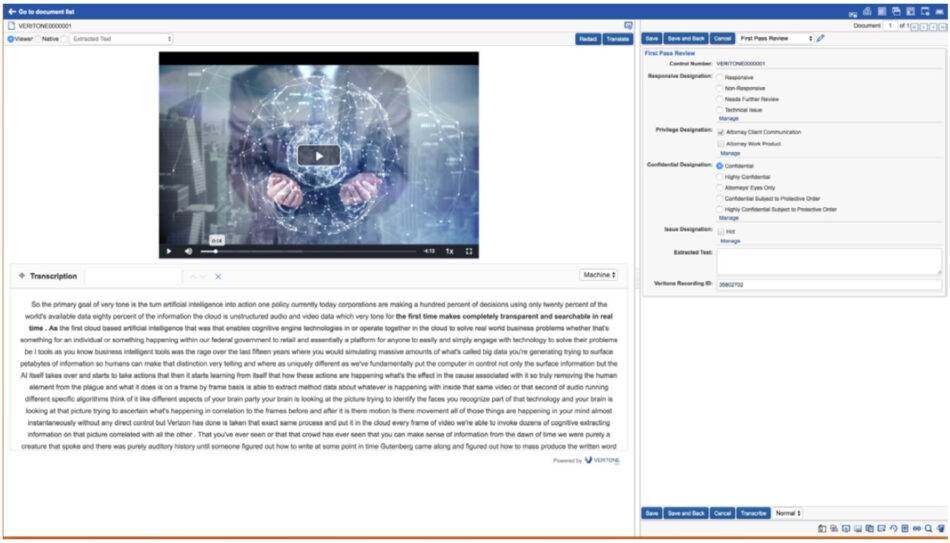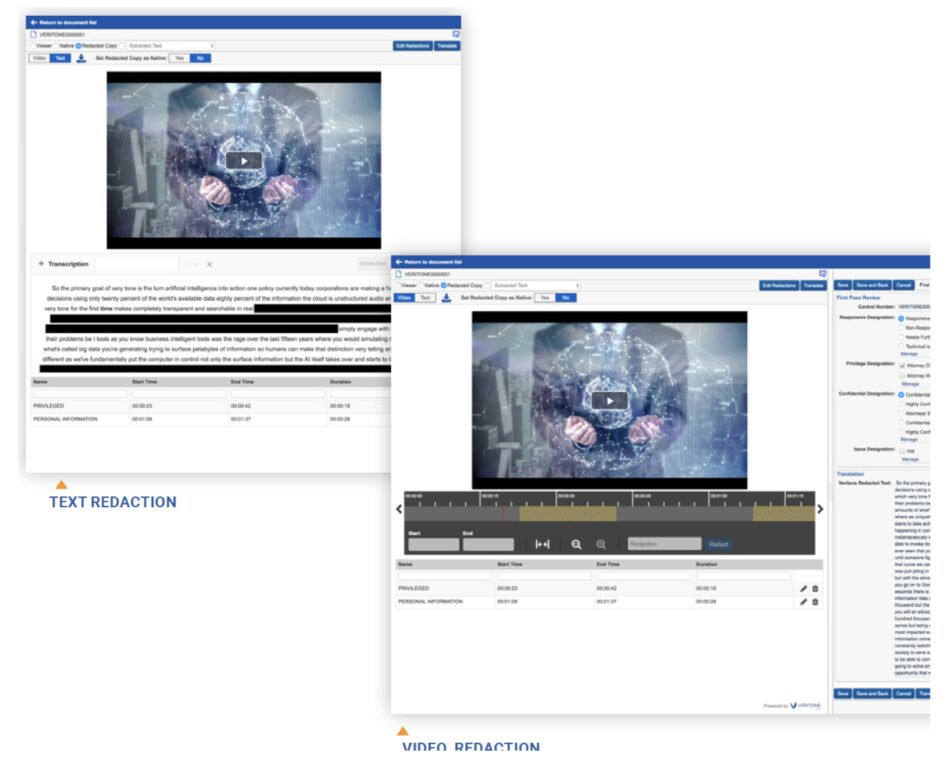 REDACTION
aiWARE for Relativity allows the reviewer to redact the transcript along with the synchronized audio and video data.
Highlight, select, and redact videos

Redacted information is synchronized and blacked out at the transcript level and within the audio/video data
TranSLATION
aiWARE for Relativity can translate any ESI file (e.g. email, text documents, audio and video files) with extracted text in over 100 different languages.  Whether you need your text from Chinese to English, or from Spanish to Russian, aiWARE for Relativity's AI-powered translation provides an easy and convenient solution during the eDiscovery process.
Supported languages include: French, Italian, German, Japanese, Korean, Hindi, Punjabi, Portuguese, Arabic, Bengali, Greek, Hungarian, Spanish, Hebrew, Icelandic, Dutch, and more*.
* Contact Veritone for the entire list of the supported languages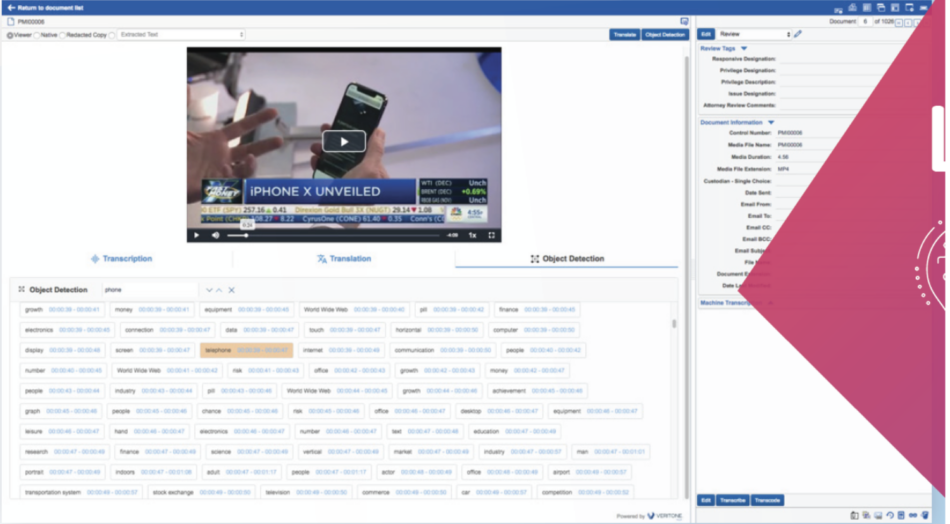 OBJECT DETECTION
aiWARE for Relativity enables you to locate objects, logos and other imagery in your video file(s), whether individually or in bulk, all within Relativity.  Legal teams can then cull down and determine the relevance or privileged nature of recognized objects in video evidence for compliance with court requirements and discovery requests.
aiWARE for Relativity hosts over

70 different types of vision-based engines

(and growing) within its Computer Vision Class that can recognize and detect objects, logos, faces, license plates, to name a few.

aiWARE for Relativity supports three different types of object detections engines.
Object Detection Engine 1

–  This the default engine in Relativity. It is a general object detection engine for high-level analysis. Examples of general objects: vehicle, chair, building, gun, desk, sky, cup, just to name a few.

Object Detection Engine 2

–  This engine is a specified object detection engine that has been pre-trained to find a specific object. Today, Engine 2 has been pre-trained to only find the following objects: Gun and Knife. Please contact Veritone to see if Engine 2 has had any new objects trained and added to its library.

Object Detection Engine 3

–  This is a highly trainable and customizable engine whereby you can create your own custom library of objects and train those objects to be found within your video files for a specific use case. The use of this engine is not available within Relativity, but through another application called Veritone's Library. Upon completion of training the engine in the Veritone Library application, Veritone will then import the engine into Relativity for the customer to use.  Please contact Veritone if you believe your case requires a specified object detection engine.
Integrate with Relativity's Structural and Conceptual Analytics
Leverage data generated from aiWARE from Relativity and integrate with Relativity's Structural and Conceptual Analytics to efficiently discover content and key topics.
Visually follow the transcript and follow the playback

Select any part of the transcript and the video playback will automatically sync

Transcribe individual or multiple files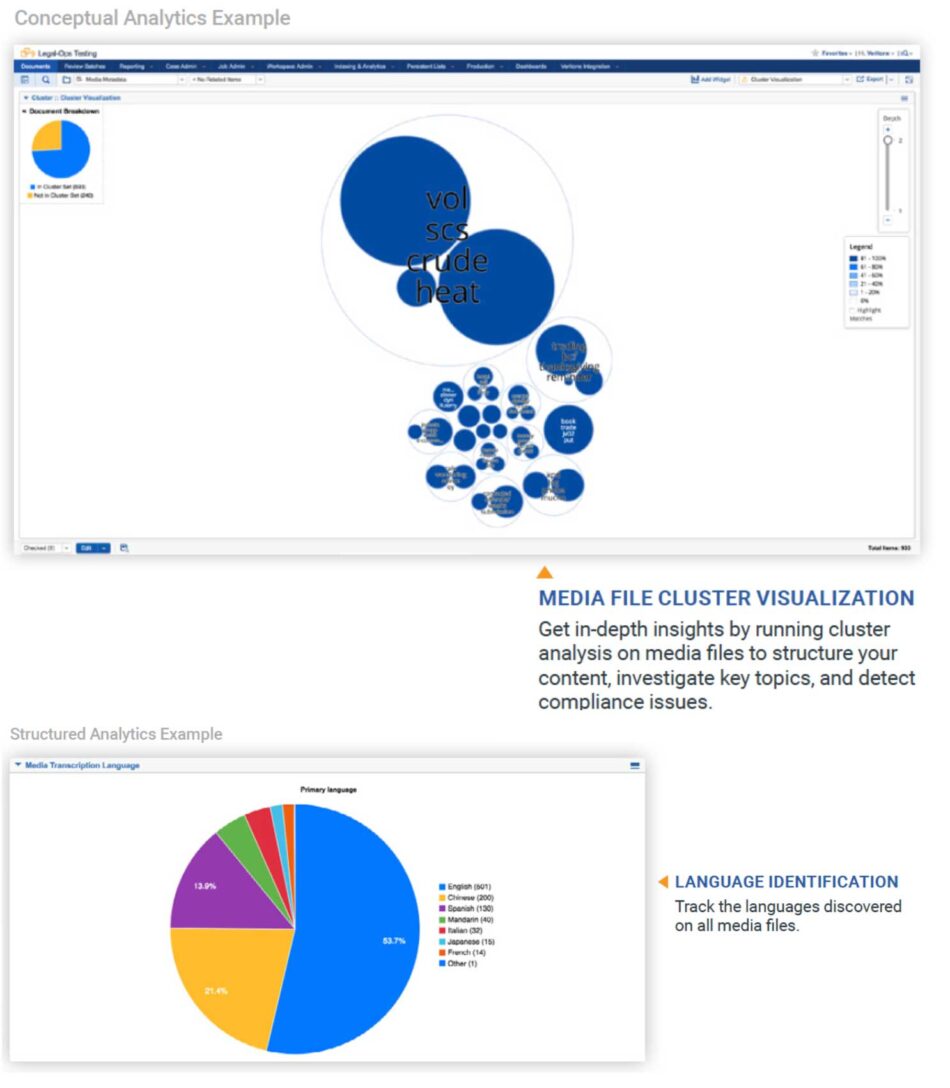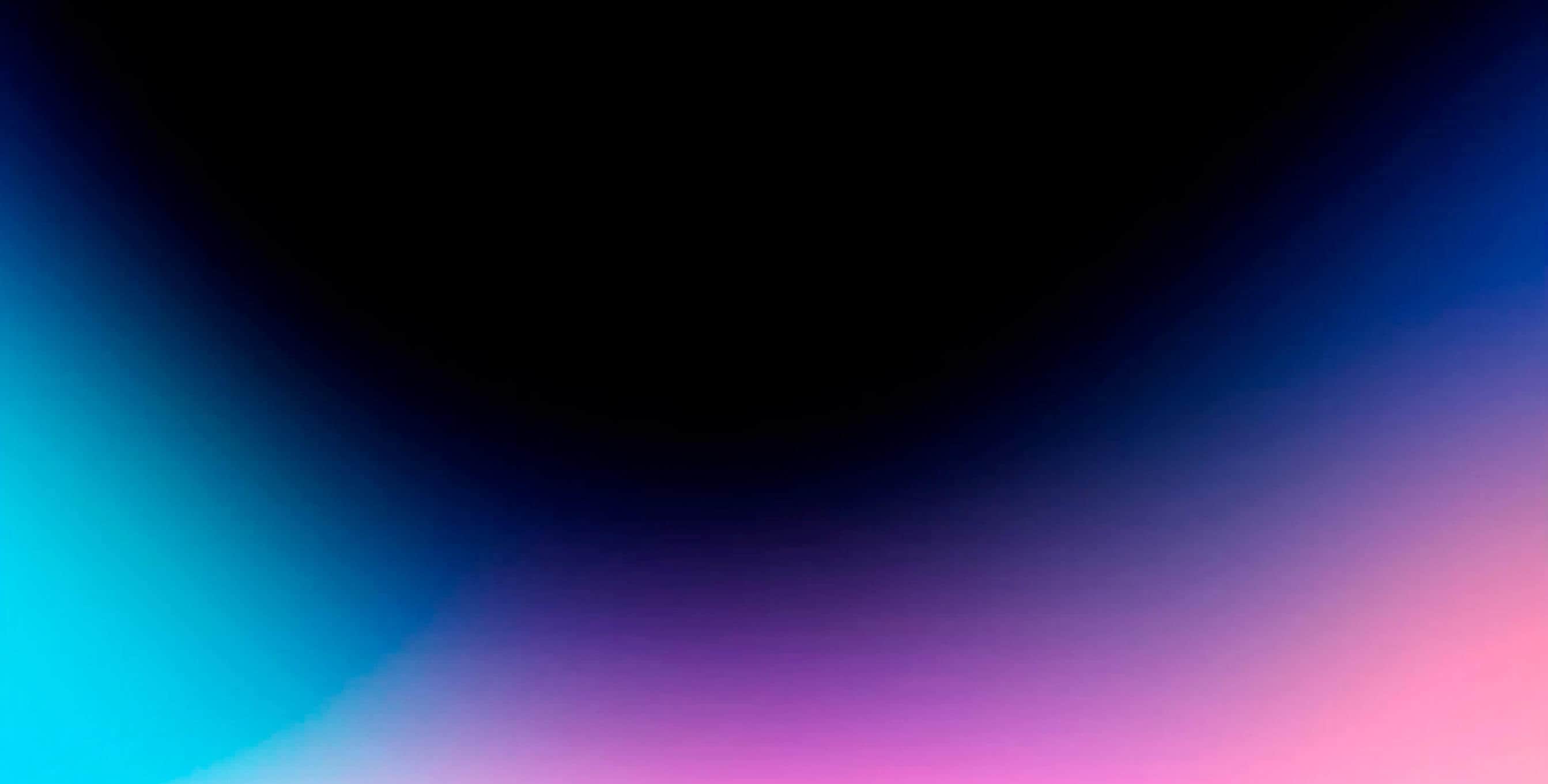 CONTACT US ABOUT AIWARE FOR RELATIVITY
//=$pardot_contact_form?>