Veritone aiWARE for Snowflake
Snowflake customers, leverage cloud-based, ready-to-deploy AI models to extract value from the 80% of data that is unstructured—including voice, video, image, text, and sensor data—within the Snowflake data warehouse environment.
Veritone's aiWARE™ Enterprise AI platform and the Automate Studio low-code workflow tool integrated with Snowflake helps you efficiently manage both tabular and unstructured data and leverage this data in near-real-time, event-driven processes. aiWARE's cloud-based, scalable architecture delivers insight across massive enterprise data sets, helping you drive informed and autonomous decision making throughout your organization.
Get Demo

Veritone
ai

WARE for Snowflake

Over 80% of the world's data is unstructured and growing 30-60% per year according to Gartner. Data analysts need a way to quickly and easily extract data from video, images, audio, text, and sensor data streams, then analyze for greater insight and improved business outcomes.

The combination of Snowflake and Veritone gives the user visibility into 100% of the data in their organization – structured and unstructured – enabling Snowflake users to query and analyze all data within the Snowflake experience. Snowflake users can get access to hard-to-reach data that is typically inaccessible without human intervention, producing richer insights and unlocking value across a multitude of verticals.

Unstructured Data Warehousing, In Near-Real-Time, At Scale
With Veritone's aiWARE tools for ingesting data, running AI jobs and returning results, Snowflake users can harness the power of the aiWARE Enterprise AI platform. aiWARE makes available hundreds of ready-to-deploy AI engines and allows for rapid AI-enabled data discovery. Now the power of AI to produce unstructured data insight is available to every Snowflake user.
With Snowflake's native support of semi-structured JSON data, and the aiWARE AI Object Notation (AION) standard, customers have a fluid path to analyze tabular and unstructured data within the Snowflake data warehousing environment.
Veritone aiWARE for Snowflake delivers benefits to:
Snowflake Customers
Manage both structured and unstructured data types, including video, images, audio, sensor data, and text, and drive near-real-time, event-driven processes at scale.
Snowflake System Integrators
Manage historical and real-time process data across all data types – structured and unstructured – and use this data to drive near-real-time, event-driven decisioning at scale.
Many Layers of Value with aiWARE for Snowflake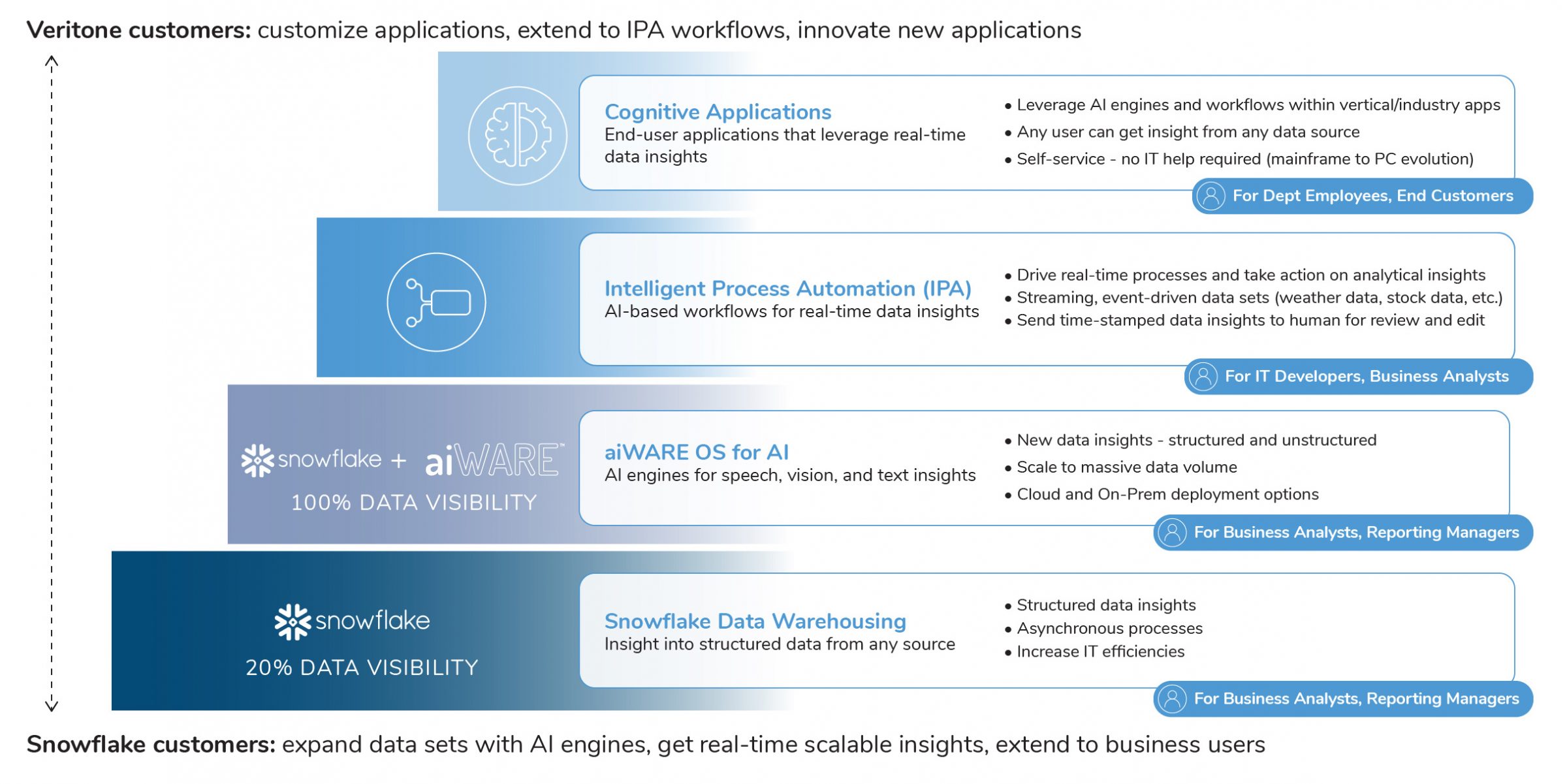 Snowflake customers can take advantage of the aiWARE Enterprise AI platform to:

Expand data visibility and analysis to 100% of an organization's data by easily accessing AI engines integrated within the Snowflake user experience

Extend AI across the enterprise with real-time, scalable, event-driven processes, and take immediate action on AI-generated analytical insights
Fuel use of Veritone vertical industry applications that allow any business user to leverage and harness the power of AI to gain measurable and immediate results from any data source, at scale.
Discuss your unstructured data warehouse requirements with a Veritone expert.
Custom AI workflows 
Use Veritone Automate Studio to develop your own custom AI workflows
Drive real-time processes and take action on analytical insights
Streaming, event-driven data sets (weather data, stock data, etc.)
Call any engine, and multiple engines
Send time-stamped data insights to human for review and edit
Custom engines and training data sets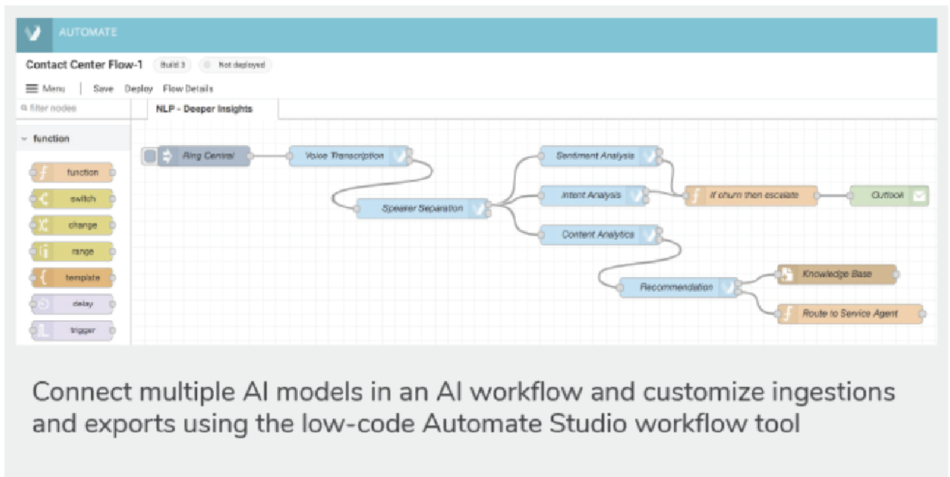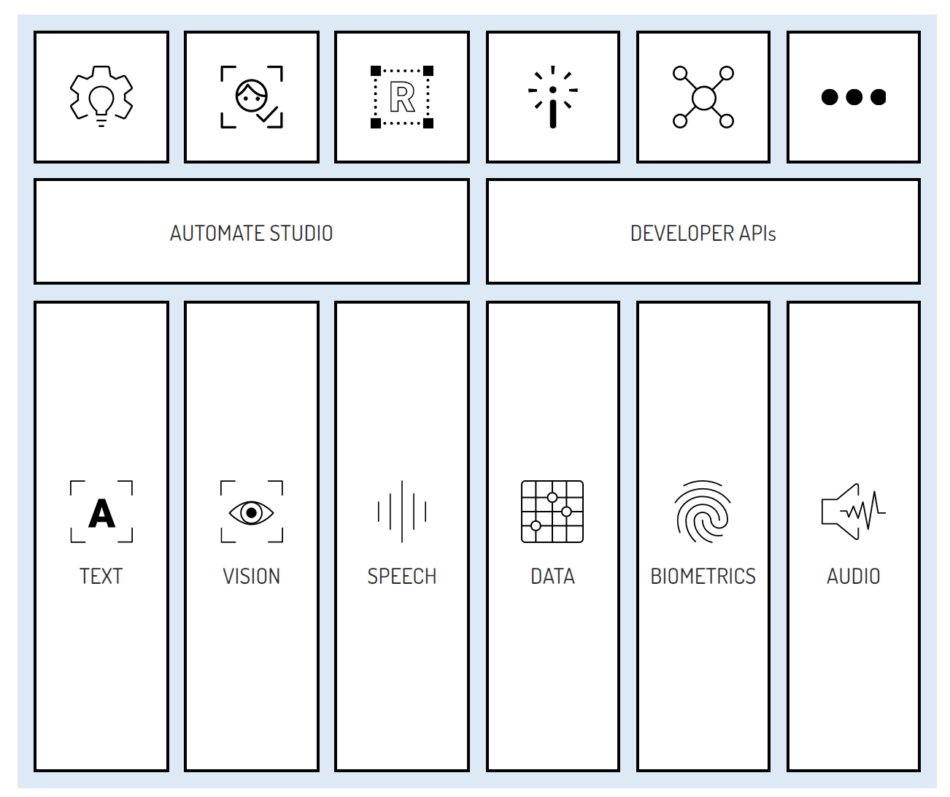 aiWARE Enterprise AI Platform 
API access to entire ecosystem of hundreds of best-of-breed, ready-to-deploy AI engines

Included applications for library management and content management

Add-on applications available for law enforcement, media and entertainment, government, legal and compliance use cases
Use Cases
BI analysts, data engineers, and ML Ops can utilize aiWARE for Snowflake for AI-powered video, image, audio, text, and sensor data extraction across a number of industries, including: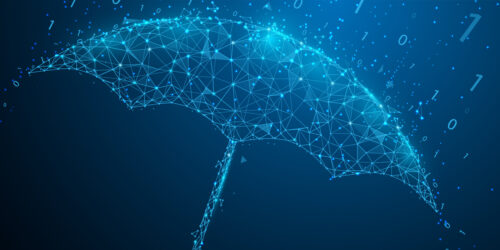 Insurance Companies
In-depth claims analysis of call, image and video evidence to detect policy risk and fraud, leveraging behavioral patterns and transaction histories.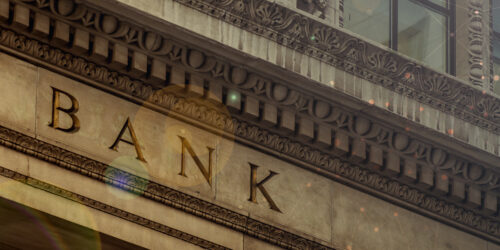 Retail Banks and Credit Unions
Using text analytics of customer communications for greater customer insight and the ability to offer relevant products and services, assess risk, and improve customer experience across channels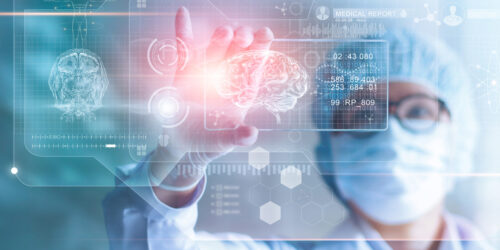 Health Care Providers
Extraction of insight from image scan test results for a more complete view of patient health history.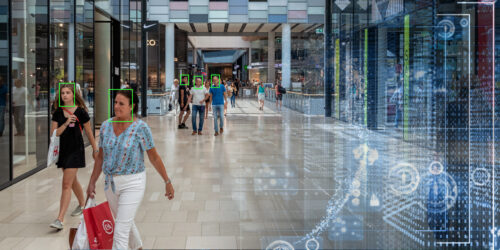 Retailers
Deliver 360º, data-driven customer experiences across channels. Use video insight and analyze customer and employee traffic patterns and detection of theft.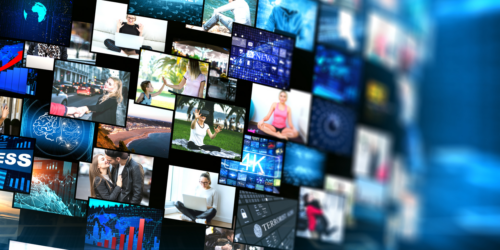 Media & Entertainment
Locate and extract face, speech or text mentions and provide highly personalized content and experiences.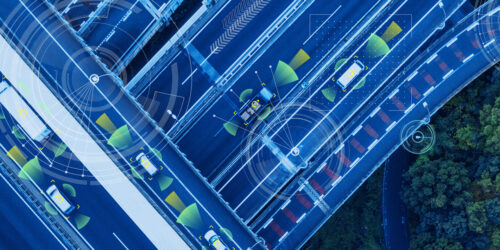 Federal Government
Analyzing intelligence fused from thousands of sensors on vehicles, drones, personnel and other locations for improved situational awareness and more informed decision making.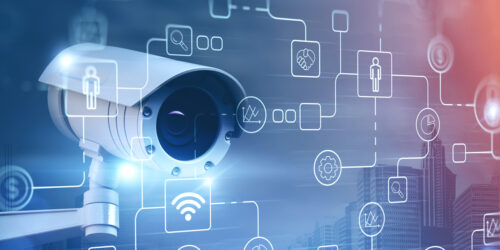 State & Local Government
Extracting valuable insights from large quantities of smart city sensors, including street and municipal vehicle cameras, traffic and roadway sensors, green building, environmental sensors, and more.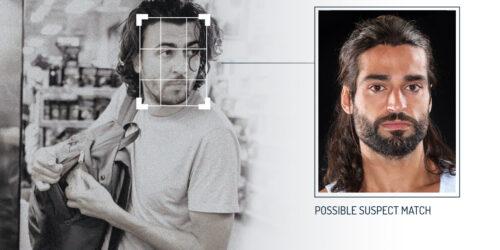 Law Enforcement Agencies
Improving transparency of law enforcement actions through analysis of officer and witness video evidence, including the automatic identification of potential officer misconduct, and matching of records in regional known offender databases to expedite suspect identification.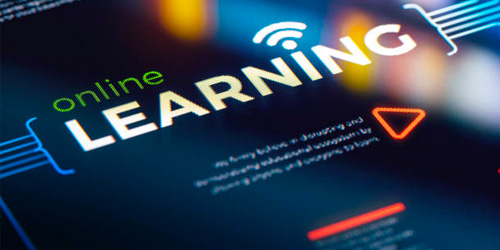 Education
Measure and score video engagement to improve effectiveness of courses.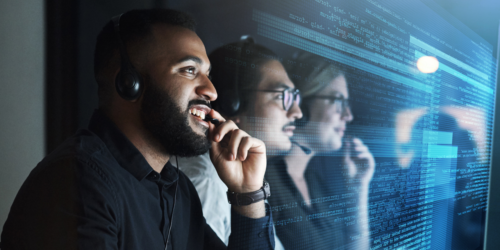 Contact Centers
Call transcription, translation, and sentiment and intent analysis to gain additional customer insight around potential upsell opportunity and churn risk.
About Snowflake
Snowflake enables every organization to mobilize their data with Snowflake's Data Cloud. Customers use the Data Cloud to unite siloed data, discover and securely share data, and execute diverse analytic workloads. Wherever data or users live, Snowflake delivers a single data experience that spans multiple clouds and geographies. Thousands of customers across many industries, including 187 of the 2020 Fortune 500 as of April 30, 2021, use Snowflake Data Cloud to power their businesses. Learn more at snowflake.com.
Experience the power of hundreds of AI engines across 20+ cognitive categories.