Case Study
Inter Milan Expands Content Distribution and Monetization With Combined Solution from Veritone, Evolphin and AWS
Iconic Italian Football Club Leverages Digital Management Solution to Fully Capitalize on its Extensive Content Library
Storied soccer franchise Inter Milan (Internazionale Milano) has a history of both victory and innovation, as the club is responsible for influential advances in tactics, training and nutrition. Now this famed organization is bringing this same competitive and innovative spirit to the world of media asset management (MAM) by implementing an integrated solution for indexing and handling its massive library of video, audio and imagery assets.
To create this solution, Inter Milan turned to two of the world's top players in their respective fields: enterprise software company Evolphin and AI technology and solutions provider Veritone. By leveraging these combined technologies, Inter Milan can efficiently distribute and monetize its content, delivering the latest team news and player highlights to millions of fans worldwide, while providing critical insights for advertisers and other stakeholders.
Using the Evolphin Zoom Media Asset Management platform, Veritone aiWARE cognitive services and AWS web services, Inter Milan can now easily organize its library and search for mentions, faces and logos. This enables Inter Milan to better find, share and monetize relevant content in a more targeted manner — promoting greater fan engagement in a number of ways.
THE CHALLENGE
Ranked among the world's top-10 soccer clubs, Inter Milan boasts one of the globe's most devoted fan bases. Known as the Interisti or Nerazzurri, these fans have an insatiable appetite for Inter Milan content.
To meet this demand, Inter Milan produces a broad range of fan-engaging content, from video updates and game highlights to podcasts. In order to properly manage, distribute and monetize all this content, Inter Milan determined it needed to adopt a modern, AI-driven media platform.
The right platform would help Inter Milan achieve specific objectives, including:
• Deepening engagement with its global fanbase on digital platforms.
• Increasing content monetization via new digital media business models.
• Producing and publishing content in near real time across multiple locations and destinations.
• Enhancing brand exposure for the team and its sponsors.
• Boosting productivity by making the content production pipeline move faster and more efficiently.
• Implementing a new digital experience platform (DXP) that delivers personalized content and maintains 24/7 digital connectivity with its global fan base.
THE SOLUTION
After conducting thorough research, Inter Milan selected a combined solution, employing the Evolphin Zoom MAM and Veritone aiWARE cognitive services to play an integral role in their DXP.
With its new system in place, Inter Milan was able to adopt a new workflow, placing the Zoom MAM at the center of the content-production process. Zoom acts as the orchestrator of Inter Milan's new digital content production pipeline, providing out-of-the-box media management capabilities, including enterprise-grade security and versioning of assets, rich plugins to Adobe apps, powerful tagging and searching, and automated distribution of content to any destination.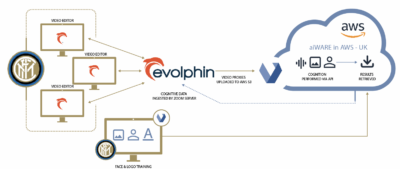 At the same time, Veritone's aiWARE servers powered by AWS web services provide AI analysis and processing of content, automatically delivering metadata for each asset back to Zoom. After files are ingested, they're then made available for further editing or distribution across various media and social-media channels.
The metadata aiWARE provides gives Inter Milan instant access to descriptive information about its content, including spoken words, faces, logos and advertiser names mentioned. The combined solution indexes the content and makes it easily searchable by any of these criteria, enabling video editors, journalists and designers to find specific content they need quickly and deliver their work faster than ever.
Data indexing also benefits other stakeholders, including advertisers, which can use aiWARE find specific brand mentions in Inter Milan content, such as references by announcers or logos that appear in the background.
THE RESULT
As a result of the partnership, Inter Milan has been able to process 300 TB of content — that's thousands of hours of video that can be clipped and shared, repurposed and monetized as Inter Milan sees fit.
The processing of their multimedia content has given them automated transcription in Italian, and substantial logo recognition and face detection output to improve searchability.  Inter Milan now has visibility into the use of 300 logos, with more than 64.5 million detections, as well as 400 unique faces, with 20 million face detections, across all videos.
With this new platform in place, Inter Milan can not only take advantage of its legacy content to engage with fans and advertisers — it can quickly and easily process, package and monetize new content moving forward, giving the renowned soccer club automated revenue-boosting capabilities now and in the future.