Over the last five years, Enterprise AI has gradually gained interest when looking at search trends. In the previous blog, we highlighted the increase in Enterprise AI adoption. As we approach critical mass in how many companies have digitally transformed, Enterprise AI will act as a crucial technology capability to enable companies to take full advantage of this transformation.
Many companies adopt Enterprise AI as a gateway to solve a specific problem or set of challenges. But many end up discovering new use cases once they've launched their Enterprise AI practice, particularly once they've  uncovered the benefits of an AI ecosystem. 
In this blog, we'll dive deeper into some of the AI use cases we've developed solutions for covering:
Use case #1: digital asset management (DAM)

Use case #2: evidence processing and discovery

Use case #3: advertising and marketing

Use case #4: data analysis for green energy management

Potential use cases for AI in the enterprise 
Use case # 1: digital asset management (DAM)
Digital asset management consolidates an organization's digital content into a single location, making it easier to access, manage, search, distribute, and monetize with internal teams, partners, and customers. As discussed in greater detail in our DAM blog series, DAM technology has been around since the early 90s and has recently started to incorporate artificial intelligence (AI).
Incorporating AI into a DAM solution architecture unlocks the potential for rapid content discovery and automated management. Unfortunately, most AI-powered DAMs usually lack a robust ecosystem of AI models to make it worthwhile. However, with an Enterprise AI platform like Veritone aiWARE, companies can access hundreds of models that they can use on-demand within their DAM of choice, and daisy-chain them together for unparalleled insights.
The San Francisco Giants use Veritone Digital Media Hub, an AI application for digital asset management. After digitizing their 60-year-old archive that was deteriorating in storage centers, they needed a way to add accurate metadata so they could surface content quickly. Integrated with aiWARE, they were able to process hundreds of photos and hours' worth of film over several weeks—a process that would have taken fifteen interns over a year to do manually.  
What's great about Enterprise AI is that you can integrate it into existing systems. Working with our partners IMT, the San Diego Chargers already had a media asset management solution. However, they lacked the AI piece. Veritone aiWARE is highly modular as an Enterprise platform. It is flexible in how it's deployed, what AI services are used, and how it can easily integrate with third-party DAMs or MAMs.
Use case #2: evidence processing and discovery
Federal, state, and local law enforcement agencies have started to adopt Enterprise AI as a new way to process evidence. Various factors have impacted their ability to continue using their legacy systems. Some of these include:
Increasing cases and public record requests

Limited or overstretched resources

Staff burnout

Legislation mandating requirements
There's a multitude of data that these agencies must process, from RIPA compliant stop data to surfacing evidence and redacting this media appropriately, pushing legacy systems, processes, and employees to the breaking point.
We saw this firsthand with Eureka PD, who, like many California LEAs must process record amounts of video content. This type of content makes up roughly 85% of public record requests, which requires agencies like Eureka to go through and redact this content manually. But with AI, this process becomes exponentially faster, enabling them to scale with fewer resources and minimize the emotional burden on their employees viewing evidence depicting violent crimes. 
Use case #3: advertising and marketing
AI has gained more traction as an essential technological tool for advertising and marketing departments. Like most use cases, increasing scale is generally a key benefit of AI. This means advertisers can do an incredible amount of work without adding headcount. All of which can be done automatically and in real-time, including:
Identify and segment audiences

Avoid brand damaging content

Build ad creative programmatically

Test ads to optimize campaigns

Improve ad performance

Maximize spend
With the pandemic increasing audio and video consumption, advertisers have shifted their budgets towards these mediums. In 2022, video ad spending on social networks is estimated to have a CAGR of 11%, with audio advertising growing at 8.8%. With digital audio spend up by 16% last year, and video spend on social platforms to grow 20% this year, the need to fully maximize these campaigns with AI has never been more needed.
With two-thirds of audio spend going into radio, broadcasters need an automated way to track and surface the content going out over the air, for proof of performance and ad efficacy purposes. For radio stations, airchecks typically take hours to pull and gather for clients—valuable time that could be used to grow the business. But AI accelerates this process, cutting it down to only a few minutes.
Westwood One cut down the time to pull airchecks using Veritone Discovery and an AI-powered media discovery and analytics tool. With Discovery, they cut their 4-hour average to pull airchecks to mere minutes, clearly highlighting the scale that AI enables when implemented correctly.
Use case #4: data analysis for green energy management
Climate change is a primary geopolitical concern, pushing the energy sector to focus on decarbonization. As a result, many grid operators and independent power producers have adopted green energy resources. However, solar and wind power, for instance, are intermittent sources of energy since they rely heavily on weather patterns. This makes it extremely difficult to optimize operations against other factors such as demand, extreme weather events, and more.  
Part of the solution is equipping their resources with sensors at the edge. They can obtain the insights needed to optimize, control, and forecast energy resources with this gathered data. But the amount of data collected is simply beyond a human's capacity to do in a timely and cost-effective manner. Implementing an Enterprise AI practice would enable them to process all this data, making it easier and more accurate to predict future consumption, harden against unexpected and disruptive events, and optimize operations cost-effectively.
Potential use cases for AI in the enterprise
As companies move beyond digital transformation, new use cases will undoubtedly emerge as they adopt and implement Enterprise AI. We've seen this as we've worked with some of the world's most recognized brands to deploy Veritone aiWARE, a hyper-expansive Enterprise AI platform, which serves as the foundational technology that enables brands to launch new business lines and revenue streams.
Like any software you integrate into system architectures, AI models typically require API development to onboard. However, an Enterprise AI platform like aiWARE avoids this requirement through our proprietary AI Object Notation (AION) standard. This has enabled us to offer best-of-breed AI models, constantly updating an ecosystem of over 300 models.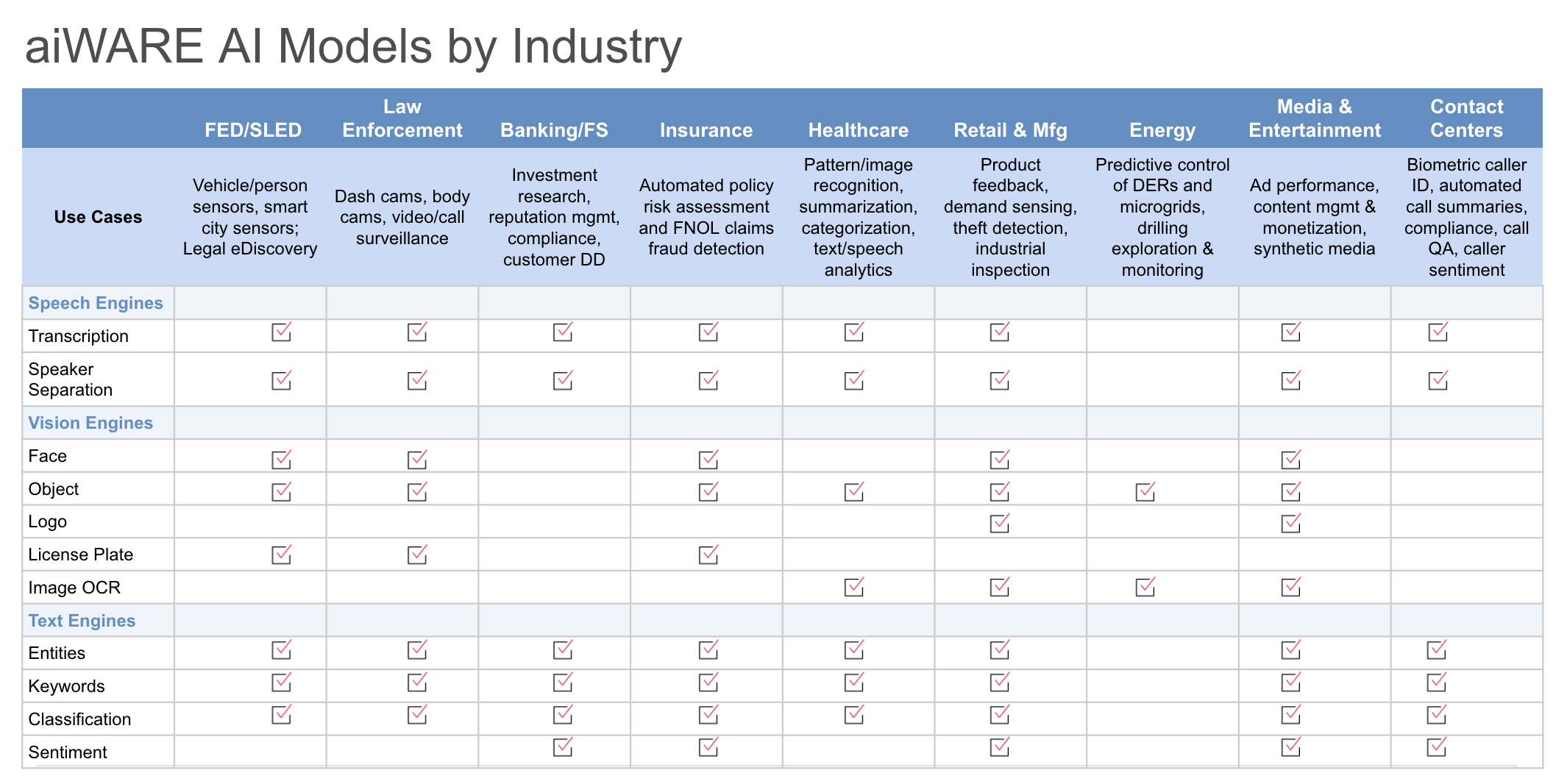 aiWARE makes it easy for developers and systems integrators to rapidly build, scale and operationalize AI-enabled applications. Helping organizations acquire, analyze and act on hard-to-reach data (video, audio, images, text), it automates content-centric processes for greater business efficiency and insight. Unlike point solutions, aiWARE offers a full stack of ingestion adapters, best-of-breed AI models, a data lake, low-code workflow and integration tools, as well as vertical apps that accelerate enterprise AI implementation and adoption.
Through this comprehensive aiWARE platform, our professional services team actively works with customers and partners in our ecosystem to discover and implement new use cases. One of the most compelling use cases that recently emerged was conversational AI, which we'll dive more into in the next blog.